Weeknights tend to become busier and busier as the years roll on. They so easily become filled with sports practices, youth organizations, dentist and doctor appointments, grocery shopping, and so many other things and obligations. And let's not forget one of the most important tasks for weeknights after school — homework. But what do you do when you want to make something that gives you the free time to help but still ensures healthy meals?
To help counteract the pressure of answering the age-old question of what's for dinner, we bring you five easy freezer meals for new moms that you can prep ahead of time and pull out for a fast and delicious dinner any night of the week.
This classic dish is something that so many of us can remember eating as children, taking us back to sitting around the dinner table and enjoying a meal from yesteryear. Thanks in part to its nostalgia — besides the fact of being downright ridiculously delicious — chicken tetrazzini is a fantastic make-ahead meal that can be frozen right in its cooking vehicle — we see you over there Pyrex. A perfect option for leftover chicken or turkey meat, tetrazzini incorporates cheese, pasta, vegetables, and poultry together in a rich and creamy sauce, all baked to bubbling perfection. This recipe is also substitute-friendly, so feel free to customize it to fit your needs such as adding variations of cheeses, veggies, and protein for a new version of the same classic each time.
This salty, sticky, and savory meal is a busy weeknight mama's best friend, made ahead in its own delicious and flavorful marinade. This tasty pork dish can also be easily doubled or tripled if needed for additional meals to keep on hand, for party purposes, or to feed a larger family. This recipe couldn't be easier to follow as well, with each element of the meal kept separate — including separate freezer bags — until time to cook. Crispy fried pork, softened vegetables, and a sticky garlic sauce is served over a bed of steamed rice for an epic mid-week meal any family would enjoy.
Warm and homey meals are sometimes the best way to galvanize your family together through those busy weeknights spent driving, pushing, and correcting busy kids. Comfort foods go a long way to soothe the soul, especially some tired and worn-out ones. Meatloaf and mashed potatoes are a classic combo, and what could be better than miniature versions of the retro meat-mound, made ahead and frozen for use when hectic schedules happen. Mix things up by adding cubes of your favorite cheese for a decadent and cheesy bite, bacon bits for a salty and rich element, or your favorite chilis for a little Tex-Mex flair. Either way, these mini meatloaves are paired perfectly with creamy mashed potatoes, soft cornbread, or a light and refreshing tossed salad.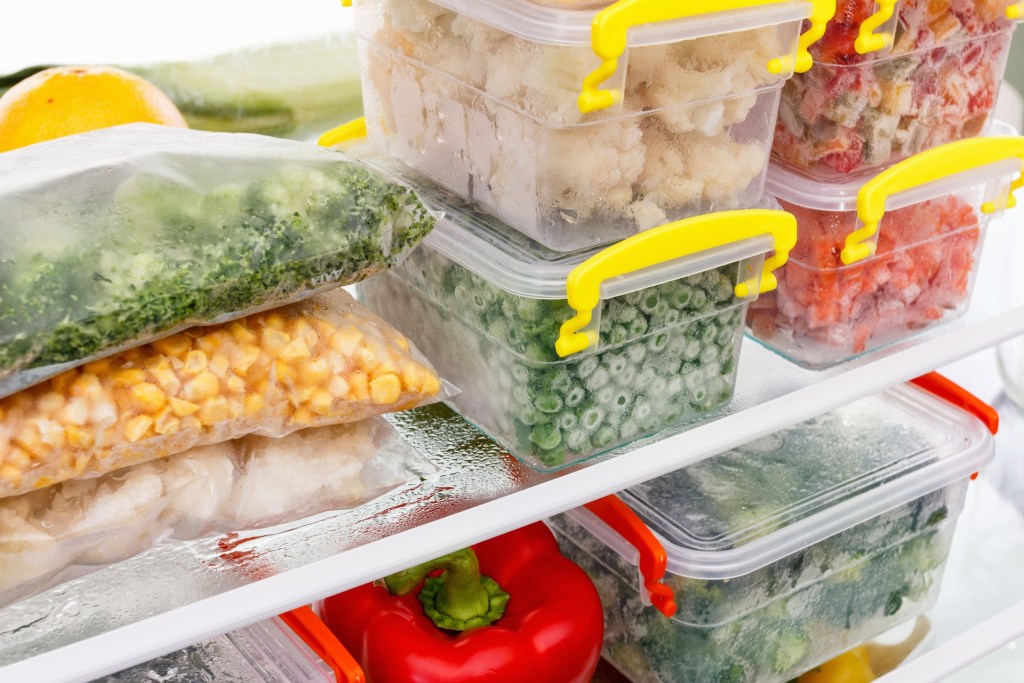 Love that rich and hearty lasagna dish, but hate all the tedious and time-consuming prep work? Believe it or not, it belongs on this easy freezer meals for new moms list. We've found the perfect recipe that still gives folks the delicious and true-to-form red sauce smile they receive after biting into a freshly baked pan of pasta. Still including all the classic ingredients but spinning the prep towards a faster and more efficient method makes this dish perfect for nights that just call for a meal pulled together at the last minute. Chewy pasta, melted cheese, and a smooth and satisfying sauce take these roll-ups to a new level. Pair this dish with freshly baked garlic toast, a light and fresh salad, or buttery green beans.
Yes, we know what you're thinking…frozen enchiladas just aren't the real deal. However, these tasty and spicy made-ahead enchiladas will be your new favorite way to make this bubbling and Caliente recipe. Because this is an easy, prep ahead of time meal for busy moms and dads, there are a few shortcuts the recipe calls for, or that home chefs can substitute at any time for sake of speed and efficiency. For this recipe, for example, you could:
Utilize rotisserie chicken purchased from the grocery store and shredded at home
Pre-shredded cheese
A prepared enchilada sauce
Freezer meals for the win
Freezer meals are the real MVP sometimes, especially during the long and busy weeks of the school year. These nights are jam-packed with homework, sports, extracurriculars, plus all the normal push and pull of day-to-day life. It's time to take the guesswork out of deciding the next meal night after night. Save yourself the maddening prep work, unnecessary trips to the grocery store, or sitting in long drive-thru lines. Instead, reach for one of these family freezer favorites for a warm, delicious, and classic meal any night you wish.
Editors' Recommendations