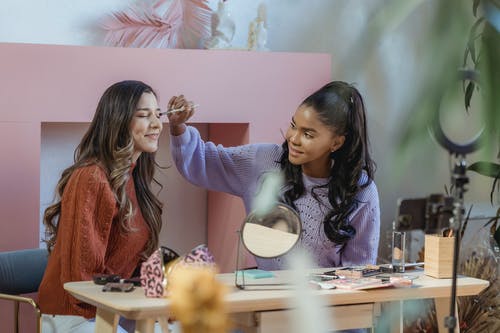 Who are your children hanging out with? Are they a good influence or a bad influence? These questions have bedeviled parents since time immemorial. No doubt there were prehistoric parents who told their children, "Don't hang out with Og; he draws inappropriate pictures on cave walls."

The internet has compounded this issue exponentially with the rise of so-called social media influencers — online personalities in the pursuit of building million-dollar brands. No longer are teens obsessed with celebrities; social media influencers have taken the spotlight, as these influencers are more relatable. But in order for these influencers to be who they are, they need followers, and they work tirelessly to produce content across social media platforms that will engage impressionable hearts and minds.
Social media influencers: Positive or negative influence on teens?
Is this influence positive or negative? It depends, but according to Dr. Elizabeth Milovidov, an expert on digital parenting and online safety, social media influencers offer parents golden opportunities for teachable moments, and she suggests parents do research on the personalities their children are following and watch content together.
Concerns about the positive or negative effects of influencers on teenagers are nothing new. Parents in the 1950s fretted over this new kind of music called rock and roll. Parents in the 1960s anxiously tried to stop their kids from imitating the eye-poking and face-slapping "Three Stooges" they watched on TV after school. Parents in the 1990s and 2000s likewise considered "Beavis and Butt-Head," and the prank series, "Jackass," to be terrible influences on America's youth.
"When I was a kid, my parents didn't want me watching (the sitcoms) 'Gilligan's Island' or 'I Dream of Jeannie,' which at the time was scandalous for Barbara Eden's bare midriff costume," Milovidov says with a laugh. "One of the most important things parents can do in this digital age is to get involved with who their children are following. If my parents had watched 'I Dream of Jeannie' with me, they probably would have shrugged and said, 'Okay.'"

What is a social media influencer?
Generally, a social media influencer is someone who has painstakingly built a reputation for their expertise on a specific topic and posts regularly on said topic across social media platforms. "A good influencer is somebody who is talking a good game, sharing good values, and making sure that anyone will feel good after they finish watching their content," Milovidov says.

Social media influencers are sought-after by brand marketers for their ability to influence purchasing decisions. An endorsement by a social media influencer can send sales through the roof and generate big money for the influencer. How much? CNBC reports that Kylie Jenner, of the Kardashian clan, and soccer legend Cristiano Ronaldo, who each have an excess of 200 million Instagram followers, can earn more than $1 million per post.

Kids have always been keen on being the first to be in on the next big thing. The appeal of social media influencers to their followers is that they are the coolest in the room and that watching them will make their followers feel like they are in the know about everything from the latest music and hottest clothes to make-up or accessories tips. It's "The In-Crowd" 2.0.

"An influencer is someone that your child will look up to and try to emulate," Milovidov says. "It's what everyone's talking about; the buzz at school. When 'Charlie's Angels' was one of the biggest TV shows, women wanted to wear their hair flipped back like Farrah Fawcett. Today, their followers might want to wear the same lipstick as Kylie Jenner or be a gamer like Ninja. In their minds, they are role models. In parents' minds, they may not always be."

Are social media influencers role models?
Take Ninja, real name Richard Tyler Blevins, age 29. He has parlayed his virtuoso skills playing Fortnite into something of a streaming empire. According to The New York Times, he has 16.5 million followers on Twitch, 14.4 million on Instagram, 6.5 million on Twitter, and 24 million YouTube subscribers. Blevins claims to make half a million dollars a month from streaming. He also has partnerships and endorsement deals with Red Bull, Adidas, and other brands.

But Blevins has a history of controversial statements actions, including telling interviewers that he avoids streaming with women to avoid sparking rumors (he is married), and, during a stream, improvising a variation on the n-word while rapping. He has also taken punitive actions against fellow gamers, including trying to get them banned.
In the New York Times interview this year, he had this to say about being a role model to his followers. Regarding racism, he said, "How does a white kid know he has white privilege if his parents never teach him or don't talk about racism? Is it my job to have this conversation with this kid? No, because the first thing that's going on in my head is, 'This kid is doing this on purpose to troll me.'"
And then there is Olivia Jade, who posts videos devoted to makeup, fashion, and lifestyle. Her parents, actress Lori Laughlin and designer Mossimo Giannulli did jail time for their participation in a college admissions bribery scandal. Galling to many were videos of Jade saying she wanted to experience college for the parties. "I don't really care about school," she said. That's not a message most parents would want their children to hear.

We don't mean to dwell on the negative effects of social media influencers. There are many social media influencers with positive messages about body positivism, social activism, and good nutrition. Dr. Rupy Aujla, a British doctor with the National Health Service, shares healthy global cuisine recipes as an alternative to junk food.

Teachable moments, critical questions
Milovidov says that just asking their children who they are following is an excellent conversation starter. Recommended follow-up questions are, "Why do you like that person?" and "What are they advertising?"

"We don't always know what these influencers are about and what they stand for," she says. "It's really good to dig in."
Social media influencers are a new wrinkle on an ongoing debate about whether celebrities should consider themselves to be role models, especially where their youngest fans are concerned. There is a very fine line between idol and role model, and some athletes reject the responsibility as something for which they did not sign up. In 1993, NBA Hall of Famer Charles Barkley explicitly stated in a Nike commercial, "I'm not a role model. Just because I dunk a basketball doesn't mean I should raise your kids."
Others have used their platform to explicitly do good off the field and promote positive values. Wrestler-turned-actor John Cena reportedly holds the highest record for granting Make-a-Wish requests (more than 650). Cristiano Ronaldo refuses to get a tattoo for fear of cross-contamination that would prevent him from donating blood. He is also reportedly a prolific contributor to charities. Tim Tebow was not a superstar football player, but in addition to good works and charitable contributions, he was vocal about the importance of faith and God in his life.
LeBron James has also put himself out there as a deep-pocketed champion of children's education with his LeBron James Family Foundation, whose goal is to send in-need children to college. He also founded the I Promise School in his Akron, Ohio hometown, a grades 1-8 school that serves families in need.
But athletes and movie stars, once the most-after by companies for their endorsements, may be losing ground to social media influencers. Influencer casting has become a thing: "Boo: A Medea Halloween," Tyler Perry's 2016 entry in his signature screen franchise, featured four social media influencers in the cast, to better capitalize on their millions of followers who producers counted on to follow them into movie theaters.
Social media influencers are not going anywhere. One of the most important things a parent or caregiver can do regarding social media influencers is to help children develop a critical eye to the content their favorite influencer is putting out into the universe. This doesn't mean adopting a "Law & Order"-style interrogation, Milovidov stresses. "Just ask interesting questions, including:
• What do you think about this?
• How do you feel when you watch this influencer?
• Why are they talking about this subject? What is their attitude about it?

So-called edgy or age-inappropriate content offers parents another teachable moment to reinforce positive family values. "Parents might find a clip of a social media influencer saying really off things," Milovidov says. "They can follow by asking how their child feels about that and what would their friends say if they heard the influencer speak this way? These questions are a way of communicating the message: 'This is not what we're about.'"

Another key teachable moment concerns comments and sharing, Milovidov says. Comments and shares are the mother's milk of social media influencers, and following the lead of trolls who post negative comments can be irresistible. "Parents can ask, 'How would you feel if someone said something negative about you?' she prompts. "They need to communicate that forwarding and sharing negative or nasty comments indicates tacit approval and consent. Parents need to explain that a thumbs-up or emoji says, 'I endorse this.'"

By the same token, if someone is being cyber-bullied, and somebody comments, 'You're going to be okay,' that is a great way of showing support," Milovidov adds.

What should parents do when their children flirt with the notion of becoming social media influencers themselves? "It's like your child watching a Shirley Temple movie and thinking, 'I can sing and dance.'" Milovidov says. "What children may not be considering is all the work it takes to produce the content necessary to break through the clutter and build a following. They think they can say, 'Hey guys, welcome to my channel,' and they'll make millions. It's not that simple."
Editors' Recommendations