Your little girl is growing up. Before you know it, your curious cutie will be a mini woman with sass to spare. In the meantime, as she is developing and changing, you will want to keep the line of communication open. All girls go through puberty at different ages; some begin as early as 8, while others may take a few more years to reach this milestone. Either way, at some point, she may want or need a training bra. Don't know where to start in your search — or how to broach the conversation? Read on for our top tips and a few shopping picks.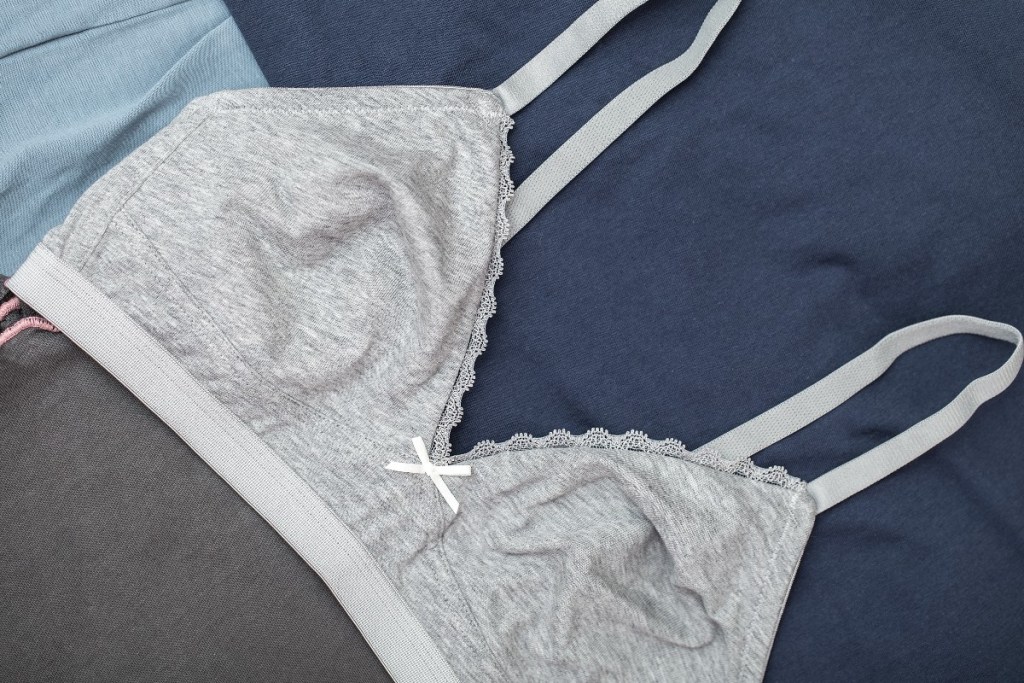 What is a training bra?
First and foremost, there is no actual "training" that happens with a training bra. Basically, it is a transitional undergarment — a cross between an undershirt and a traditional bra. It should not have underwires or pads; it just acts as a barrier between the shirt and the chest and nipples.
When should girls start wearing bras?
Really, there is no wrong time to start wearing a training bra. Your child may want to wear one before they even approach puberty. They may see you or an older sister wearing a bra and want in on the party. On the other hand, girls who have previously not expressed interest may need to start wearing one as their breast buds begin to appear.
You just want to make sure that your daughter begins wearing one before they fully develop. This will help prepare them (or "train" them, if you will) for a more supportive and structured bra — and get them comfortable with the idea of wearing one every day.
The reality is: Some girls will be super eager; others will be reticent or embarrassed. Approach this conversation with empathy and honesty. If your child does not want to wear one, do not push it yet and give it time. Just keep communicating — the training-bra talk should be one slice of a larger message about the changes that will soon occur both physically and emotionally.
Tips for shopping for a training bra
Here are some ideas when you're purchasing a training bra:
Browse together: This can be more than a shopping errand; it can be a bonding experience — so go to the store together to explore options and make a day of it!
Shop online: If your daughter turns red in the face at the mere mention of the word "bra," consider browsing online together instead. This will keep this milestone private, intimate, and as embarrassment-free as possible.
Try different styles: You can branch out beyond nude and white cotton options. Colors, patterns, racerback styles, and other designs may inspire your daughter to be more excited about this event.
Avoid padding and "extras": Remember, a training bra doesn't really offer support or structure. Right now, the focus is to make wearing an undergarment the norm — so avoid padding, underwires, or extra embellishments at this point.
Some top picks for girls and tweens
Ready to check out some beginner bra options? Here are a few basic picks:
Maidenform Girls' Logo Band Cotton Crop Training Bra, 3 Pack
Made of 95% cotton with a bit of stretch, this super-soft training bralette features a pull-on closure (like a traditional sports bra) and is a simple and comfortable option for girls and preteens.
Bleum Girl First Bra
This training bra is lightweight, moisture-wicking, and breathable — so it is an ideal option for budding athletes. It features two layers of material for comfort and coverage, and it is tag-free and seamless to create smooth lines under all types of clothes.
Cat & Jack Cotton Cami Bra
Comfortable and easy to wear, these demi or training bras are a good pick for wearing under tees and tanks to offer a touch of coverage and some early barely-there support.
Transitioning to a training bra can be an exciting time for a girl or tween. It can also be a dreaded milestone. Be sensitive and understand that this may feel awkward for your kiddo. Her body may be gradually changing, and it might feel confusing — or she could be welcoming this moment with gusto. Either way, with love and support, you can find the right training bra for her needs — together.
Editors' Recommendations