How do we love America's roadside attractions? We can't count the ways. Mostly we love them because in an increasingly homogenized America, with the same big-box retailers and fast-food chains at every intersection, roadside attractions are a last bastion of quirk and individualism. What really makes America great is that there are dreamers who imagined that tourists would flock to see a UFO-shaped house, the world's largest fork, or a museum devoted to potatoes. And they were right! We've searched every state for an attraction that will surprise, amaze, and delight your family on your next road trip. (Banish the "Are we there yet?" queries forever… or at least until the next leg of the trip.)
Technically, some of these aren't exactly roadside, but they are too weird and wonderful to miss. (COVID-19 or not, several of these establishments keep irregular hours or are open only by appointment. Be sure to call ahead.)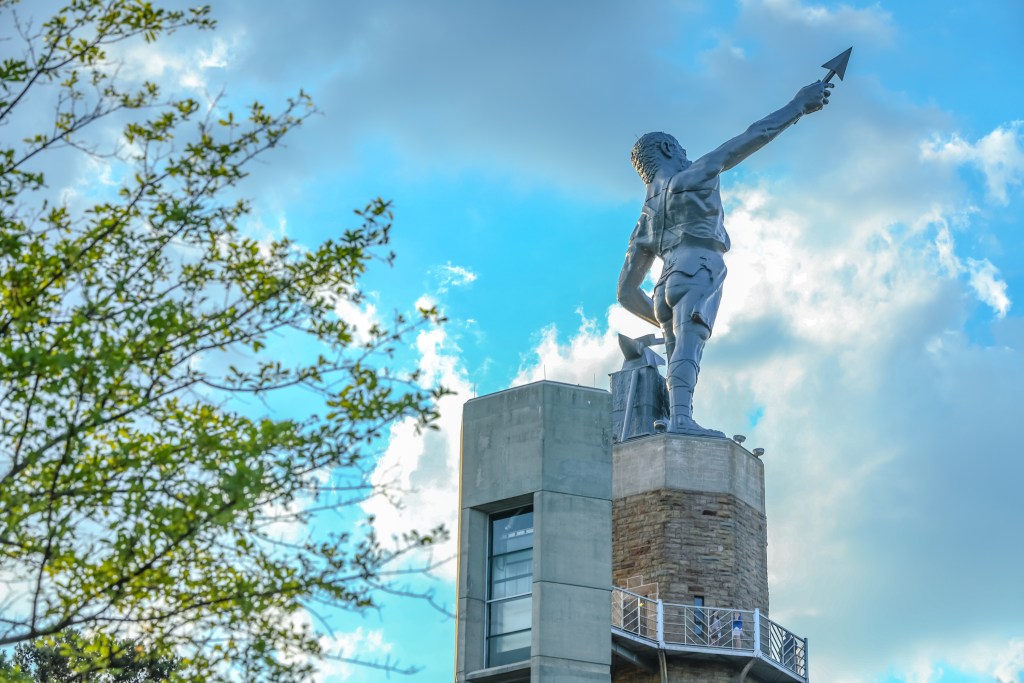 Alabama
Vulcan the Iron Man, 1701 Valley View Dr., Birmingham
Move over, Tony Stark. Created for the 1904 St. Louis World's Fair, this 56-foot cast-iron statue depicts Vulcan, the blacksmith of the Roman gods. It's rivaled only by the Iron Man statue in Chisolm, Minnesota.
Alaska
Santa Claus House, 101 St. Nicholas Dr., North Pole
Remember those visions of sugar plums that danced in your head on the night before Christmas? Recapture the magic at the ultimate Christmas store, complete with a 50-foot Santa statue out front. It will make a believer out of the surliest Scrooge.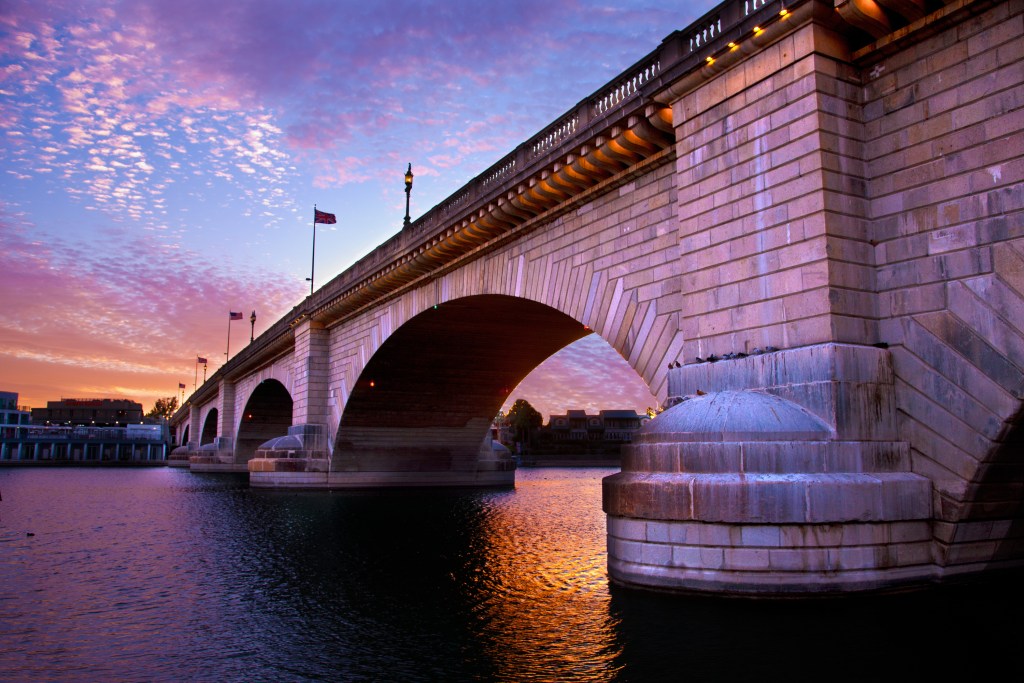 Arizona
London Bridge, 1340 McCulloch Blvd, Lake Havasu
London Bridge was falling down, and so city founder Robert McCulloch, in search of a tourist attraction, bid more than $2.4 million on this structure, which was dismantled and reconstructed in Lake Havasu.
Arkansas
The Daisy Air Gun Museum, 202 W. Walnut St., Rogers
Fans of the classic holiday movie, A Christmas Story, will get a bang out of this museum dedicated to the Daisy BB Gun. Air guns date back centuries, and some of those ancient models are on display. Resist the urge to say, "You'll shoot your eye out." The staff has heard it before!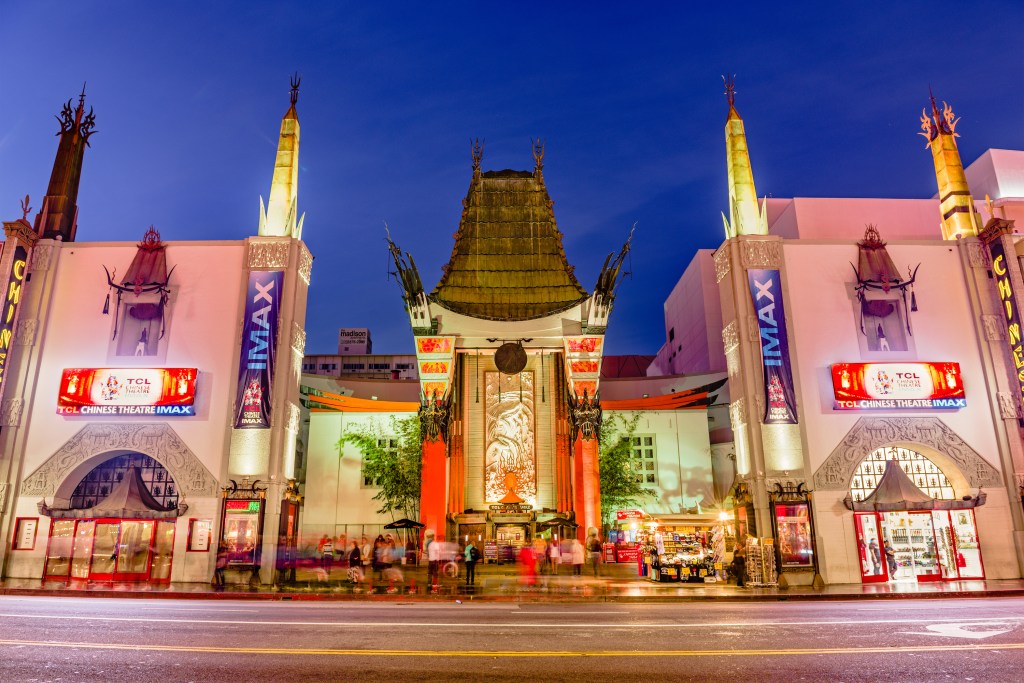 California
TCL Chinese Theatre, 6925 Hollywood Blvd, Hollywood
Not quite roadside, but worth the slight detour off of Highway 101 to see this legendary movie theater with its iconic forecourt in which the hands and footprints of Hollywood's most legendary stars have been preserved in cement. There is nothing more Hollywood.
Colorado
Creede Fork, 981 La Garita St. (Highway 149), Creede
You know that fork in the road people are always told to take? Well, you can't miss this one. It's 40-foot-long and 800-pounds. It's the biggest thing in this town of less than 400.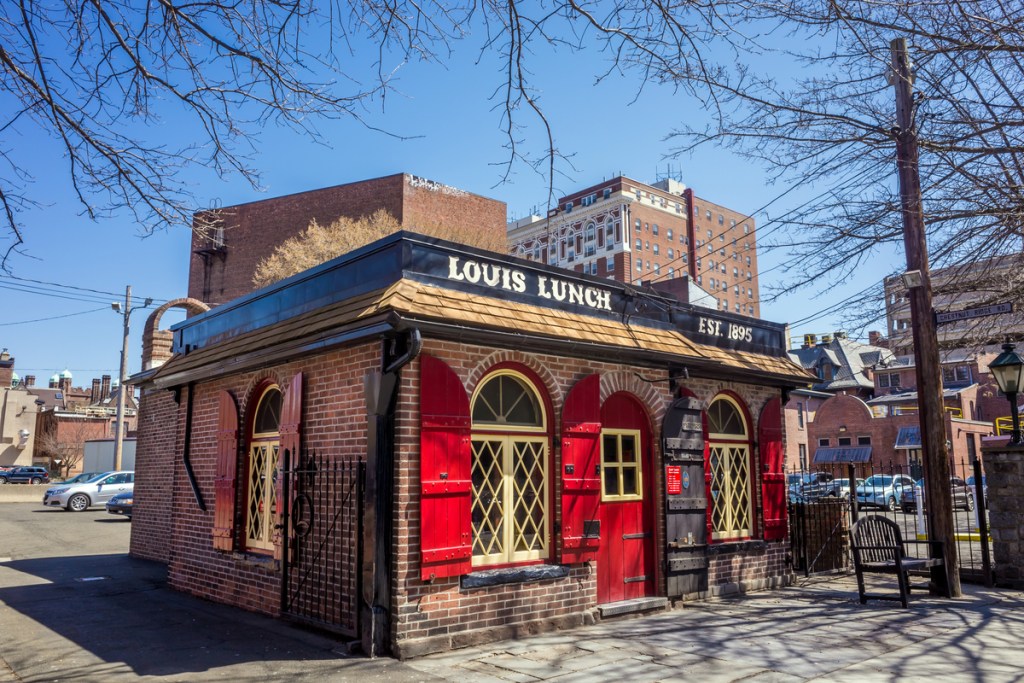 Connecticut
Louis' Lunch, 261 Crown St., New Haven
For one meal, skip the fast-food chains and treat your family to a little hamburger history. This is the birthplace of the burger. They're still cooked here in cast-iron grills that date back to 1898. They're served on white toast. Garnishes, yes, but no condiments.
Delaware
Futuro: UFO-shaped house, Eagles Crest Rd., Milton
Here's a roadside attraction that's out of this world: a saucer-shaped domicile located at the end of an airfield. Only 96 of these houses were ever made, but just note: This is private property, so be respectful.
Florida
Ochopee Post Office, 38000 Tamiami Trail E, Ochopee
No bigger than a postage stamp, the Ochopee Post Office in the Everglades began life as a shed. Now, it stakes its claim as the world's smallest post office.
Georgia
Tank Town, 10408, Appalachian Hwy, Morganton
If tiny post offices don't exactly thrill the kids, maybe they'd prefer getting behind the wheel of an actual tank. It'll cost you, though: $175 for 10 minutes or a half-mile, and for $600, you can crush a car! But it will be worth it just to get your kids to say, "Tanks," so you could say, "You're welcome."
Hawaii
Big Island Bees, 82-1140 Meli Rd. #102, Captain Cook
Here's the buzz on this family-operated bee farm: More than a hundred million bees and roughly 4,000 hives produce as much as 600,000 pounds of honey annually. That is some busy-beeing! Take a tour, visit the museum, and enjoy a honey tasting.

Idaho
Idaho Potato Museum, 130 NW Main St., Blackfoot
Blackfoot stakes its claim as "the Potato Capital of the World," so why not a 5,500 square-foot museum devoted to the history of the spud? Among its treasures is the largest Pringles potato crisp ever made. The museum is $6 for adults and only $3 for children 5-12, and that's small potatoes (you saw that joke coming, didn't you?)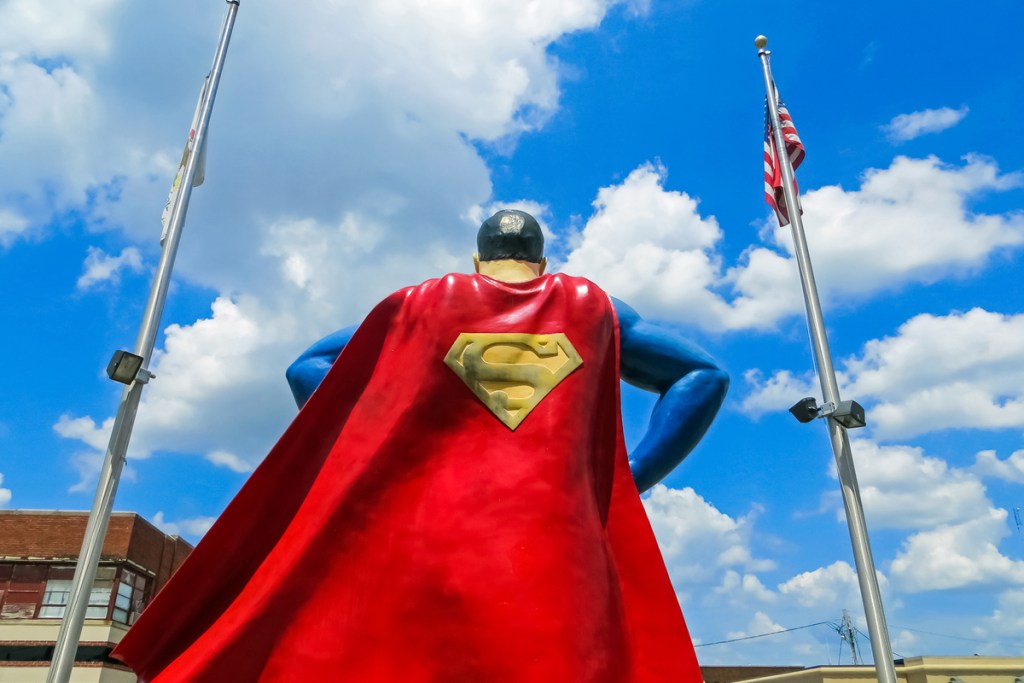 Illinois
Superman Statue, Massac County Courthouse, Metropolis
Look! Out in Superman Square! It's the Superman statue, proudly erected in — where else — Metropolis, the official hometown of the world's first superhero. At 15 feet in height and weighing three tons, it's a real — excuse the expression — marvel.
Indiana
Flick statue, 7770 Corinne Drive, Hammond
Located at the Indiana Welcome Center just off of Interstate 94, this statue commemorates one of the most memorable scenes in A Christmas Story in which Flick accepts a "triple-dog-dare" to put his tongue on a frozen flag pole. While you're in Hammond, also visit the boyhood home of Jean Shepherd, who wrote the original story.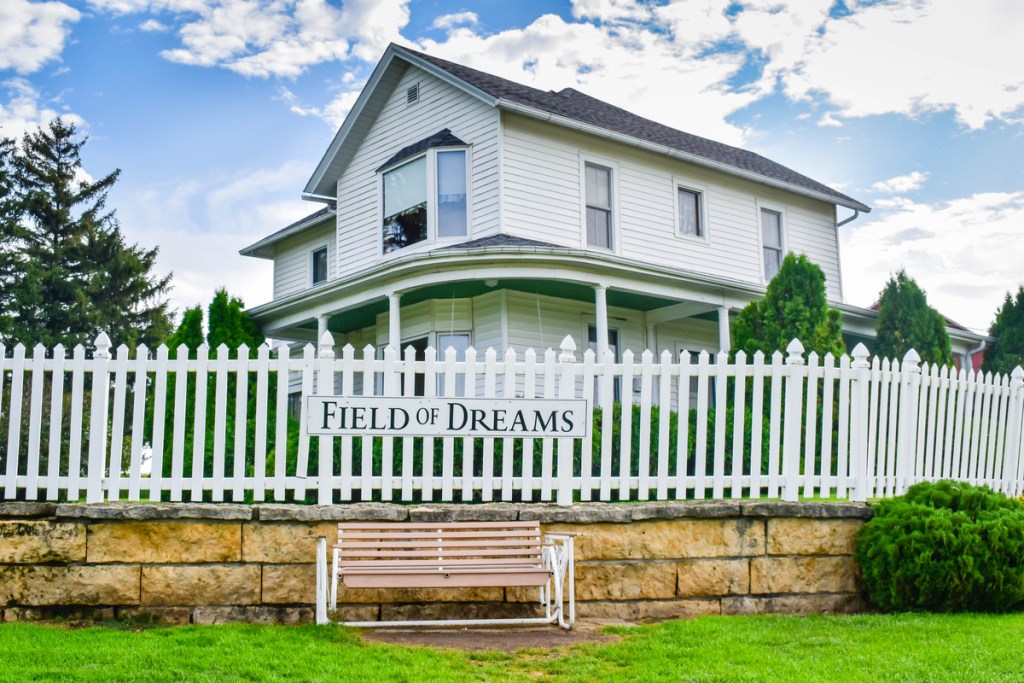 Iowa
Field of Dreams Movie Site, 28995 Lansing Road, Dyersville
They built it for the cherished movie more than 30 years ago, and the people still come. James Earl Jones, in the film, said it best: They'll come "for reasons they can't even fathom. They'll turn up your driveway not knowing for sure why they're doing it. They'll arrive at your door as innocent as children, longing for the past." Or maybe to get some souvenirs. Bring your mitts; you'll want to play catch.
Kansas
Museum of Odd, 1012 New York St., Lawrence
Come to see Elvis Presley's toenail, stay for the 350 sock monkeys. This museum absolutely lives up to its name. Be sure to call first to make an appointment.
Kentucky
The Barrel of Fun Ice Cream, 9421 Smyrna Pkwy, Louisville
A highlight of any summer road trip is stopping for ice cream at a local stand that's been dishing it out to the locals for generations. This Louisville institution is notable for its signature 12-foot-tall red and white striped barrel.
Louisiana
Britney Spears Museum, 204 Avenue E, Kentwood
Four rooms in the Kentwood Historical and Cultural Arts Museum have been set aside for this unofficial installment dedicated to Kentwood's most celebrated (and scandalous) native daughter. After viewing its collection of Britney memorabilia dating back to her Mickey Mouse Club days, your kids will want to walk through it "one more time."
Maine
Shoe Tree, Calais Road, US Hwy 1, Hodgdon
Here's a roadside attraction with lots of sole! It's a tree that has been festooned with old shoes. And really, that's all you need to know.
Maryland
Star Toys Museum, 811 Camp Meade Rd., Linthicum
Like the Millennium Falcon, this ramshackle house may not look like much, but it's got it where it counts, not only in its collection of Star Wars toys and memorabilia (12,000 items-strong), but also in the world's largest hamster habitat (I find your lack of faith in this claim disturbing). Call ahead to make an appointment.
Massachusetts
The Old Jail, 3365 Main St., Barnstable
Located next to the Coast Guard Heritage Museum, this quaint old building is the oldest wooden jail in America. Of further interest: It is said to be haunted!
Michigan
Dinosaur Gardens, 11160 US-23, Ossineke
Your family has indulged you in stops to the oldest this and the tallest that; now it's give-back time with a stop to this riot of homemade prehistoric birds and beasts. Plus miniature golf!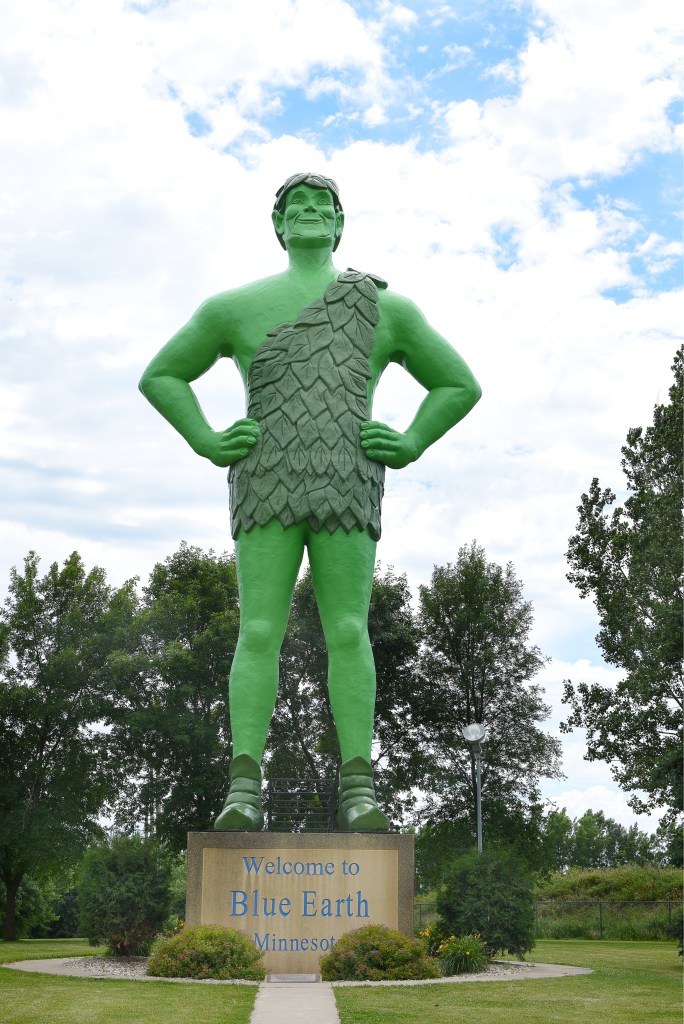 Minnesota
Jolly Green Giant Statue, 1126 Green Giant Ln, Blue Earth
It's not easy being green, especially when you weigh 8,000 pounds and are 55-feet tall. But this statue has steadfastly welcomed travelers to Blue Earth since 1979.
Mississippi
Elvis Presley's birthplace, 306 Elvis Presley Dr, Tupelo
The American landscape is dotted with roadside tributes to Elvis, but this is one of the few that really matters. Not the big tourist-to-do that is Graceland, this commemoration of where the King was born is a humble abode. (But don't miss Graceland, either.)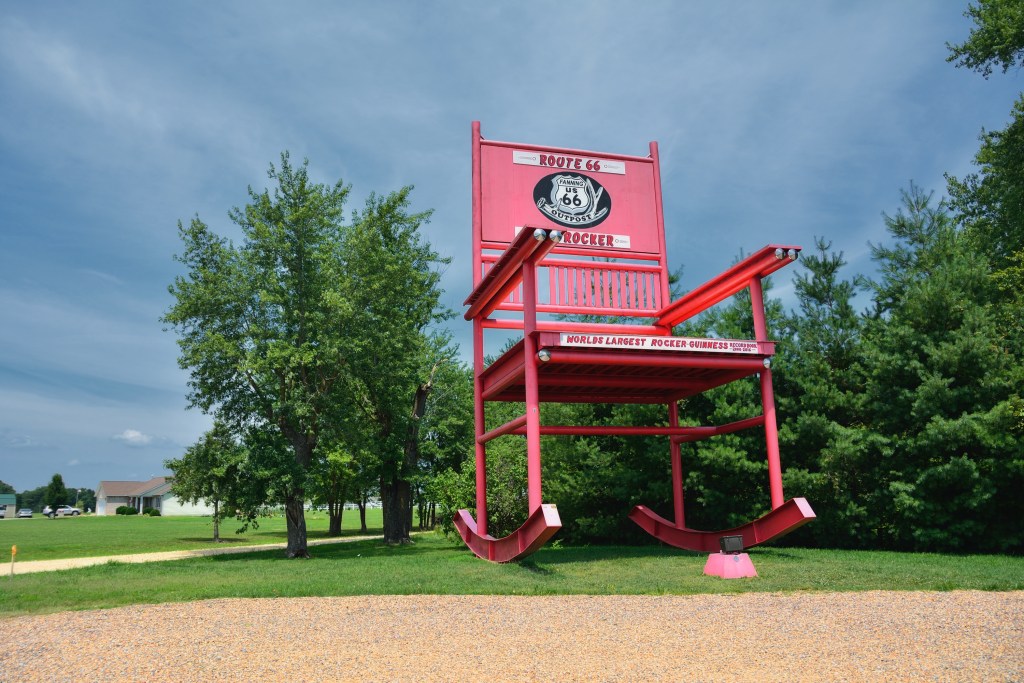 Missouri
Route 66 Rocker, 5957 State Hwy ZZ, Cuba
Get your kicks on the Route 66 Rocker. It no longer rocks, and it no longer can lay claim to being the world's biggest (you'll find that in Casey, Illinois), but it's still an impressive photo op.

Montana
Garden of One Thousand Buddhas, 34574 White Coyote Road, Arlee
After hours of "Are we there yet?" or the umpteenth backseat sing-along to "Peaches," you can use a meditative break. According to the Visit Montana website: "The purpose of the Garden is to bring about positive transformation within those who visit, in response to the negativity that abounds in the world today." You may never want to leave.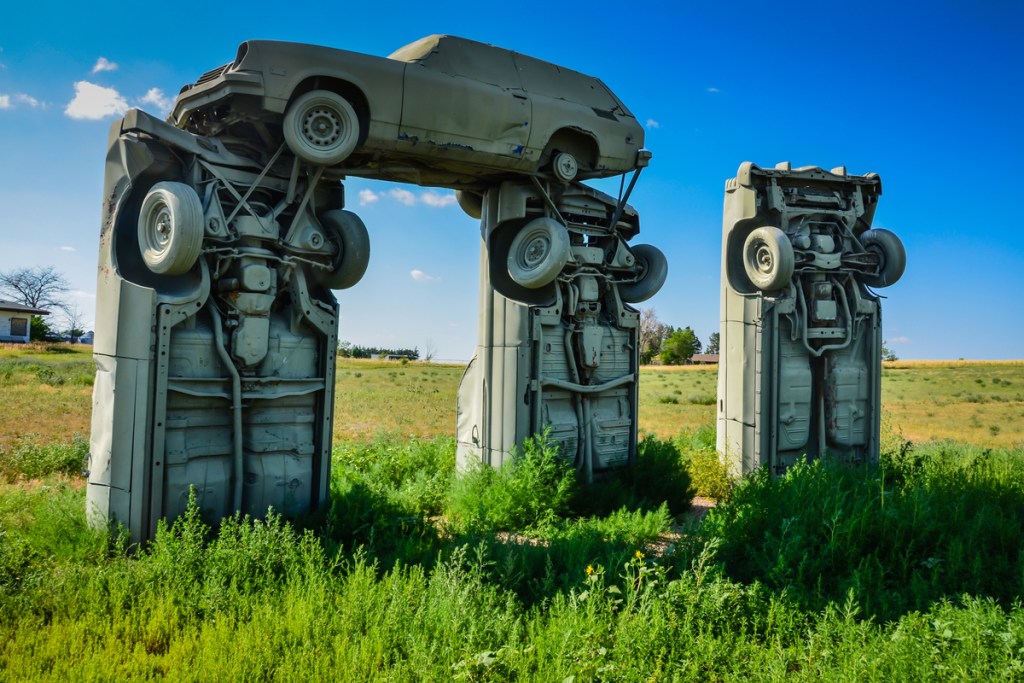 Nebraska
Carhenge, 2151 Co Rd 59, Alliance
There are several recreations of Stonehenge across America. This one is comprised of 38 automobiles, trucks, and ambulances.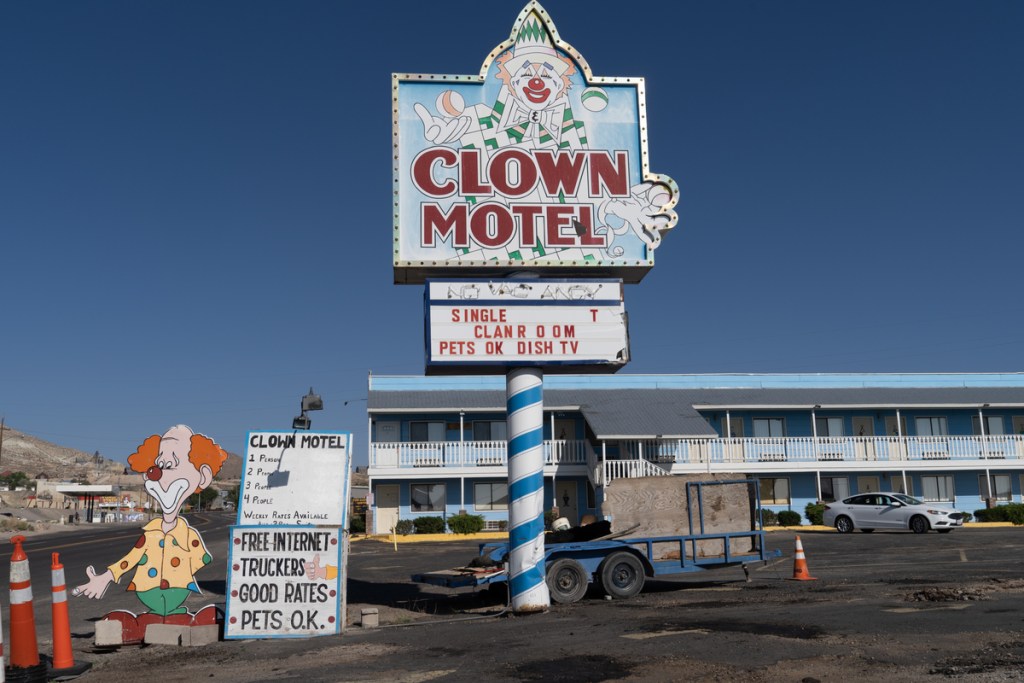 Nevada
The Clown Motel, 521 N Main St, Tonopah
Tonopah has two claims to fame: It is referenced in the Little Feat classic, "Willin'", and it is home to this creepshow that makes the movie It feel like Pollyanna. This establishment bills itself as "America's scariest motel." But if you can get over your coulrophobia, you will never forget your visit to the House of More Than 2,000 clowns!
New Hampshire
American Classic Arcade Museum, 579 Endicott St. N, Laconia
From A (Asteroids) to Z (Zaxxon), it's game on at this emporium that boasts more than 250 restored vintage arcade games. This might be the one time when impatient children gripe to their parents, "Just one more game, and then we have to go."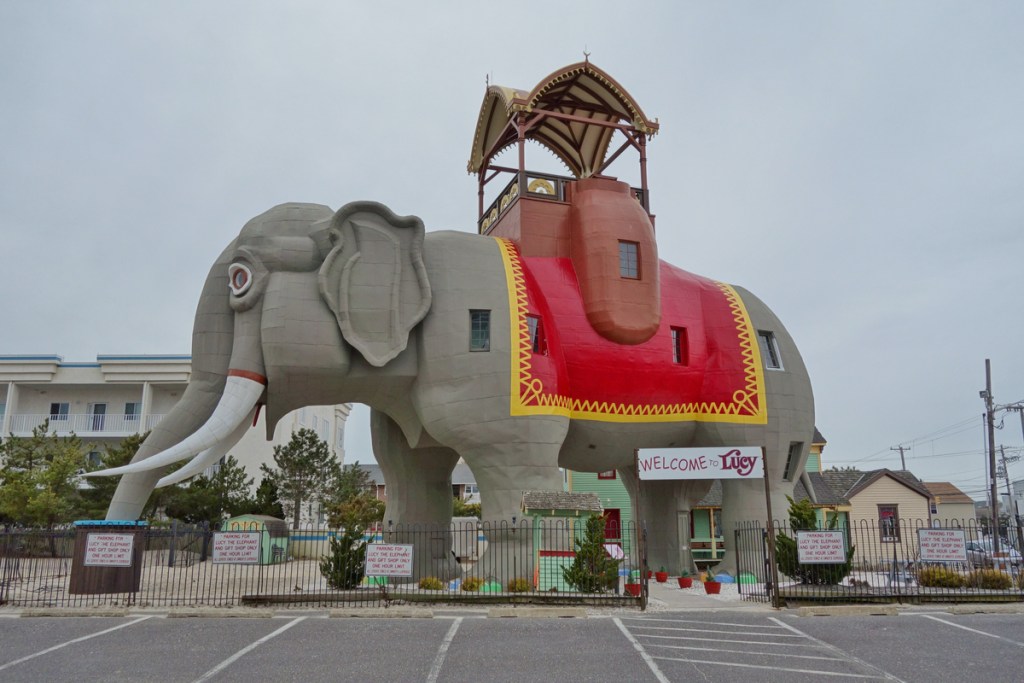 New Jersey
Lucy the Elephant, 9200 Atlantic Ave., Margate City
America's oldest surviving roadside attraction is one your family will never forget. Built in 1881, Lucy is six stories tall and weighs 90 tons. For just peanuts ($8 for adults, $4 for children), you can tour Lucy from the inside.

New Mexico
Giant Robot, 1352 Rufina Circle, Santa Fe
George R.R. Martin (yes, that George R.R. Martin of Game of Thrones fame) is a benefactor of the arts collective Meow Wolf. But before you get inside to the mind-blowing immersive and interactive installations, dig on the 30-foot-tall daisy-clutching robot in the parking lot.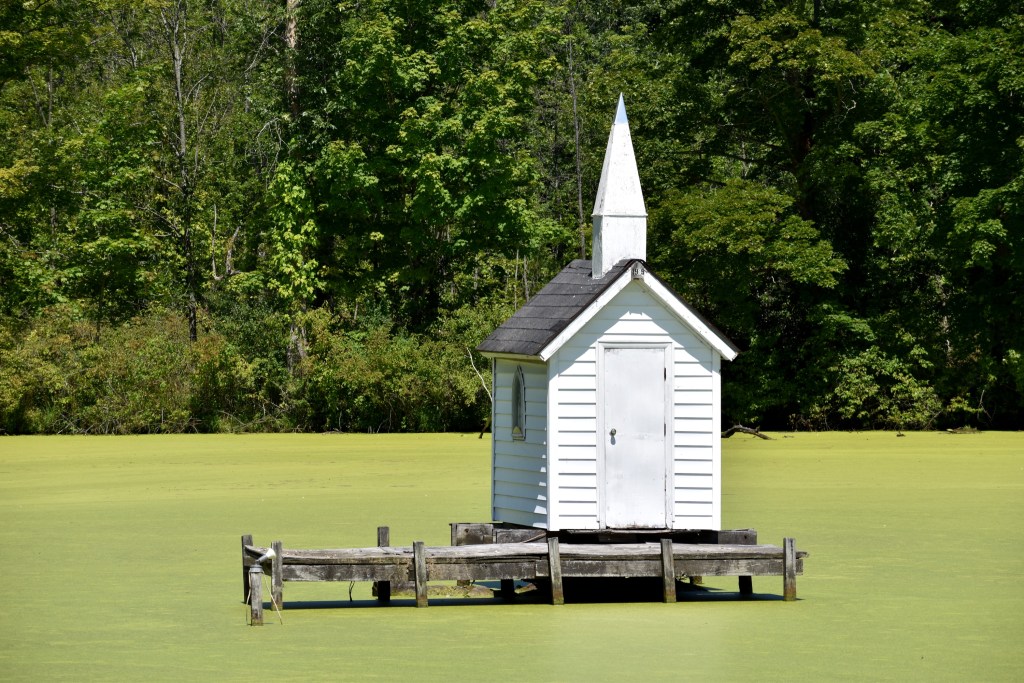 New York
Cross Island Chapel, Oneida, NY
A billboard proclaims this non-denominational church that seats two people comfortably is the world's smallest. It is located in the middle of a pond and is accessible only by boat.
North Carolina
Mt. Airy, the real Mayberry?
Andy Griffith was born here, and "the Friendly City" does all it can to promote the connection between Mt. Airy and Mayberry, the small town that time forgot on The Andy Griffith Show. Practically the entire town is a roadside attraction with recreations of Mayberry's iconic buildings, such as Wally's Service Station and Floyd's City Barber Shop.
North Dakota
World's Largest Buffalo Monument, Louis L'Amour Lane, Jamestown
Visible from Interstate 94, "Dakota Thunder" is 26-feet tall and weighs 60 tons. Jamestown is also home to the National Buffalo Museum, whose mission, according to its website, is "to advocate for the restoration of the North American bison." Nearby Sabirs Buffalo Grill must not have gotten the memo: the Bison burger is one of its specialties.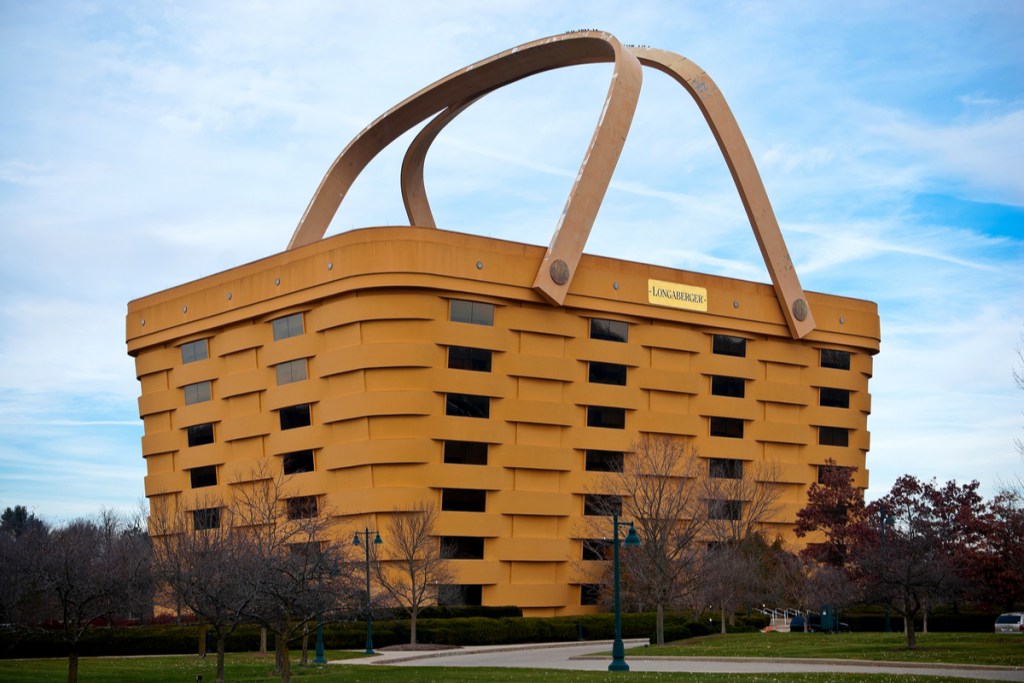 Ohio
World's Largest Basket, 1500 E. Main St., Newark
If your family road trip has made you a basket case, what better site to visit than the home office of Longaberger's, a home décor purveyor specializing in—you guessed it—baskets. The business is housed in a seven-story structure built in the form of a magnificent hand-woven gift basket.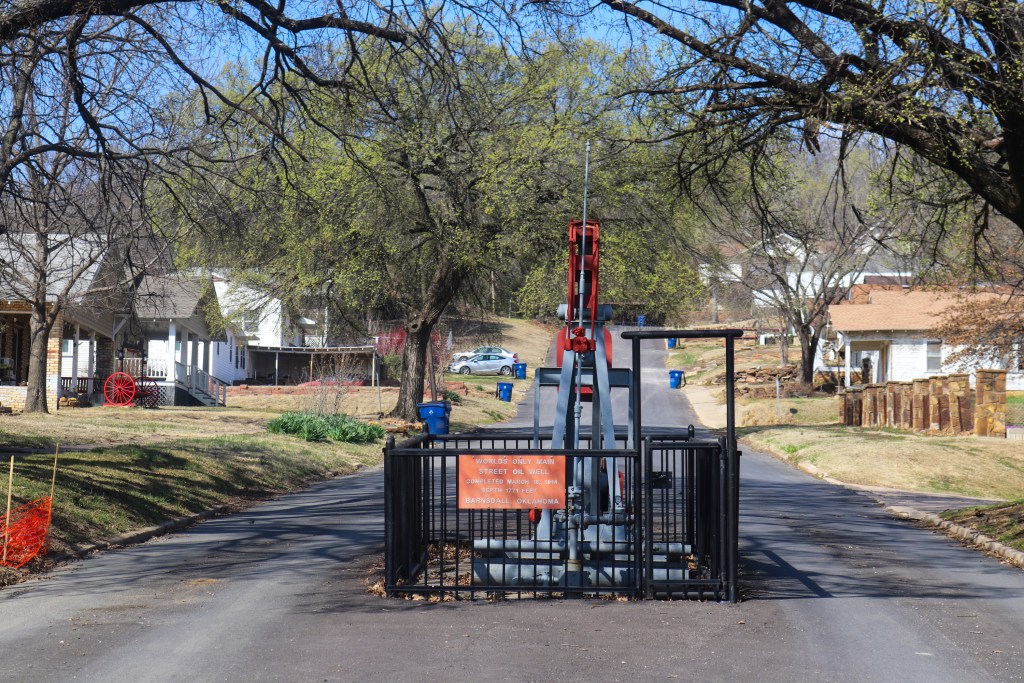 Oklahoma
Main Street Oil Well, 800-898 W. Main St., Barnsdall
Here's the drill: In the middle of Barnsdale's Main Street, you will find what has been called the world's only main street oil well, albeit currently inactive. In 1997, it was added to the National Register of Historic Places. And if this happens to be the last stop of the day, you can say to your family, "Oil's well that ends well."
Oregon
Simpsons Mural, 500 Main Street, Springfield
For decades, fans of The Simpsons have speculated about the location of the real Springfield. In 2012, show creator Matt Groening told NPR that Springfield was in his native Oregon. The town commemorated this news by painting an authorized 15-by-30 foot mural that you will find gracing the wall of the Emerald Art Center.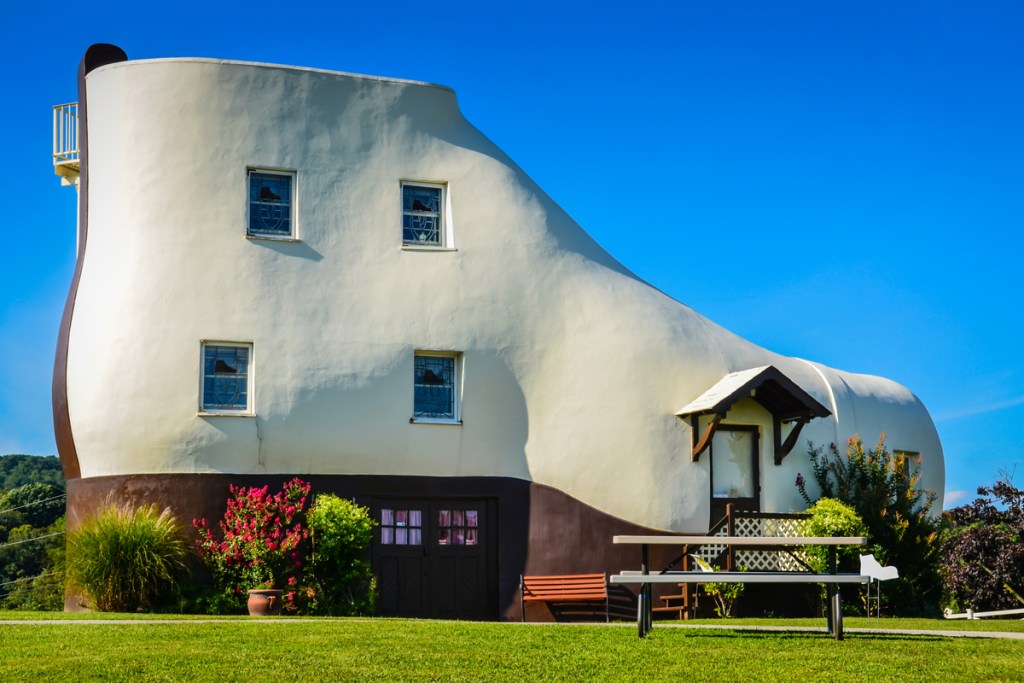 Pennsylvania
The Haines Shoe House, 197 Shoe House Rd., York
There's no business like shoe business! Visible from Route 30, this 25-feet tall Shoe House can't be beat. It's a spacious shoe: three bedrooms and two bathrooms, a living room and kitchen. Twenty-five-minute guided tours are offered. The former carport is an ice cream parlor.
Rhode Island
Big Milk Can, Rte 146
Got milk can? Add this Rhode Island oddity to your itinerary. The 32-foot tall structure was built roughly 92 years ago. It has been vacant and abandoned longer than its years of operation.
South Carolina
South of the Border, Interstate 95-U.S. 301-501, Dillon
Perhaps the least woke roadside attraction on this list, but this mustachioed, sombrero-bedecked mascot is a sight to behold. "Pedro" is nearly 100-feet tall, and he has been welcoming visitors to this rest stop for nearly seven decades. The complex includes an amusement park and the 200-foot tall Sombrero Tower, which is affectionately known locally as "the Eiffel Tower of the South."
South Dakota
Wall Drug Store, 510 Main St, Wall
Featured in this year's Best Picture winner, Nomadland, the sprawling Wall Drug Store is one of the most famous roadside attractions in the world, thanks to its omnipresent billboards in locations all around the globe with such come-ons as "Free ice water." This is its 90th year of operation. Travel writer Bill Bryson called it "one of the world's worst tourist traps, but I loved it and I won't have a word said against it."
Tennessee
The Salt & Pepper Shaker Museum, Gatlinburg
Yes, Graceland is here, but if you really want to get all shook up, don't miss the self-billed world's only salt and pepper shaker museum — more than 20,000 sets from around the world. And that doesn't include the Pepper Mill collection.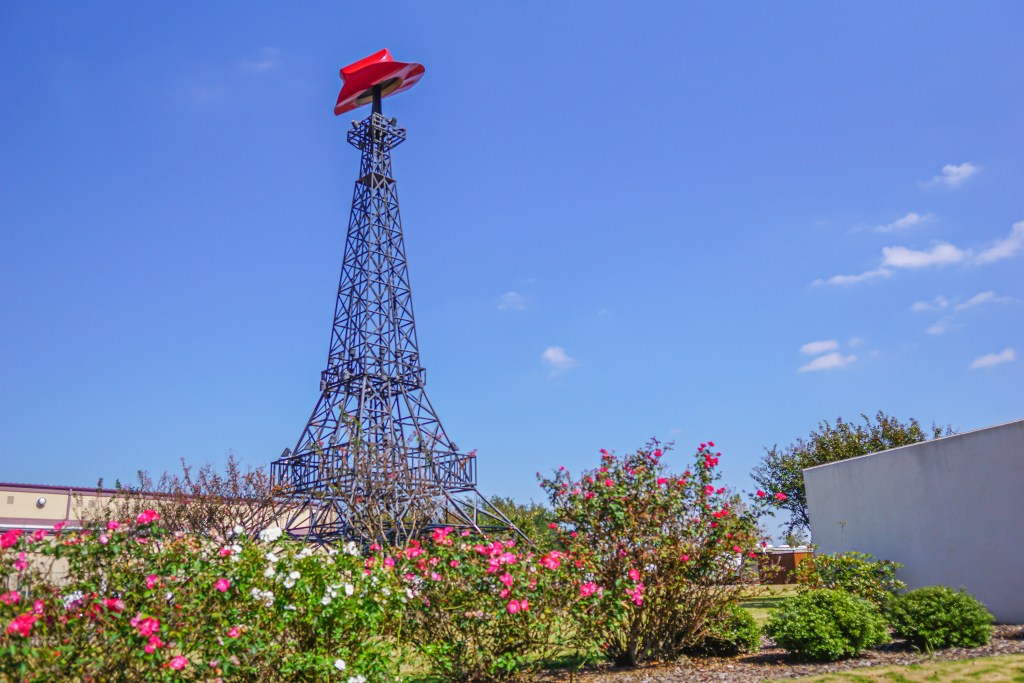 Texas
Paris, Texas Eiffel Tower, 2025 S Collegiate Dr.
If the Sombrero Tower is known as the Eiffel Tower of the South, where does that leave this replica of the magnificent French monument? The Paris, Texas, version may not be as tall, but it does have one thing its Paris, France counterpart does not: a cowboy hat at its very top.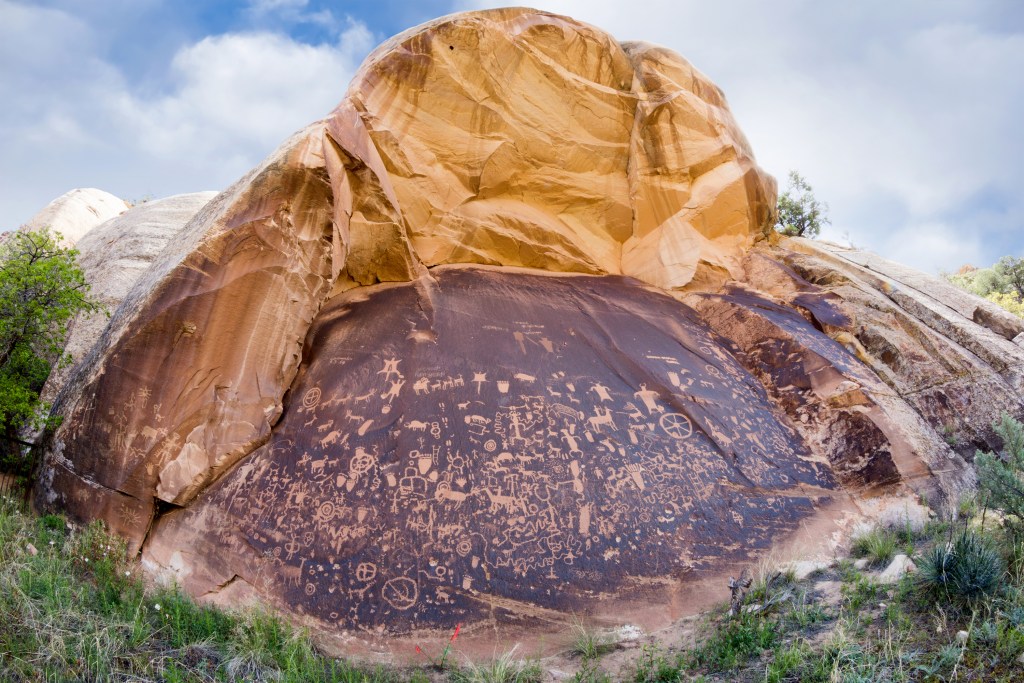 Utah
Newspaper Rock, Rte. 211, Monticello
This is not fake news! Newspaper Rock is a state historical site on which are carved more than 2,000 years of Native-American engravings and drawings. The rock is called Tse' Hane, which is Navajo for "rock that tells a story."

Vermont
Whale Tales, I-89, South Burlington
Here's a whale of a roadside attraction, a 1989 sculpture titled "Reverence" that depicts two 13-foot tall Ahab-worthy granite whale tails. They can be seen from the highway or approached on foot via an almost two-mile trail.
Virginia
Dinosaur Land, 3848 Stonewall Jackson Highway, White Post
Virginia is for dino lovers! This Shenandoah Valley institution has been enthralling visitors for 50 years with its more than 50 model prehistoric beasts. These are old-school dinos, meaning no animatronics, which gives this park a retro charm.
Washington
Codger Pole, 398 S. Main St., Colfax
How is this not a movie? This 65-foot tall chainsawed sculpture commemorates the 1988 replay of a 1938 high school football game between crosstown rivals the Colfax Bulldogs and the St. John Eagles. The Bulldogs won the first contest. Fifty years later, with the original combatants in their 70s, (spoiler alert) the Eagles were victorious.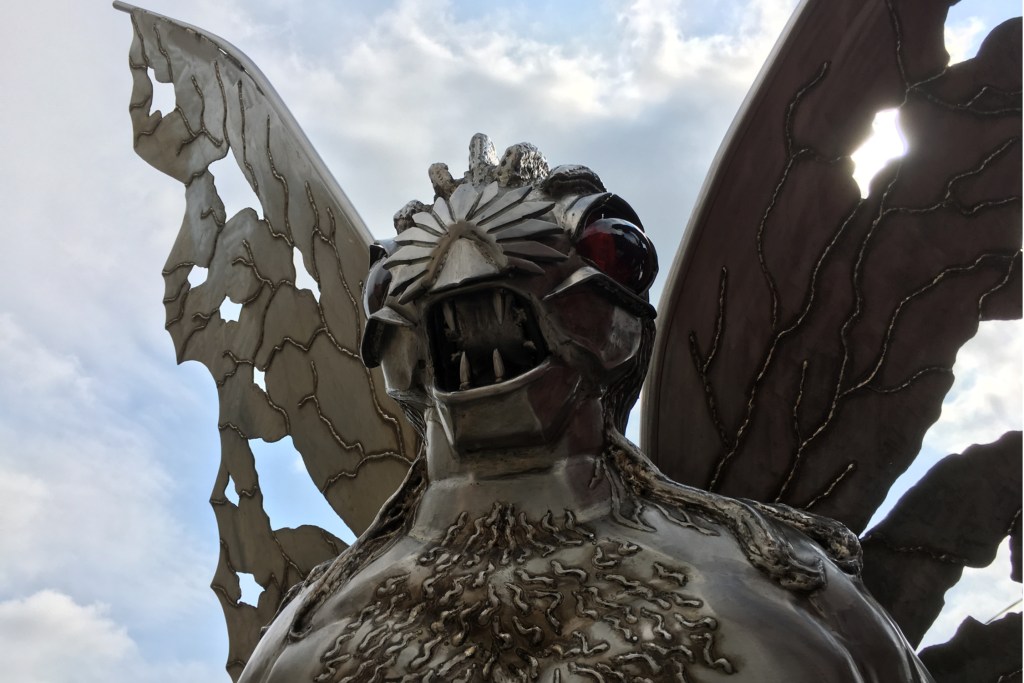 West Virginia
Mothman Statue, 201 4th St., Point Pleasant
This one already was a movie, The Mothman Prophecies, starring Richard Gere, and before that, a non-fiction(!) book by John Keel. This sculpture is based on the legend of the half-human, half-insect creature who haunted the citizens of Point Pleasant in the 1960s. The Mothman Festival is held there in September.
Wisconsin
Al Johnson's Goats on the Roof, 10698 N. Bay Shore Dr., Sister Bay
Goats on the roof sound crazy, no? Wisconsin certainly has some cheesy attractions (we're looking at you, Mars Cheese Castle in Kenosha), but no kidding, the goats that graze atop the roof of Al Johnson's Swedish Restaurant are as much of an attraction as the parading ducks at the Peabody Hotel in Memphis. (Bonus Al Johnson's tip: Order the Swedish pancakes).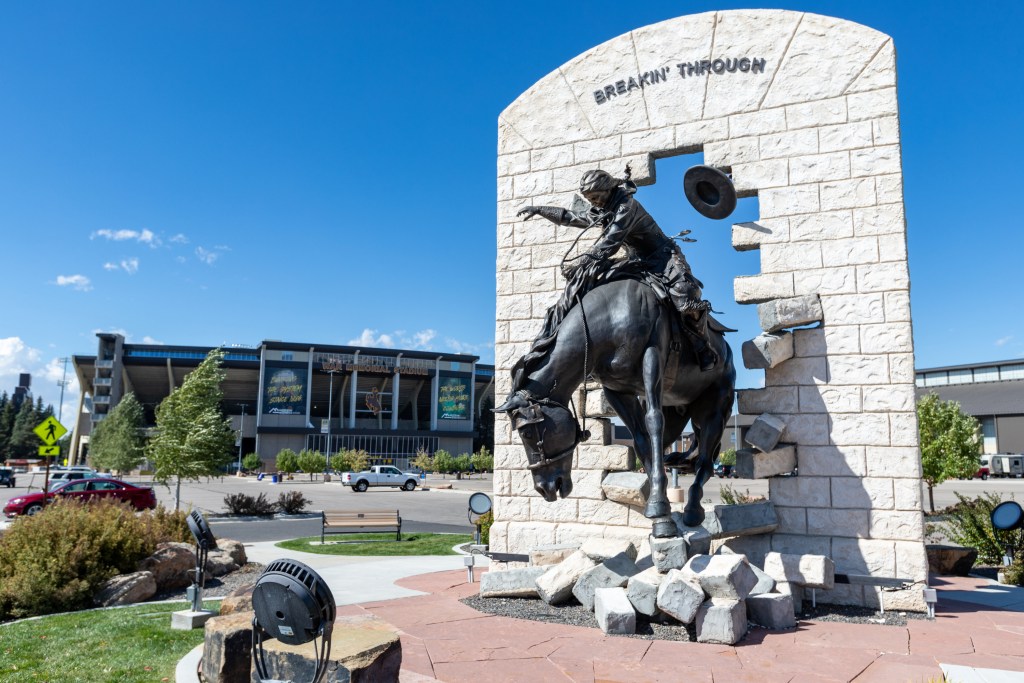 Wyoming
Breakin' Through, 1000 E. University Ave., Laramie
We conclude our road trip on an empowering note with this inspiring 16-foot bronze sculpture located on the University of Wyoming grounds that depicts a female rider breaking through a sandstone wall. Wyoming, not coincidentally, was the first state to give women the vote.
Wherever you're going on your summer road trip, your kids (and let's face it, the adults, too) are going to need a break to stretch their legs. There's nothing better than a little bit of weird Americana to add to the vacation memories. Whether you're planning a cross-country trip or a smaller visit to your neighboring states, these roadside attractions will hold your kids' attention just as well as their iPads.
Editors' Recommendations