Let's be honest: Backyard camping is so much less stressful than the real thing. No long drives, no packing, and no food rationing! Backyard camping is also great for little ones who want to discover the outdoors but may be too young to rough it out. This is the perfect opportunity to give your kids some nature time with all the perks of being right at home.
Slip and slide
This is a classic one that almost anybody can have fun doing. Best of all, you only need two things: a tarp and a water hose. First, lay out your tarp in your backyard. Make sure there are no tough obstacles underneath like rocks or stray branches.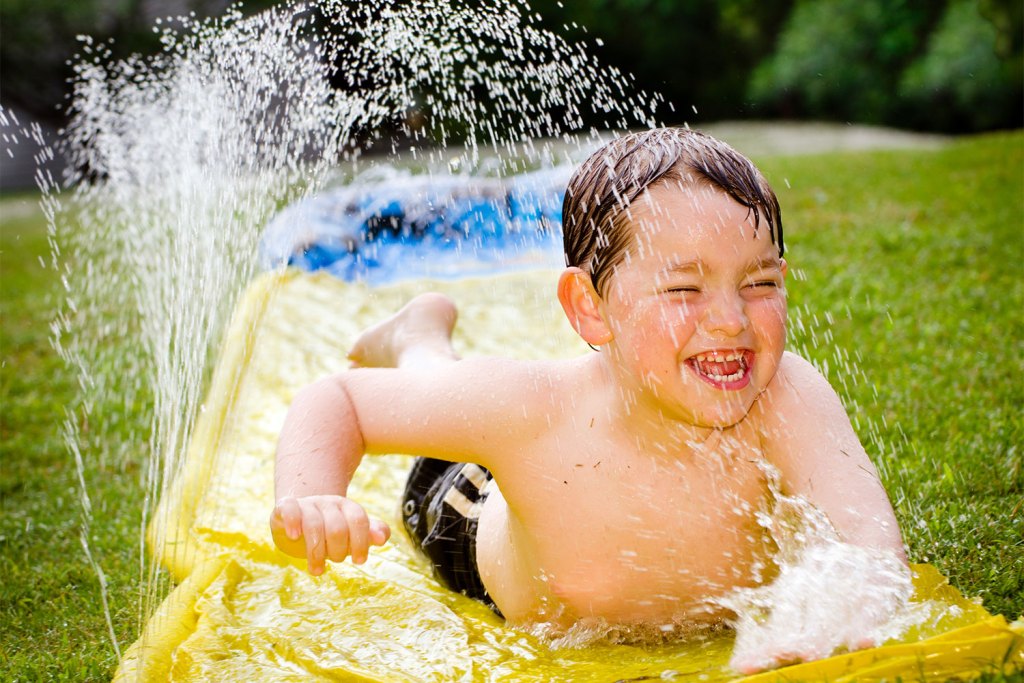 Then connect your garden hose to a water source. Spray the tarp down to remove dust and other debris off it. Leave the water hose on and voila! You have a slip and slide. For added fun, set the tarp right under your backyard playground slide for a do-it-yourself water slide. Even if the water park is closed down, you can instantly make your own water attraction with a handy tarp and a water hose.
Make a giant sand pit
Even when the beach is too far or you simply don't want to make the drive, your very own sand pit in the backyard will suffice. Simply dig a hole to hold as much sand as you have, cover the ground with a plastic lining, and then assemble a wooden case to keep the sand in.
Above-ground sandpits are also popular and may be less intensive than an underground pit. Remember to cover your sandpit in case it rains — you want to preserve your precious sand as long as possible!
Create a blanket and pillow fort instead of pitching a tent
If the weather permits, build a blanket fort or pillow fortress with your kids in lieu of the camp tent. This allows for more creativity and gives your family an opportunity to bond outdoors. The open fort is not only ideal for hot weather, but it's needed for star-gazing comfortably.
If you're hesitant to trust your children with your nice sheets and new pillows, consider using old living room quilts and couch cushions. For an extra challenge, improvise with branches and other natural objects to hold up your choice of building material.
Watch a movie on a projector
We know the outdoors are usually meant to replace screen time, but a quiet, nature film is a good way to wind down after a full day of backyard camping. Use the backyard wall or a blanket as your screen. Just make sure it's smooth and big enough for your projector.
To stick with the dine-in movie theater theme, serve dinner and eat as you lounge and watch.
Have a scavenger hunt
During the day, you can send your kids on a mission by giving them a list of things to find in the backyard. This can include natural objects like a four-leaf clover, ladybug, pinecone, etc. You can also hide your own treasures that they can easily find, such as a silver coin, mini car, or trophy. Offer them a prize at the end to keep them motivated. Of course, a s'more is a fitting reward.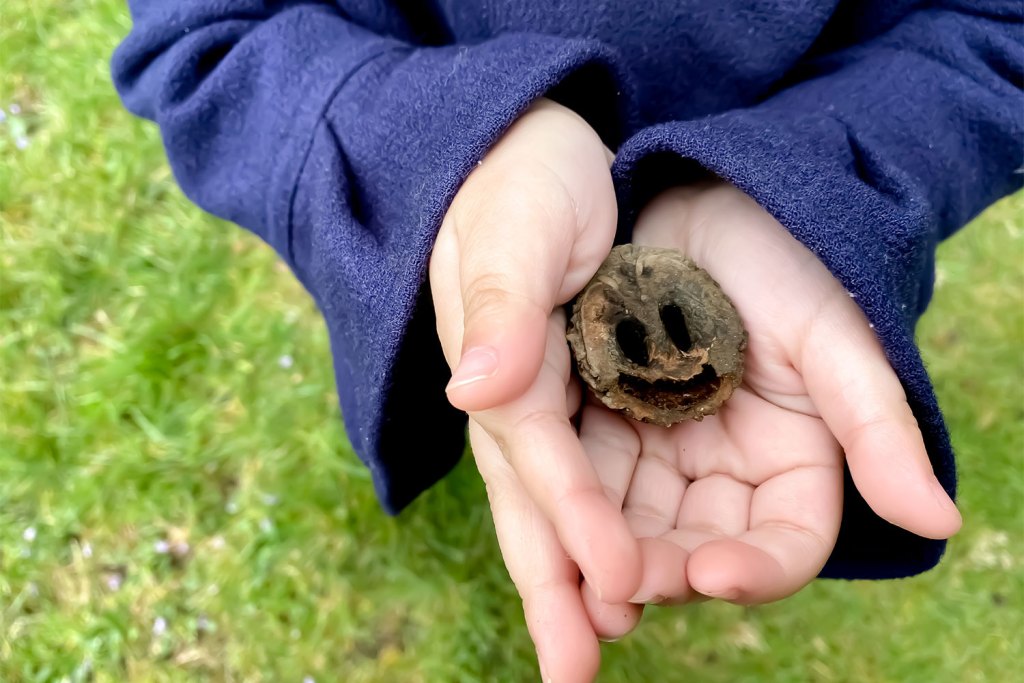 If your little ones are old enough, you can also host the scavenger hunt at night. They'll have endless fun foraging in the dark with their flashlights or kid-friendly lantern.
Put on a play
Whether you ask the kids to compose their own story or give them prewritten scripts, a backyard play is an unusual but interesting activity. Really commit and ask your children to make their own costumes for their characters. You can also encourage them to craft their own backdrop using materials they find in the garage or backyard. However, this might work best with children over 6 years old.
You can tell stories to younger children and have older children tell scary stories to one another around the campfire, instead.
Make the ultimate obstacle course
This activity burns lots of energy (you're welcome), and gets your children thinking creatively. Whether it's using the hula hoops to jump through or throwing Ping-Pong balls into water buckets, an obstacle course is beneficial in many ways. Children need at least an hour of physical activity each day, and an obstacle course develops their motor skills, coordination, balance, and more.
You can adjust the obstacle course according to your child's age. Fortunately, you can use whatever is on hand in the backyard, so long as it's safe.
Host a talent show
At the end of the night, you can ask each child and adult to perform a short song, dance, poem recital, comedy skit, or something they're passionate about. Set up a stage using flashlights and a blanket backdrop, or simply perform around the campfire. If everyone is shy, singing campfire songs together is also fun for the whole family.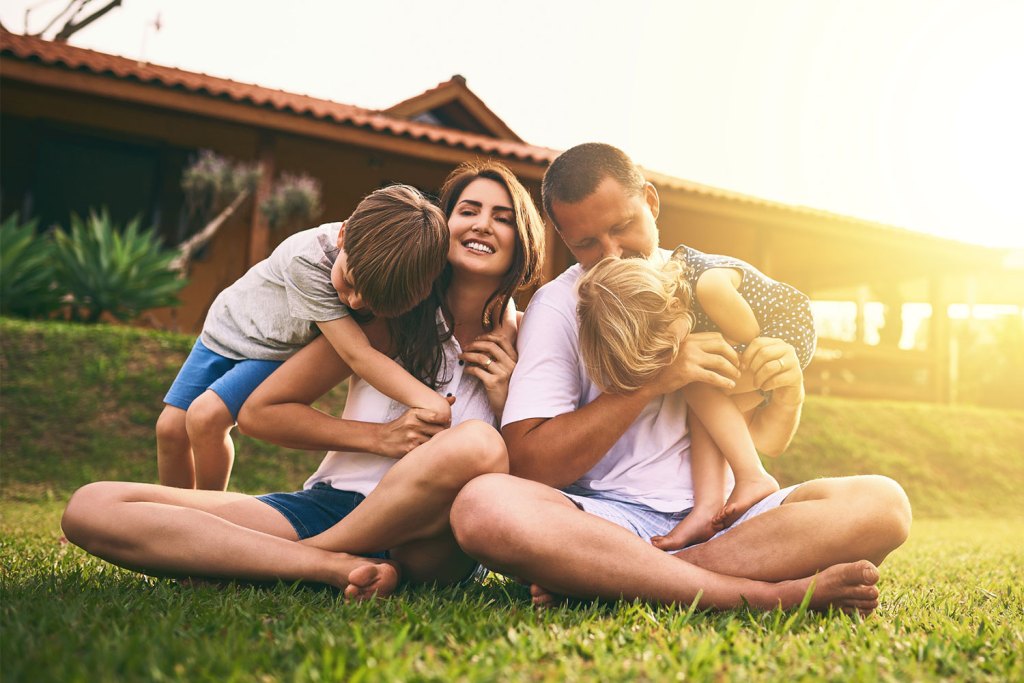 Break out the guitar or play some sing-along instrumentals, and get ready to sing and dance your heart out.
Have a board game tournament
Bring the board games outside and host a tournament with the family in tow. Giant versions of games like Jenga, dominos, and Twister are appropriate for young children.
Giant wood blocks are available online, like this 54-piece set from Juegoal. The blocks measure at 6 inches long by 2 inches tall by 1.3 inches wide.
On the other hand, making large domino tiles requires a little DIY, but the results are worth it. For Twister, you can spray-paint the dots directly on grass using kid-safe spray paint.
Backyard camping activities for kids don't have to be limited to s'mores and a game of tag. A scavenger hunt, obstacle course tournament, or talent show for example can make the difference between a regular backyard hangout and an unforgettable backyard camping experience. Try any of the fun activities on our list to make every backyard camping trip memorable for everyone in the family.
Want something even more elaborate? Duplicate that awesome summer camp experience you've had in your own home — create backyard summer camp activities everyone will enjoy!
Editors' Recommendations