Spending a summertime afternoon outdoors is the perfect way to treat your kids while also motivating them to stay active. By providing them a space to play and explore in the fresh air and sunshine, you are fostering their need to make memories that can last a lifetime. Backyard summer-camp activities are fun, engaging, and tend to bring out great levels of excitement and joy for children of all ages.
Planning, preparing, and setting up such a display of activities can be as in-depth and involved as you want it to be. Backyard summer-camp activities are totally customizable, so you are free to take these suggestions and allow your imagination to run wild. Not only are these activities fun and engaging for children, but they are also equally — if not more so — exciting for the adults who plan them. So grab a pen and paper or your favorite stylus and take some notes. We have some suggestions on creating the perfect backyard summer-camp experience your children will talk about for years to come.
Lay the foundation
Preparing to turn your backyard from your own little adult oasis into a kid-friendly fun zone can seem a little daunting, but with some easy and well-thought-out prep work, it can make the entire project go much smoother — laying the groundwork for a successful experience for everyone. Having some key information right off the bat can assist you in deciding how the camp will be run. A few starting points to keep in mind when planning are:
Who will be attending, and how many kids will be attending? If your children are intent to invite friends and neighbors over, it's important to recruit them the right way and have a clear idea of who and how many children you'll be hosting.
What are the age ranges of the attendees? Knowing how old your guests are will help you select age-appropriate games and activities. You may want to try to keep the age ranges of your attendees to within two years of each other if possible. This prevents cliques from building and rifts between younger and older kiddos.
What are the medical needs, physical restrictions, or allergies for your attendees? Knowing if your guests need special assistance, have food or environmental allergies, or who may use specialized medical equipment to be mobile is important information to know and keep in mind when planning activities, games, and food/drinks.
Let the games begin
Once you have the basic information on who your guests will be, you can go into more detail on what kind of games and activities they would be interested in playing, building, or experiencing. A few suggestions on the types of events you could present are:
Obstacle courses: Using creative additions such as buckets, hula hoops, balls, cones, lawn chairs, and other outdoor toys and equipment you can build and customize an obstacle course for your guests based on their age and skill levels.
Water gun/water balloon battles: This suggestion is a good one for a particularly warm summer day that doesn't require an extensive setup of your garden hose, or the expensive water bill that could follow. (Bonus points for giving out a "helping hand" award to the attendee who helps clean up the shrapnel from the balloon battles.)
Sidewalk chalk drawing contest: Give each child a box of sidewalk chalk and send them to work. Select categories for the winners such as: Most creative, most patriotic, coolest design, etc.
Tie-dye shirts: We suggest doing this activity on the first day of your planned "camp" to start, if you plan to do multiple days of activities. You may want to consider using natural-element options to dye the shirts such as beet juice, sunflower petals, and onion skins.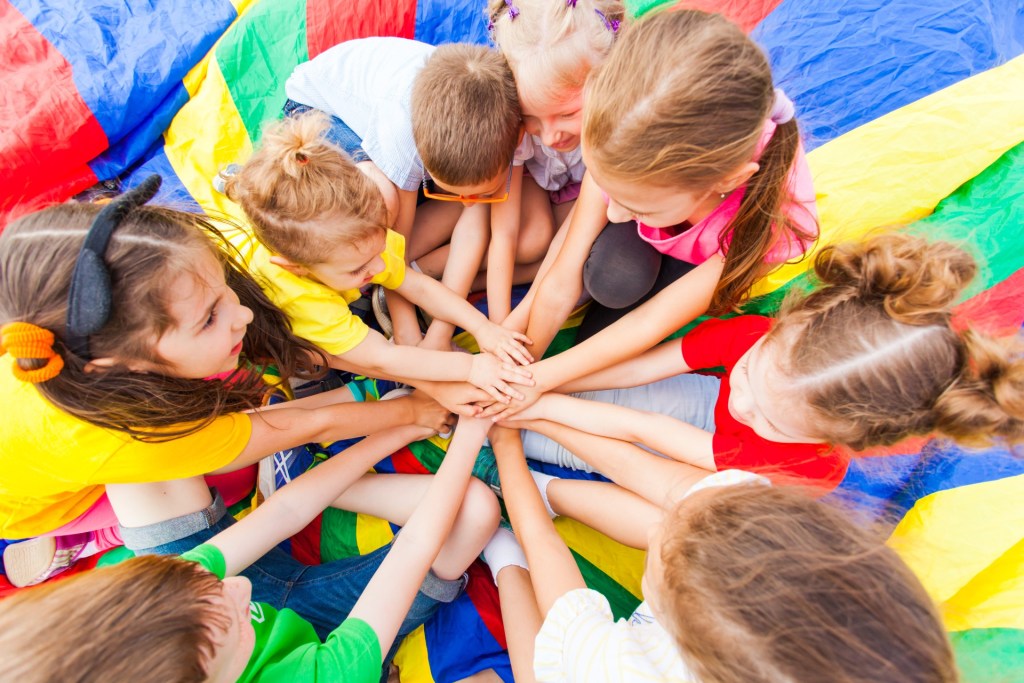 Some food for thought
Children playing, laughing, and making memories in your backyard is a perfect reason to hone your kitchen skills, and it's a great opportunity to involve them in the process of preparing snacks and food items they'll be consuming. Hands-on, easy to make, and inventive cuisine ideas are more than just a simple PB&J or cut-up fruit. Call "all hands-on deck" for some fun and inventive ways to prepare snack treats for your littles and their buddies:
Whimsical shapes: By utilizing cookie cutters, you and your little ones can press out shapes of sliced melon, pineapple or personalize finger sandwiches with these useful and handy cutters.
Finger foods: Children enjoy eating with their hands, especially while playing. These types of "grazing" food allow kids to eat and play at the same time, without requiring them to sit and consume their whole meal in one setting. Some suggestions are: Cut fruit with cream cheese frosting, cut veggies with dip or peanut butter, or a simple cracker and cheese board.
Frozen treats: Blended frozen fruit can be used in several ways in a camp-style setting. By pouring a frozen fruit mixture into freezer trays, your horde can enjoy frozen popsicles, fruit smoothies, or refreshing fruit-flavored teas.
At the end of the day, by simply providing your little ones with a safe and comfortable space to explore, experience, smile, laugh, and make-believe, you are encouraging them to be themselves. These ideas are made to be personalized and customized, molding them into the perfect plan for your group of kids. By taking our suggestions and making them your own, you are creating an individual plan catered specifically to what your group of kids need and want.
Editors' Recommendations