Any time is the ideal time to get the family exercising together. According to the Centers for Disease Control and Prevention, 73 percent of adults over the age of 20 are overweight. Statistics also show 20 percent of kids ages six to 11 are overweight. Even kids as young as two are battling with obesity. A great way to get the entire family healthy is do incorporate daily exercise into the schedule for everyone. With work, school, and extracurricular schedules, setting aside time to exercise can be challenging. Getting the family moving doesn't have to take up a lot of time, and working out with kids forces adults to squeeze in daily exercise too. Now, you don't have to go to the gym to get a great workout or spend a fortune on gear. Here are some fun and easy ways to add exercise to your family's day.
Walk to school
If you live within close proximity to school, walking to and from school is a perfect pick for getting in the daily steps. Don't let inclement weather deter walks to and from school either. Kids love to walk in the rain and snow. All you need is a pair of wellies along with an umbrella to keep everyone dry.
Walk at practice
Younger siblings and parents spend a lot of time waiting around at practices. Make the most of those minutes by bringing the sneakers and a stroller if needed. Instead of standing around on the field or sitting in the car steaming shows in the parking lot, take a walk.
Take an after-dinner stroll
Once the dinner dishes are done and the kitchen is clean, have the whole family take a walk around the neighborhood. Bring the dog if you have one. An after-dinner walk doesn't have to be long, especially during busy work and school weeks. Aim for 15 to 20-minute walks, and make the after-dinner stroll longer on weekends.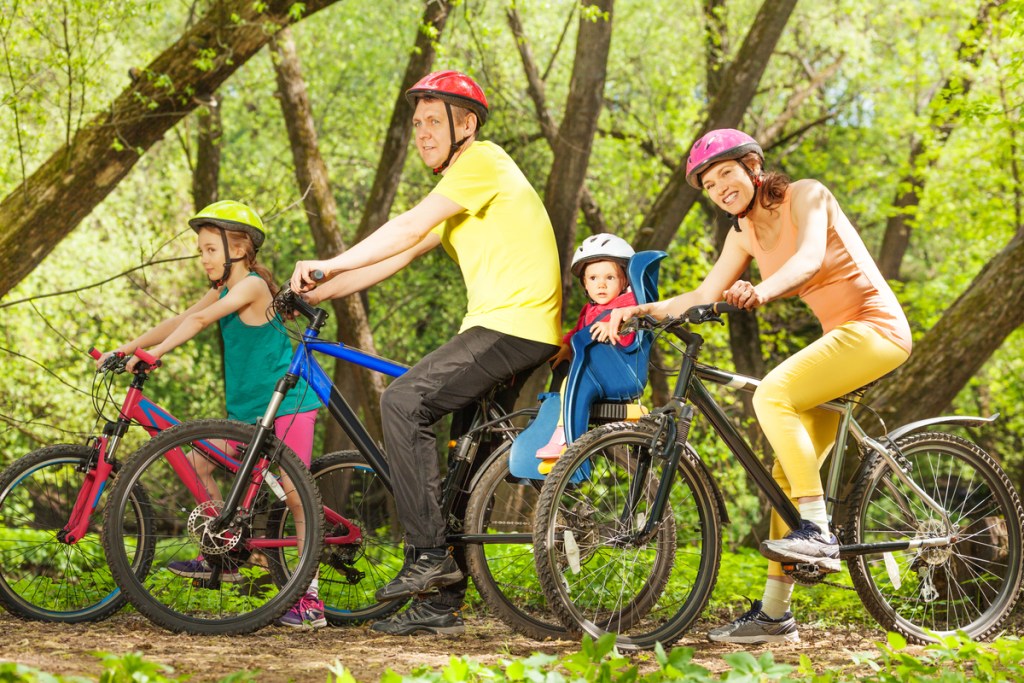 Take a family bike ride
Change up the after-dinner walks with a family bike ride. A bike ride is a great way for the whole family to exercise. On weekends, try and explore bike paths in your area for more miles.
Dance
Don't let rain clouds or chilly temperatures keep the family from exercising. If the weather is bad, turn on upbeat music and have a family dance party. Aim for about 10 minutes or three songs.
Hold sports nights
Just like game or movie nights, hold a family sports night. If your kids are into hockey, soccer, basketball, baseball, or football organize the family into a fun game a couple of nights a week. To keep things fresh, try playing different sports kids don't usually play like dodge ball or badminton.
Tag
You're it! Tag is a universal game kids love to play, and when parents and caregivers get involved, it makes the game so much more exciting for kids. A few rounds of tag outside after dinner is a workout for everyone even the family dog.
Hide and seek
Another popular kids' game, hide and seek, can be a workout. Get multiple families involved to get those steps in.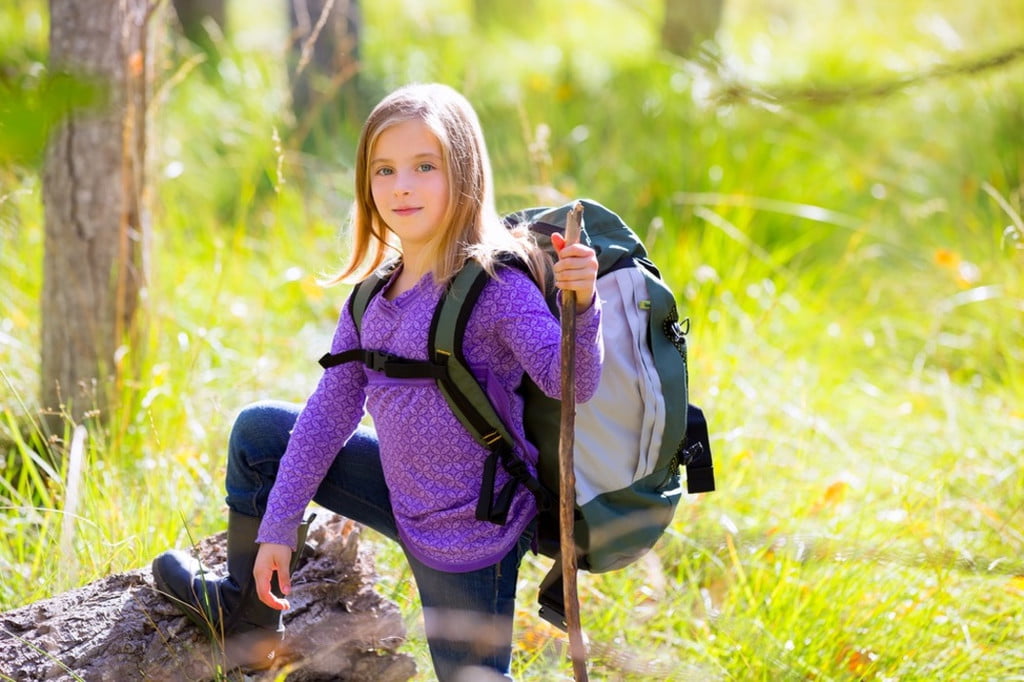 Take a hike
It's tough to take a hike during the work and school week, but on the weekends or days off, hiking is a wonderful family-friendly activity that gets everyone outside walking and climbing.
Head to the playground
If you live near a playground, take a walk after dinner as a family. Instead of just watching the kids, get involved, too. Kids love it when parents and caregivers go down the slide, have a swing, or shoot baskets.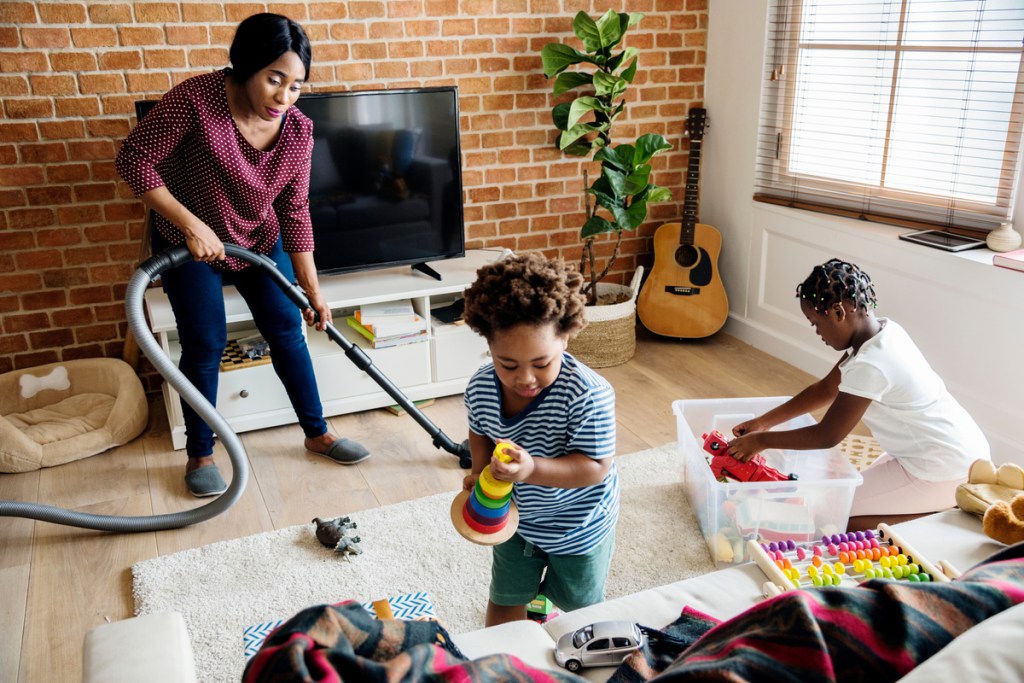 Chores
Adults know cleaning the house and maintaining the yard is a workout. Assign everyone chores inside and out. It gets the family moving and will cut your chore time down. This will leave more time for family walks and bike rides outside. When seasonal chores like raking leaves and shoveling snow roll around, make sure the kids pitch in. Both of those activities are exercises. Sure kids may not think of chores as exercise, but you can try and make it more interesting by making chores a game.
Sign the family up for a 5K
Keep everyone motivated to move by signing the entire family up for a local 5K or charity run. Start preparing with a half-mile run and slowly work up to the 3.2 miles.
Many adults complain they can't find the time to work out because of the kids. If you have kids, you know that's true. Between work, house responsibilities, and tending to the children, hitting the gym can be difficult. If you include the kids, then it is a win-win for everyone. A family that works out together gets healthy together. Exercising as a family is a wonderful way to show kids how important it is to be physically active.
According to the Centers for Disease Control and Prevention, 3 to 5-year-olds need at least an hour of physical activity a day. The number goes up as kids age. With smartphones, video games, and streaming services, it can be hard for kids and adults to get moving. Doing it as a family keeps everyone motivated and exercising. Try one or more of these fun ways to get your family exercising together. In addition to adopting a healthier lifestyle, you will be making memories and teaching your kids about the positive benefits of daily exercise.
Editors' Recommendations