Crafts are a fun way to keep toddlers busy on a summer weekend at home or on vacation. Arts and crafts are also a wonderful way for toddlers to work those fine motor skills like cutting, coloring and gluing, which they'll need down the road for preschool and kindergarten. While toddlers aren't ready to do multiple-step projects better suited for older children, they can certainly make one or two-step crafts that allow little hands to explore their creative sides. Toddler crafts are a colorful way to decorate for an upcoming family picnic or celebration. Here are five easy summer crafts for toddlers to do during the summer.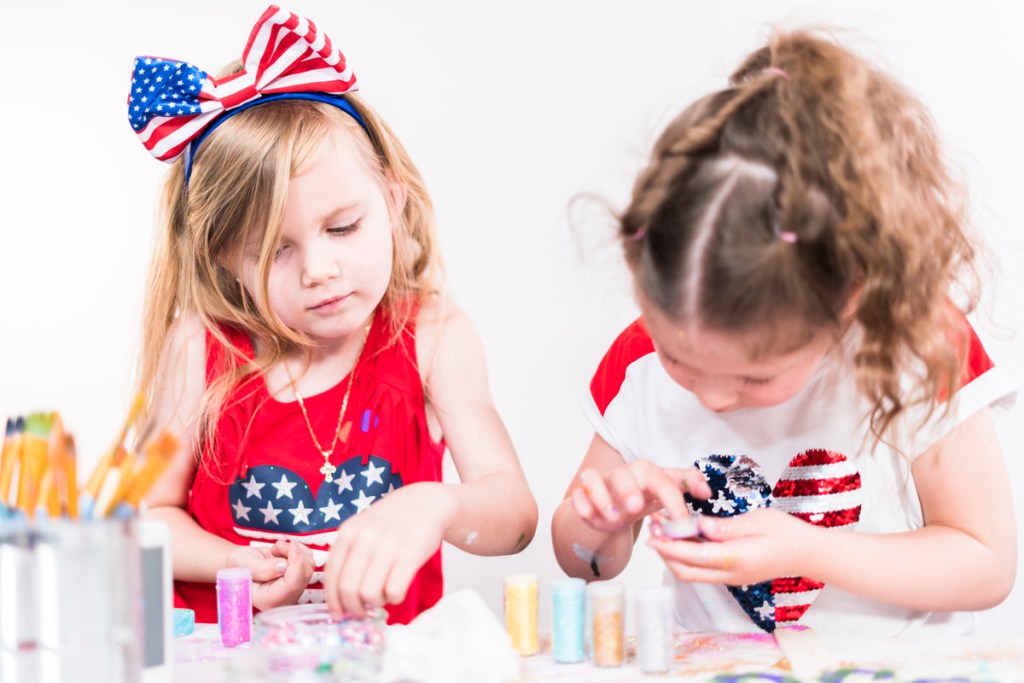 Fun crafts to do with toddlers
Cupcake liner crafts
Cupcake liners are a multipurpose kitchen item that works great for toddler crafts. Using colorful cupcake liners, a glue stick and construction paper, toddlers can create a fun paper flower garden. Simply place glue on the bottom of the liner and stick it on a piece of construction paper. Kids will have a pop-up flower. Toddlers can draw stems on the flowers with crayons, dyes, or markers. Leave the cupcake holder as is, or kids can also decorate them with markers or crayons. If kids want to flatten the cupcake holder, that's okay, too.
The liners can also be used to make ice cream cones. Draw or cut out a triangle cone and have kids glue it to a large piece of paper. Flatten the cupcake lines and glue them above the cone to make an ice cream cone. Kids can add as many scoops as they like using the liners. Leave plain or decorate with markers, crayons or colorful cereal like Fruit Loops.
Paper plate crafts
Like cupcake lines, plain white paper plates can be used for different toddler crafts. For a simple mobile, have kids finger paint on one side of a paper plate. Allow the plate to dry before the toddler does the other side. Once it's completely dried, punch a hole with a hole punch and attach a piece of yarn. You can hang this pretty plate from a doorknob or the front porch awning.
Make a paper plate koala bear by using one large and two small paper plates. The large plate is the face. Kids can draw eyes or use large googly ones. Make a long kola nose from black felt or construction paper. Glue on the small plates to make ears. Kids can color the paper plate koala gray or whatever hue they desire.
Give kids small paper plates to paint or color. Attach a green pipe cleaner to the back, and you can make a paper plate flower garden. To make a sunflower, paint a paper plate yellow. Once it dries, glue brown M&Ms in the center to make the sunflower's disk.
For a very hungry paper plate caterpillar, have toddlers color or paint six small paper plates. Glue the plates together to form a caterpillar. Add pipe cleaner legs and googly eyes.
Sand art
Sand jars are a fun and simple summer craft for toddlers, and the finished product makes for a colorful outdoor decoration for the deck. Take clean, dry baby food jars and let kids add different colors of craft sand until the jar is filled up. Make a pattern or let toddlers mix the colors. Either way will look great.
Paper cup jellyfish
To make these summertime cuties, you'll need plain white paper cups, white yarn, googly eyes and markers. Have toddlers color the paper cups while you cut enough three-inch yarn pieces to go around the rim of the cup. Using glue, attach the yarn pieces around the cup's rim to make legs. Glue on the eyes. To hang your toddler's jellyfish, poke a small hole in the bottom. Knot one end of a long piece of yarn and pull the open end through the hole. Make a loop to hang or tie the open end around a doorknob or a porch railing.
Stringing crafts
By two, toddlers can make necklaces and garlands by stringing objects onto yarn or lanyard. Stringing beads, cereal or pasta is a fun craft activity that is excellent for fine motor development. Toddlers can string a garland to decorate a porch or deck railing for an upcoming party or just because. Kids can make necklaces and bracelets, too. Just make sure the beading objects are not choking hazards and never let toddlers nap with their creations.
Other fun craft ideas
A steady supply of these craft items are a perfect pick for toddlers on a summer afternoon
craft stick people
easel fun
Summer is the perfect time to spend an afternoon on the deck or porch making crafts with your toddler. Toddlers aren't too young for crafts, but do need basic projects and will definitely require parental help with gluing. Scripted crafts like a paper plate caterpillar are fun to make, but it's also ideal to allow toddlers to just experiment with paints and chalks on their own. Both types of craft projects work vital fine motor skills toddlers will need while also letting them be creative. Tactile crafts like play dough, chalk and sand art let toddlers try different touch sensations. Crafts are a wonderful way to relax, too, and not just for toddlers. Parents and caregivers might enjoy getting creative along with their toddlers this summer.
Editors' Recommendations