You've finally arranged a playgroup with friends for your toddler. It's on the calendar and ready to go! You have gone over best behaviors with your kiddo so things go as smoothly as it can go with toddlers. Now it's time to figure out what items you'll need. Whether you're headed to a playground or the pool, we've got a list of essential stuff you won't want to leave behind, and some you should.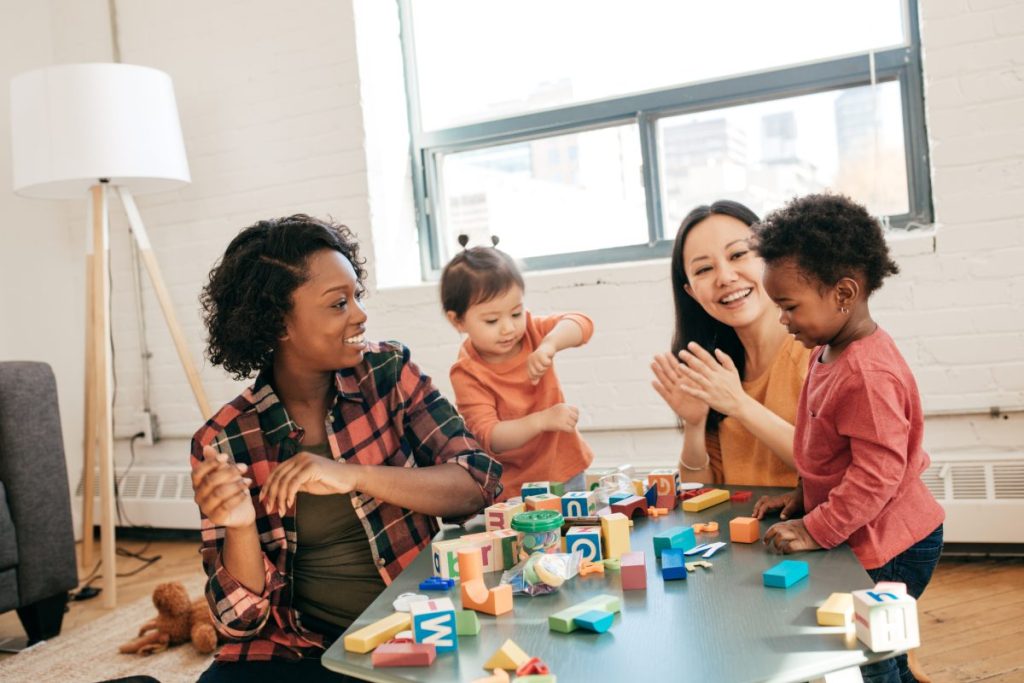 What you should bring
When it comes to the must-haves, here are a couple of items you'll definitely need, regardless of location.
Water bottles
Staying hydrated is crucial, and you should always opt to bring water. While some places might have access to water – like restaurants or parks – it's never a bad idea to bring your own. Park water fountains, for instance, can have plenty of bacteria, and they're not always cold on those scorching summer days.
Not to mention, some toddlers might only drink flavored water, which is even less accessible in public places. Even if you think there will be water at the playdate, err on the side of caution. Bonus points if you keep the water bottles in a cooler or with an ice pack.
Containers or baggies for snacks
If you're going to someone else's house for the playdate, that parent will probably provide snacks, but there's no guarantee your toddler will like them. Rather than letting your kid go hungry and then have a meltdown, just bring your own snacks.
You don't need to pack a ton of options, especially if the playdate is only a couple of hours. One or two containers of their go-to is plenty to have on hand.
Favorite toys
When your toddler goes to meet friends, they'll want to play with everyone else's toys — but they may want to share some of their own, too. Just in case, pack a few of your little one's favorite toys.
In an outdoor setting, be cautious of tiny toys that might get lost or left behind. Instead, opt for larger toys your toddler won't be able to bury in the sandpit. And before you leave, don't forget to double-check that you have them all. In large groups, it's easy for your toys to get mixed in with someone else's or to bring home more than you brought.
Band-Aids
Many parents keep Band-Aids or bandages on hand at home, but if you're at the park or playground, it's easy to forget this first-aid tool. A scraped knee won't require stitches, but if you leave the wound uncovered, you run the risk of slowing the healing process or getting an infection.
Stick a few extra Band-Aids in your bag before you leave. You can clean the wound once you're home. Even if your toddler doesn't end up needing a bandage, someone else's child might. You might need one yourself if you get too adventurous on the marry-go-round.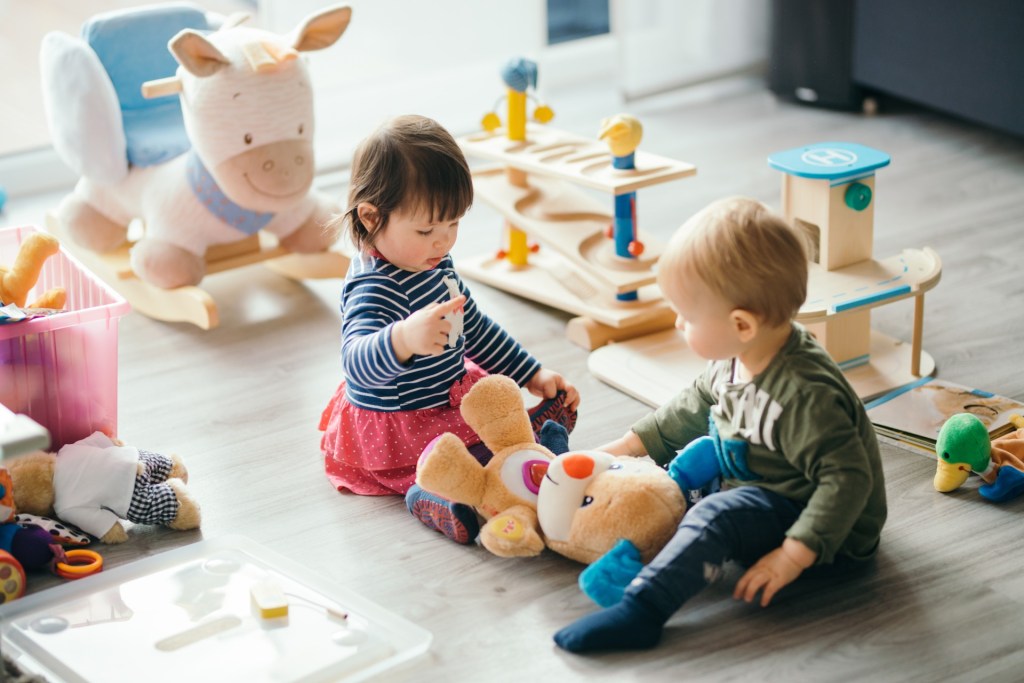 What you shouldn't bring
You'll want to keep the items above close by, but you can cross these ones off your list.
Entire meals
A couple of snacks that conveniently fit inside your bag are fine, but there's no need to bring an entire meal for your kiddo. Since most playdates only last around one or two hours, it's unlikely that they'll fall during mealtime.
The other reason to avoid tons of food is that other kids may ask for some, and if you don't have enough for everyone, it can get awkward.
Pets
If you're headed to the park, it might seem like a great idea to bring the family dog along – but you might want to think twice. If you haven't cleared it with other parents, they may feel uncomfortable, especially if you have a gentle giant. Bringing animals around small children can be risky – even the friendliest dogs or cats can have unpredictable reactions.
Not to mention, you could run into a pet allergy. If someone's child is severely allergic to dogs, your pet's presence could ruin the entire playdate. On that note, if the playdate's happening at your house and you have pets, don't forget to ask if the other kids have any allergies.
Too many electronics
Many kids use iPads and tablets regularly, but there's no reason to bring your kid's technology on a playdate. If everyone's outside, you run the risk of your child dropping the tablet, severely damaging it, or forgetting it behind.
Even if the playdate is happening indoors, too much technology can be distracting. Your toddler might decide they're more interested in watching YouTube than hanging out with potential friends. Save the electronics for your home, and remind your kids that playdates are for making friends.
Learning playdate etiquette isn't always easy, especially if you're a first-time parent or arranging the date with someone new. But toddler playdates are a fun way for your mini human to find a friend, and maybe you can find a new one, too. As with anything parenting, it's best to come prepared. Knowing which items you'll want to keep close at hand and which ones you should keep at home will have you one step closer to a more relaxing little date for you and your tot.
Editors' Recommendations