Summertime is a chance for kids and adults to relax and unwind without the daily pressures of schoolwork, homework assignments, strict bedtimes, and fights to get out of bed. Not only does this give parents a break, but it allows families the freedom to grow and bond over sweet treats and splashes in the pool. If your family is looking for a few yard games to add to your entertainment stations around the lawn, then we have an excellent list of favorites to share with you.
From fun sprinklers to water blasters, a slip 'n slide to moon shoes, our list has something for everyone, sure to elicit laughs and smiles for weeks to come.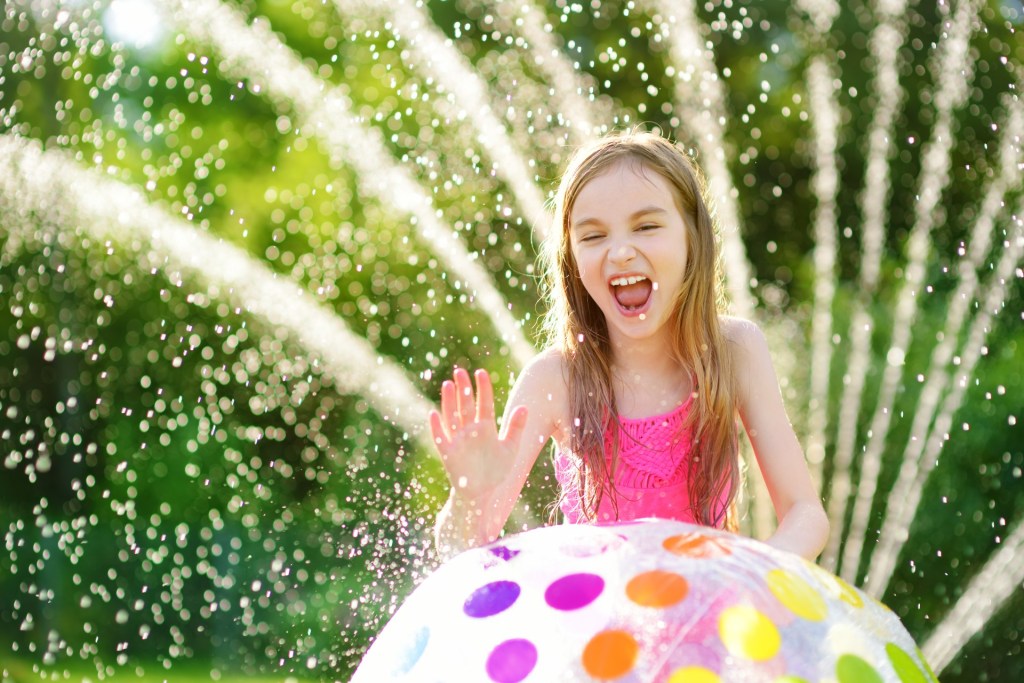 Boogem Inflatable Cactus Sprinkler
Easy to set up
Made of eco-friendly PVC plastic
Suitable for ages 3 and up
This easy-to-inflate and easy-to-connect backyard sprinkler toy is perfect for kids — and adults — of all ages. Its adorable cactus theme, bright colors, and oversized base make it a fun, exciting, and durable toy sure to bring smiles to all your kids' — and grown-ups' — faces. Complete with rings to toss onto its outstretched arms, this toy will be a big hit at your next backyard barbecue.
Biulotter Water Blasters
Comes in a pack of six so they're easily shareable
Lightweight
Suitable for ages 3 and up
If your humble abode will be hosting a large gathering of kids, you may be wondering what to do with your group to keep them happy and entertained. There's not much more quintessential to summertime fun than water blasters. These lightweight water hand-pump jets are perfect for the lawn, the swimming pool, vacations, or trips to the lake. Each pack costs less than $15, making it a fantastic and economical way to entertain the masses all summer long.
GoSports Pro Grade Ladder Toss
Assembly takes less than two minutes
Rubber bolos are kid-friendly
Comes with a carrying case
For a fun game sure to please any child or adult in your group, you may want to consider picking up this game of skill. With a similar concept to cornhole or toss-across, this ladder toss requires each player to toss the set of double-ended rope across to the opposing side, attempting to "hook" it onto the ladder. Each rung equates to a set number of points, and the team with the most points wins. This game is excellent for adults, kids, or a family vs. family ultimate showdown.
Wham-O Slip N Slide Double Rider
Comes with two inflatable riding floats
Offers 2-lane and 3-lane options
Recommended for ages 5-12
Another traditional backyard family favorite is a good 'ol slip 'n slide. That being said, you didn't really think we'd share something plain-Jane or boring, did you? This double Rider Slip N Slide from Wham-O offers kids — or adults — an afternoon of laughs and giggles while expending energy and soaking up the sunshine. This version of the classic outdoor summer activity comes equipped with two inflatable riding floats, saving your child's chest from those painful abrasions their parents likely received as kids.
Big Time Toys Moon Shoes
No tools needed to assemble
One size fits all
Recommended for ages 7-15 (fits up to a size 9 men's shoe and can hold up to 160 lbs)
Speaking of parents and their childhoods, any mom or dad born in the '80s or early '90s will likely remember a previous version of these amazing anti-gravity moon shoes. Referred to as "trampolines strapped to your feet," moon shoes are a super-fun way to experience space life and play like an astronaut on the moon. Once strapped on, kids can enjoy simply jumping, playing outdoor games like hopscotch or tag, or can add a jump rope for a new level of anti-gravity entertainment.
So, whether your kids want to jump like an astronaut, play sneak-attack with water blasters, or want to slide across the lawn in an all-out water-infused battle, our list of summertime favorites are sure to pack your lawn with fun every single day this summer. With all our options under the $40 mark, these summertime toys also save your pocketbook a little cash, as well, so what are you waiting for? Grab these goodies and hit the yard for hours of fun and laughter, no matter what your age.
Editors' Recommendations