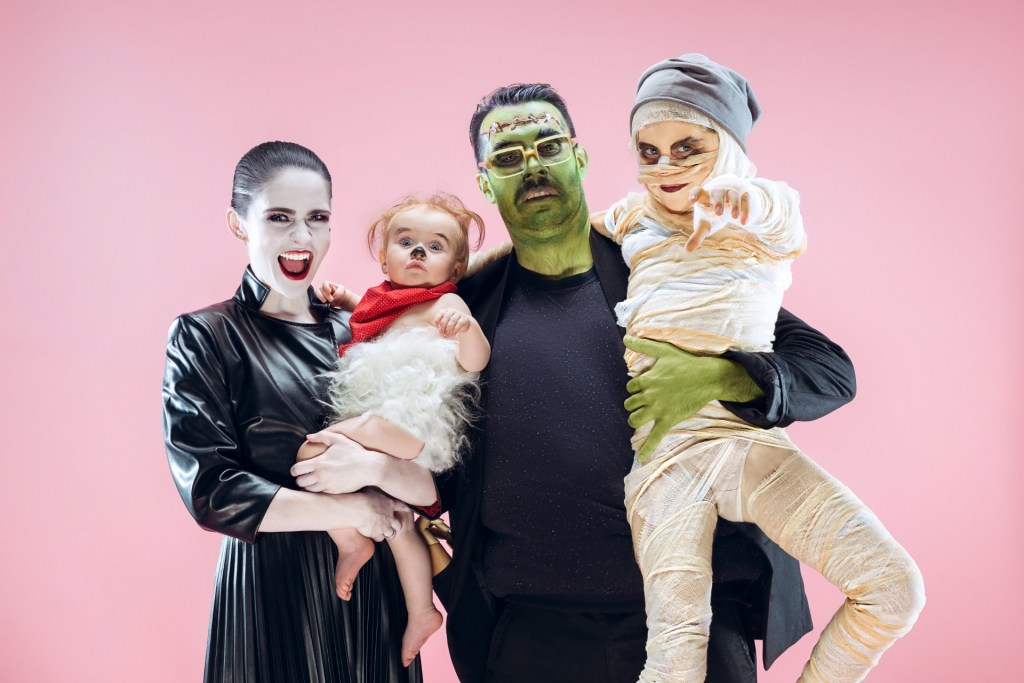 Dressing up for Halloween as a family is a bonding experience your kids will remember forever. Plus, it might get you guys the good candy for being the cutest family out trick-or-treating. Whether you have little ones or older kids, there are a variety of group costume ideas to get the whole family in the spooky spirit. Check out some of the best Halloween costumes for a family of four that will make your crew the neighborhood celebrities on All Hallows' Eve.
Dress up as your favorite animated or movie family
Use being a family of four to your advantage by looking up families that feature four or more members, then each family member could pick their favorite character and bring the beloved show or movie to life. Let the little kids pick out their favorite show or see if the parents want to throw it back to a movie they grew up with.
Iconic animated families to recreate
The Flintstones
The Smiths from American Dad
The Incredibles
The Belchers from Bob's Burgers
The Smiths from Rick and Morty
The Simpsons
The Addams Family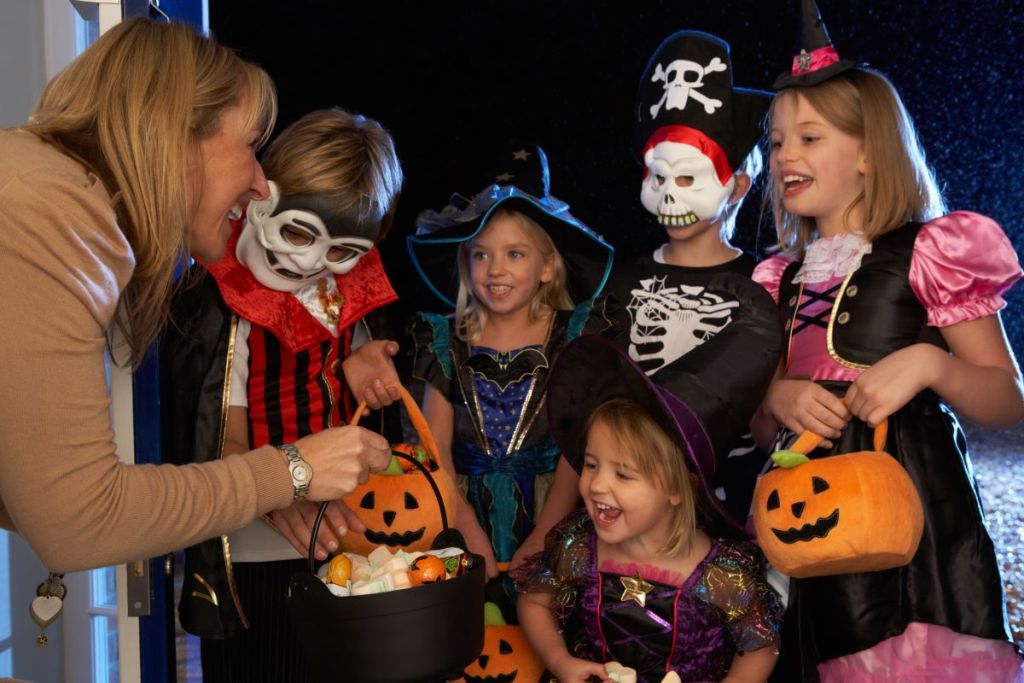 Pick a unique, nature-inspired theme
If your family loves animals, weather, plants, or the many other staples of our natural world, then this idea may be perfect for you. Your family could be inspired by a variety of themes and places that have to do with nature. Look around outside and have your children tell you their favorite things and make themed costumes from there.
Pull inspiration from these areas
An African safari
The jungle
Under the sea
In the scorching desert
Out in the Bayou
The freezing arctic
Sunshine, rainbows, clouds, and rain
A field of flowers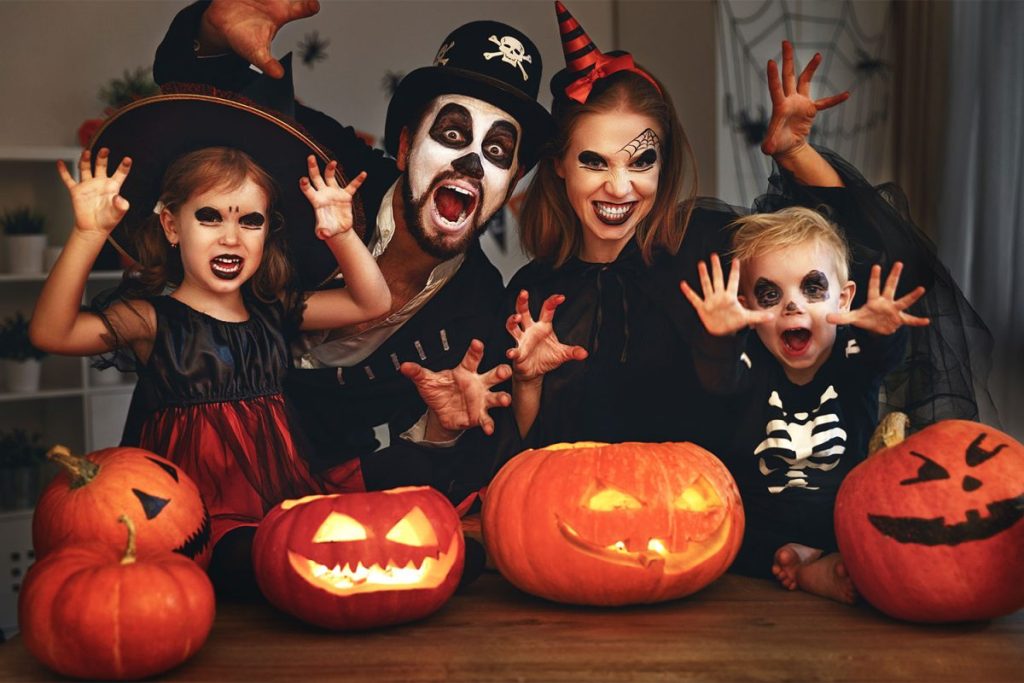 Create a family of scary, spooky monsters
If you and your family love Halloween and everything it entails, then turning yourselves into a family of monsters will be an exciting group costume. Mix and match monsters in your little group or become a family of one type of monster. Watch your favorite scary movie and dress as the monsters from it or just have everyone pick their personal creepy go-to boo.
These ideas will be truly terrifying
Zombies
Mummies
Vampires
Werewolves
Ghosts and ghouls
Witches
Get professional with career-inspired costumes
If someone in your family has an interesting career or you just love the idea of a certain profession, then run with this idea. Get really creative with a career theme and put your own spin on it however you want. It would be cute to incorporate one or two costumes of the actual profession with one or two costumes of the different tools, supplies, or aspects that profession uses to make it a little different.
Take things professionally with these costumes
Firefighters. Make some family members into firefighters and others could be things like fire flames, a fire truck, or a burning building.
FBI agents. This idea will surely get the kids excited. Turn your children into top secret agents while you and your spouse become the bad guys.
Chefs. Whether your family loves to cook or not, it can't get any cuter than a group of little chefs. For this costume idea, some family members could be top chefs with large hats and rolling pins and other family members will star as your favorite foods, ready to be prepared by the chefs.
Astronauts. If you want a costume idea that is truly out of this world, then look no further. Transform your family into a group of adventurous astronauts with fun space suits and helmets. You or your kids could also be stars, the moon, or a spaceship.
Veterinarians. The medical world is a competitive place, and your costumes will be too. Dress up in scrubs with props like thermometers, stethoscopes, and more. Your other family members could become dogs, cats, and other animals.
Business people. Stocks, finances, accounts, business meetings, and sharp attire will get your family in the businessperson spirit. Transform your family into a group of four savvy business people looking for their next big deal. Have everyone dress up in sharp suits and carry around props like briefcases to finish off the look.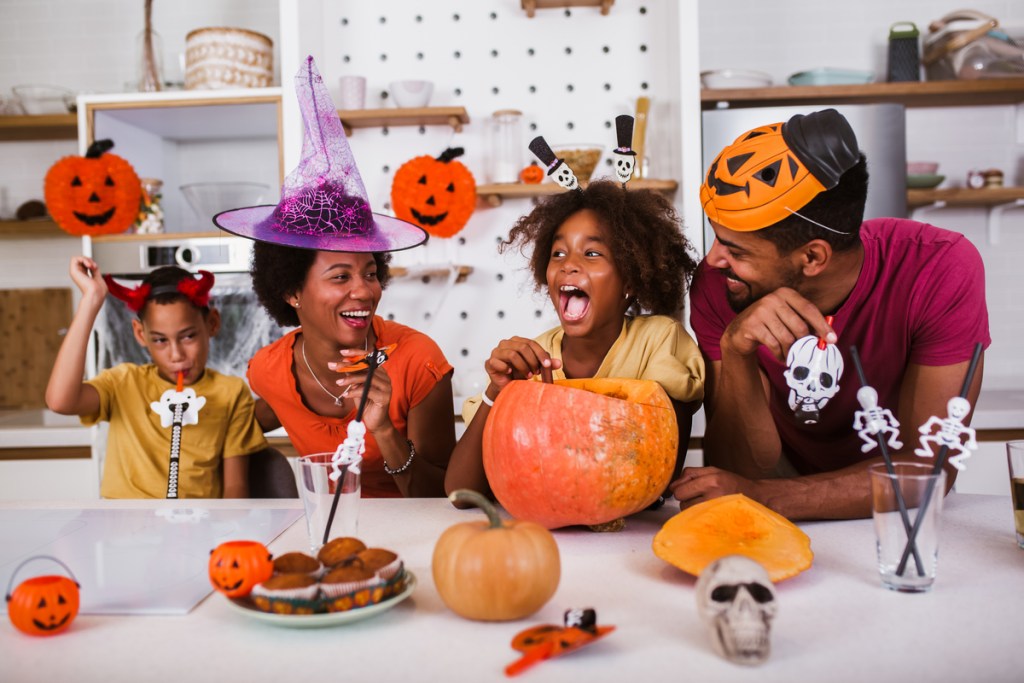 Bring your family's favorite, delicious food to life
Food costumes will never go out of style because they are cute and funny and let people know what your favorite food is. It can't get any better than that. You could also look to your favorite autumn or Halloween-themed treats as costume ideas. Bonus points if any of the food is real so everyone has a snack to munch on while walking around for hours trick-or-treating.
Food classics to dress up your family of four as
Tacos
Pizza
Doughnuts
Fruits: Pineapple, strawberries, grapes, bananas, etc.
Vegetables: Broccoli, carrots, salad, mushrooms, etc.
Ice cream: Be various flavors or toppings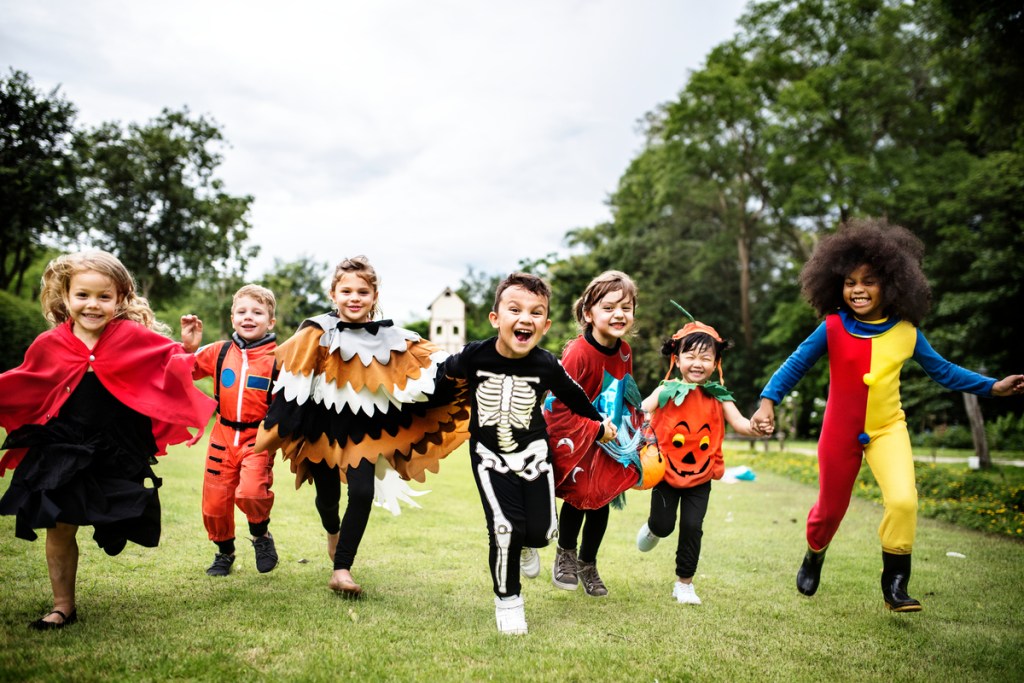 For the family who wants to show their fun side
If you are a family that doesn't mind standing out from the crowd, being a little silly, or just plain wants to be the funniest bunch out there, there are plenty of options for that.
Despicable Me. Kids and grownups alike love those movies, so play with it. The adults could be yellow Minions and the kids could be purple ones. One parent could be Gru, and the rest of the family could all be Minions.
Teenage Mutant Ninja Turtles. What kid doesn't want to be a ninja and a turtle? This is a classic that everyone knows and everyone loves to dress up as.
Mario characters. You have so many options to pick from! Whether you have boys, girls, or a mix in the family, you will have everyone covered if you go with this popular video game idea.
Alice in Wonderland. If you are the whimsical type, there are plenty of mad characters in the land of Alice for the family to choose from.
Harry Potter/Lord of the Rings/Star Wars. If you have the most fun, nerdy family, embrace it and use Halloween as a reason to wear those items you already have. With so many characters in each fandom, you could rotate houses or species and have costume ideas for years to come.
Christmas theme. If by chance you are a family counting the days until Christmas, take that idea and run with it. From Santa and Mrs. Claus with elves to the Grinch, there are plenty of ways to get four costumes out of Christmas characters.
Having a family to dress up with for Halloween is a special thing to enjoy. It is especially adorable when you have little kids who still think it's exciting to match their parents, because we all know that won't always be the case. There are so many fun costumes to get your family excited for the Halloween season. If you use some of these ideas and tips, you will surely be the most amazing and unforgettable Halloween costumes for a family of four at any party and while out getting that candy.
Editors' Recommendations