Toddlers are so much fun because they seem to grow and learn new things daily. It's also exciting once your child reaches toddlerhood because they can start to eat many of the same foods as the rest of the family. As toddlers explore new food options, they also learn how to be picky and selective with what they eat, which can often lead to parents wondering what they can make their 2-year-old for dinner that they'll actually enjoy and still provide the nutrition their growing body needs!
One cannot live on crackers and yogurt alone, no matter how much your toddler wishes they could! You're not alone if you've been wondering what a 2-year-old should eat and how to create some easy and healthy meals for your toddler. Keep reading for seven easy and healthy meal ideas that you can make quickly and that your toddler will love.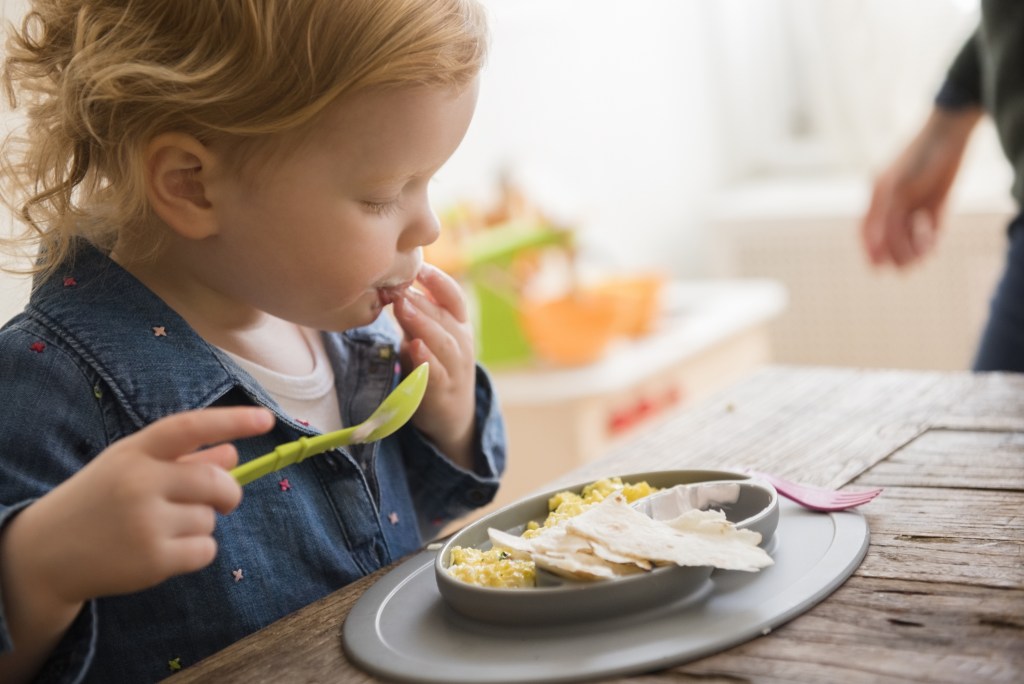 Tacos
Who doesn't love Taco Tuesday?! Tacos are a great meal for your toddler to enjoy with the family. Whether you do a traditional ground beef taco, a chicken and corn taco like these from Yummy Toddler Food, fish tacos, or a vegetarian option of just cheese, tacos are a great way for your toddler to eat a meal complete with protein, dairy, and whole grains. You can prepare your protein options in advance and just heat them up as needed, which makes these not only nutritious but convenient as well.
Deconstructed Cobb salad
Cobb salads are a healthy and delicious way to enjoy a nutritious meal and we love this deconstructed version by Pinecones and Pacifiers. The best part about this deconstructed salad is that you can change it up to suit your toddler's likes. Traditionally a Cobb salad is made with chicken breast but you can substitute turkey if your toddler prefers or if you simply happen to have it on hand. Slice up some avocado, bacon, eggs, tomato, fresh mozzarella, cucumber, and add some ranch dressing on the side to dip and you have an easy, nutritious, and balanced meal. A store-bought rotisserie chicken makes creating this salad even easier.
Baby pasta bolognese
Toddlers love pasta of all kinds, and if you've got the time to create a quick sauce, this recipe by Red Kitchenette is full of vegetables. In just about 20 minutes, you can create a flavorful pasta dinner using whichever kind of whole-grain pasta you like. The best part is that you can freeze any leftover sauce to have handy for future meals you need to make quickly. Of course, you don't have to make your own pasta sauce. The grocery store has many jarred options that are great for a fast and easy meal option.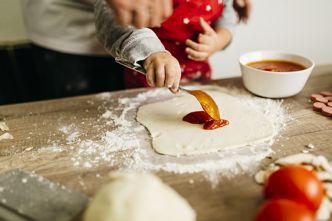 Broccoli egg cups
These yummy broccoli egg cups from Baby Foode take just five minutes to prepare and 20 minutes to cook and you can adjust the recipe to make more or less, depending on how many egg cups you'd like to make. A quick mixture of eggs, milk, chopped broccoli, and cheddar cheese poured into muffin pans and baked in the oven provides a quick, nutritious meal option for your toddler. The best part is these are portable, which means you can put some in a container and bring them with you if you have to run errands.
Chickpea patties
If your toddler is plant-based or you simply enjoy introducing some vegetarian options into their diet, these chickpea patties with yogurt sauce from Girl Versus Dough are a great meal idea. The recipe contains very little salt and has no egg whites, milk, or honey. If your toddler has discovered their love of dipping sauces, this yogurt sauce is sure to be a hit!
Pizza
Pizza is a great option for a quick, easy, and nutritious meal for toddlers. You can buy pre-made dough from the grocery store, or make your own, or use flatbreads, English muffins, bagels, or even pre-packaged biscuit dough like this recipe from Taste of Home. There are also lots of pre-made sauces that are made with a variety of vegetables you can choose from if your toddler is a bit resistant to veggie toppings on their pizza. This is a great way to get your toddler involved in helping make their own pizza and letting them choose their toppings.
Chicken meatballs
These chicken meatballs are a great meal idea because they can be served in a variety of ways. Made with ground chicken, these meatballs from Kidspot only take a few minutes to cook once assembled. They can be served with vegetables on the side or as a quick snack by themselves. Toddlers love foods they can eat with their hands and these are the perfect, quick, easy, and nutritious snacks for that.
It can often be difficult for toddlers to want to sit still long enough to eat dinner, but this is a crucial period of development for them and proper nutrition is really important. These meal ideas are not only easy to make but can be modified so your toddler will enjoy them.
Editors' Recommendations