Vegetarian lifestyles have come a long way in the past decade, thanks in part to more focus placed on healthier approaches to meals. This is also because now more than ever, parents are prepping their own foods at home and leaning less on drive-throughs and "quick-stop" type meals that carry little dietary benefit. Parents are skipping the store-brand vegetarian baby foods altogether, while doing their weekly food shopping, opting instead to buy fresh produce to prepare their infant's meals at home, versus buying them pre-made and jarred.
To help bolster those dedicated parents' recipe boxes and fill their pantries with healthier and customized baby foods, we've put our heads together to bring you five vegetarian baby recipes that are tasty, exciting, and easy to make right at home.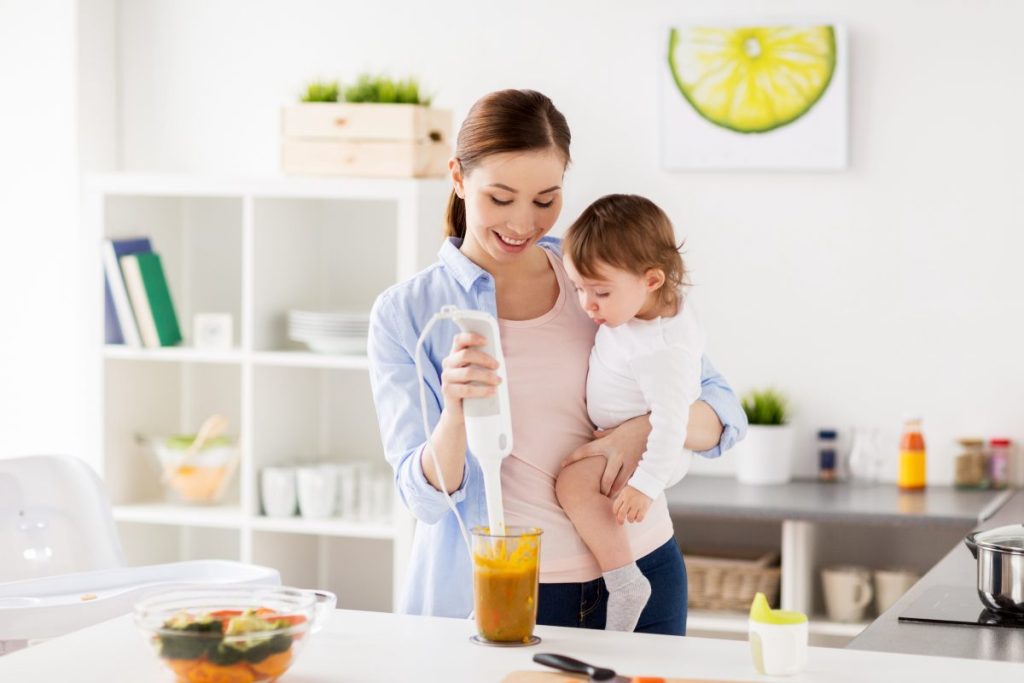 Dishes with a cheesy element
Looking for an all-encompassing approach to dinner versus making several smaller side dishes for your vegetarian baby's meal? We have the perfect solution for you. This cheese and vegetable dish combines dairy and vegetables together, giving it a casserole-type feel that will warm your baby's tummies, while giving them important nutrients essential for growth and development. The combination of cheeses and vegetables gives the feeling of a complete meal, without requiring busy parents to make separate components to their child's meal.
This French mama's approach to baby food is fantastic and fresh. She enjoys making meals her baby will enjoy, but also without added preservatives or salt, making it a shelf-stable option. She takes the guesswork out of blending these 3 ingredients together, simplifying the process for hardworking parents.
Additionally, the cheese element to this dish is 100% optional, however, it's encouraged to include it as the puree takes on a more creamy and smooth texture with the added dairy element.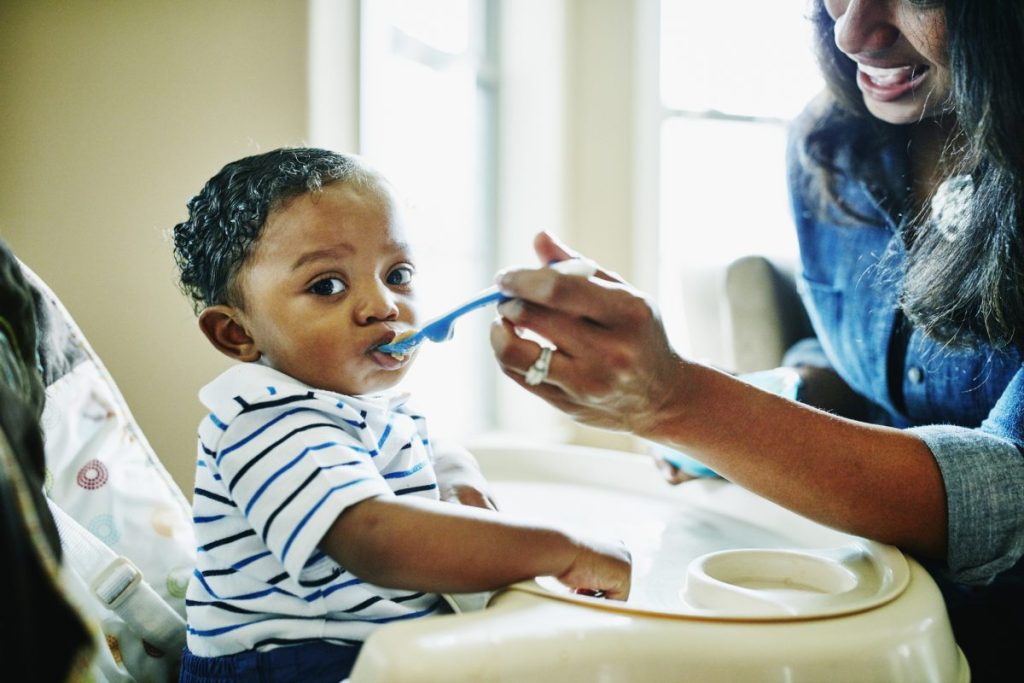 Sweeter options
This elegant and elevated baby food approach is not only insanely creamy and rich, but also an excellent way to introduce parsnips into your baby's regular diet. Parsnips are a major source of fiber, potassium, and vitamin C. They seem to blend effortlessly with a few pads of butter — or coconut oil to keep it vegan-friendly — and cinnamon for a decadent fall-tasting dish.
And while this dish is designed to be for babies over the age of 6 months, parents are encouraged to prepare this as a full-blown side dish for family or holiday meals. This recipe is perfect for make-ahead meals and is also freezer friendly for up to 3 months.
This baby food staple — the delicious and palate-pleasing banana puree — couldn't be easier to make or to tailor to your little one's preferred bite. Due to its creamy-like texture that often mimics the appearance of dairy within a recipe, bananas are used in many baby food companies' recipes and find themselves front and center in home chef's kitchens as well.
Simply peel and mash. It's that easy! Take this two-step process just one or two further by adding in other fruits or flavors by blending delicious and creamy pureed banana with:
Applesauce
Pears
Berries
Blended oats
Avocado
Yogurt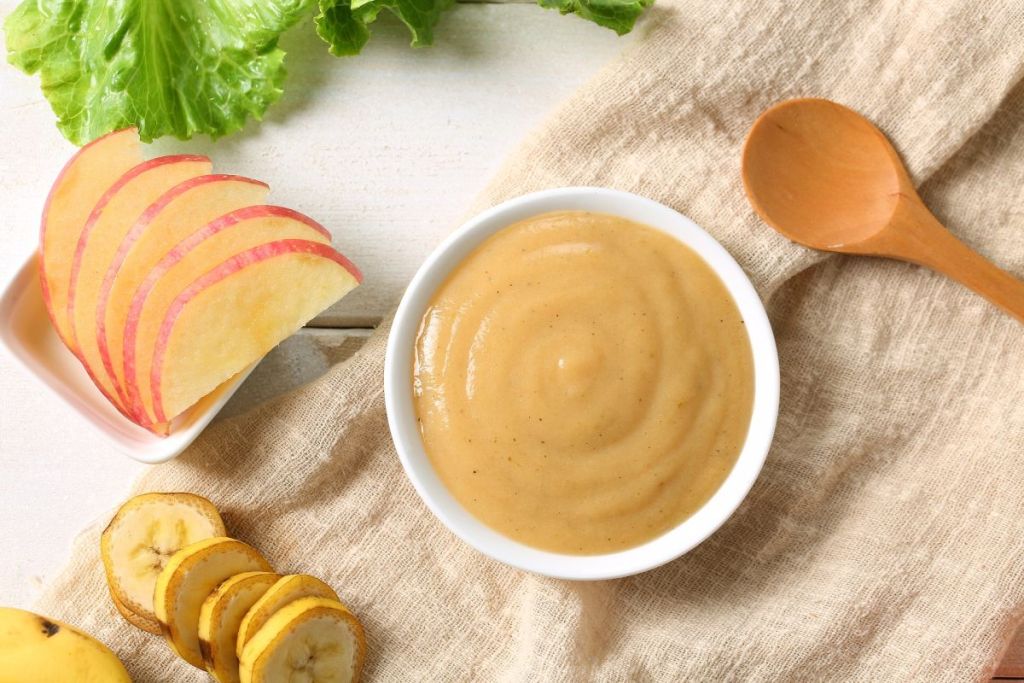 Casserole time
This delicious, filling, and complete meal is perfect for babies 6 months and older and is totally customizable for older babies as well. Lentils and rice can be prepped ahead of time and brought together later in the day for a complete meal, or frozen for future use.
This mid-week casserole can be mashed or pureed to various thicknesses and consistencies for any age and their needs. Add or remove spices depending on your likeness, or your baby's palate. Did the dish come out too thick? Simply add a few splashes of vegetarian-friendly broth to thin it a bit.
It's important to keep in mind that these recipes are ideal for babies over the age of 6 months old, who have been introduced to solid foods, and the presence of allergies has been at least partially established. By doing this, parents avoid unexpected allergic reactions.
Substituting ingredients for what's fresh, available, and affordable is highly encouraged. This customizes the meals to fit into your baby's dietary wheelhouse without breaking the bank or causing extra steps in the process. And again, everyone in the family should give these dishes a try. You never know which ones might make it into the weekly dinner rotation for everyone.
Editors' Recommendations