This content was produced in partnership with Mixbook.
So, you've had a baby or are about to have one. It's an incredibly special time, very intense for parent and baby alike. A human's firsts are happening rapidly, creating excitement.
In this excitement there usually arises an intense desire to document the process. This comes from an internal want to record precious memories and family's desire to be brought along for the ride. And so, pictures are taken.
Which leads us to a very modern problem. How should we preserve and present these photos? Unlike with traditional photos, we don't have them in a physical format to place in a frame or hang in a myriad of ways in our home. Digital platforms are always changing, too, and there are no guarantees our photo libraries will remain available indefinitely.
In some ways, a more classic approach is best. A book documenting your baby's progression, with fine magazine-quality pictures, cute notes, and high-quality binding says so much more. It's a shareable endeavor, both giftable and archivable, yet also private from digital eyes. And, just because it's an old platform, doesn't mean that the humble book has to be without modern tastes, features, and design elements.
The modern baby book — Made for You
If you've seen a baby book of your own life, the format may seem outdated. You're likely to see photos pasted (or taped!) into books with static themes and images. It could even feel like something that was trapped by the technology of the time.
Modern baby books don't need to be this way. They can be printed individually, with your baby's image directly on the page, and themes that suit their unique personality and style. You should be able to choose the book's size, its contents, everything. Do you want a hardcover book with your baby's images printed within, purposefully, with a matte finish? Do you also want the option to use paper with a premium, low glare appearance? And have that book in several sizes and shapes?
Of course you do! That's the appeal of the modern baby book, it is made for you and your baby. You don't have to fit your experiences into someone else's book idea anymore.
For a limited time, one of our favorite baby book makers — giving you the very options listed above — is giving 45% off on first time orders and free shipping if your total is over $59. Go ahead and check them, Mixbook, out via the button below to start your own search. (We've already applied the discount code MIX45SHIP for you!) Or, keep reading to see why Mixbook is so appealing to us.
It's about your baby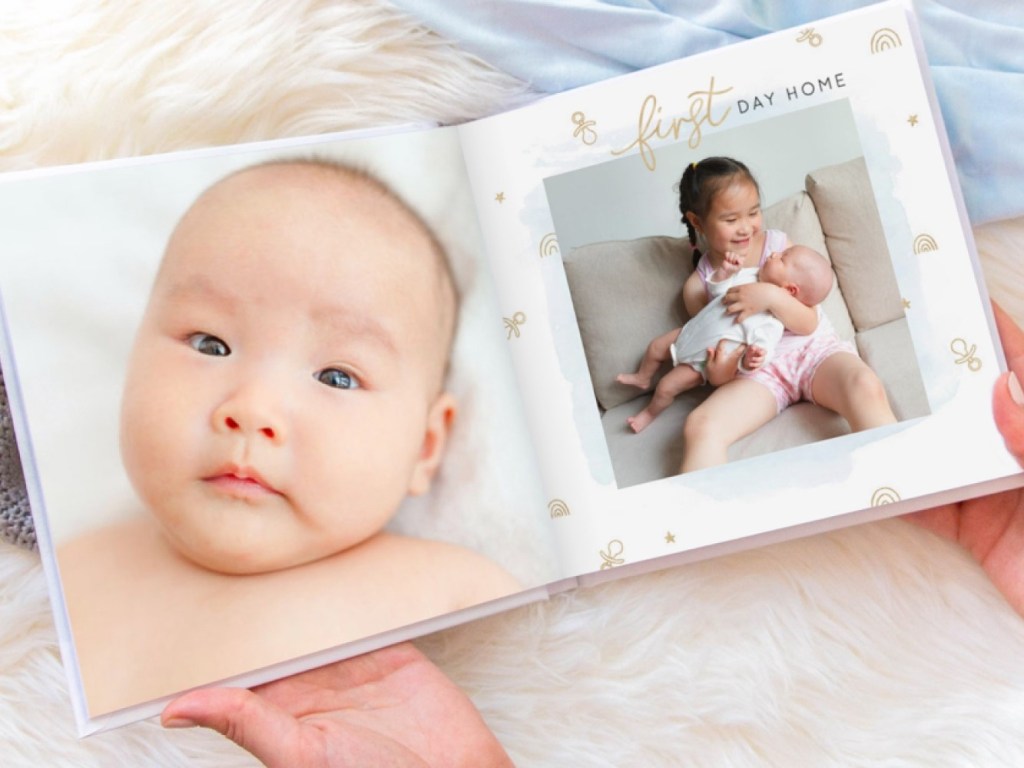 Your parents may have had few options when it came to selecting your baby book. Manufacturers didn't know you, or your parents, so they had few choices for the mass produced book.
In many cases, this led to extreme lean-ins on the baby's gender. Today, we can still celebrate having a boy or girl but, since we have more power over the contents of a baby book, can also leave room for so much more of their personality to shine through.
Take, for instance, Mixbook's Baby Girl and Baby Boy books, designed in coordination with Martha Stewart. These books lovingly understate the baby girl and baby boy themes, which are emphasized only by light pinks and blues, respectively. The very cover of the book emphasizes your baby's name and, by extension, their personhood from the get go. Alternatively, forego these themes altogether with this cute animal themed baby book.
No matter what style you choose to start with, the details are up to you. You're in control of how you present your baby to the world with customizable text, stickers, and backgrounds all at your fingertips. If you don't consider yourself particularly crafty, it can be quite daunting, but the blank canvas format will let you build your own baby book from the ground up.
The bottom line is, Mixbook embodies the standards of the modern baby book. It's about your experiences, your styles, your baby.
A complete experience
A baby book undoubtedly makes for a fantastic gift. Your parents will want one, as will your spouses. There are probably a few other families you can think of that you'll want to share with as well.
But, as special as your child is, not quite every friend and family member needs a whole book dedicated to the arrival. And that's where cards come in. Soft animal and minimalist designs — in the same style and philosophy as the baby books — are here to round out your purchase.
And remember, when you go to Mixbook and create your book, as a limited time offer you'll get 45% off and free shipping on orders over $59 for your first purchase. You just need to apply the code MIX45SHIP or click the button below (we've already added the code for you) to grab your discount. You'll get access to everything above, plus adoption lifebooks, holiday books, and more card types than you can count.
Editors' Recommendations