Whether you want to wash all those itty-bitty onesies in anticipation of Baby's big debut or are already knee-deep in poop-stained PJs, one thing you will definitely need is laundry detergent. Of course, you might not want to use the generic or on-sale brand you have been using for your own soiled clothes. Your newbie's sensitive skin warrants the use of a gentler, milder detergent.
And while there are some specific ingredients you will want to avoid entirely, you can still find a formula that is effective at eradicating those unsightly mystery stains (is it pea puree or something else?). Want to get the scoop on the best detergent for baby clothes? Read on for our top tips, tricks, and picks.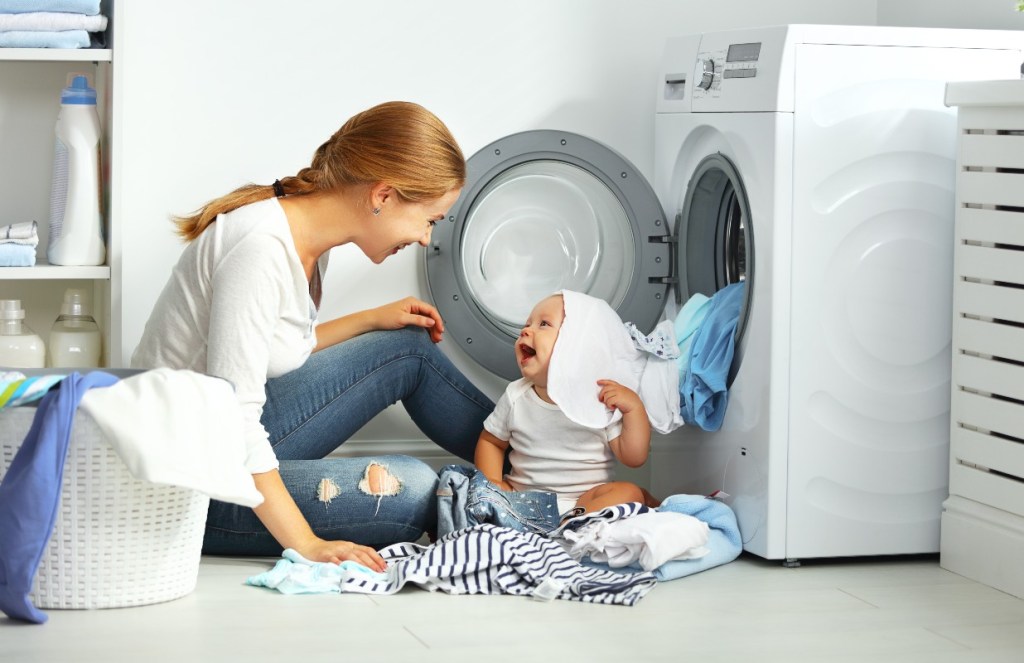 What to look for (and avoid) in laundry detergent for babies
First and foremost, know that you do not need to get a separate detergent that is specifically labeled for babies. There are plenty of formulas that meet this mild criteria without being marketed specifically to new parents. You can find a product you like and use it for the whole family. Here are some options:
Go hypoallergenic: A detergent that is hypoallergenic has been tested to yield fewer allergic reactions than competitor brands. Better yet, you can find one that is hypoallergenic and dermatologist-recommended.
Opt for fragrance-free: Your baby mostly smells sweet on their own, so they do not need any added perfumes that could harm their soft and delicate skin barrier. Look for the phrase "fragrance free." The word "unscented" simply means that a fragrance has been subdued or masked. Most fabric softeners are scented, so you will want to avoid these options, too.
Choose dye-free: Your detergent should be free of skin-irritating dyes and brightening ingredients (i.e., optical brighteners).
Pick plant-based: If you find that your baby's skin is still sensitive to your chosen detergent, you could opt for a formula that is plant-based and chemical-free. Bonus: This is the most environmentally friendly option, too.
Other tips for laundering baby clothes
Ready to do that first adorable load of rompers and onesies and jumpers and jammies? Here are some tips to keep in mind:
Wash before use: It is not a nesting cliché. You should wash those new baby clothes before first use.
Act fast to erase stains: Parents have a lot to juggle, and they are not always able to stop everything to soak a soiled onesie. But if and when you can, working fast can salvage a stained piece of clothing. Simply soak in water to loosen up a stain. You can also use a soft-bristle brush.
Do a quick skin check: If your baby tends to react to bath or skin products or has eczema, you might consider testing a new detergent on a single piece of your baby's clothes before using it on a whole load of baby clothes. If there is any resulting irritation after your baby wears that specific piece, you will want to avoid using the detergent again.
Avoid laundry pods: You may have grown used to those nifty laundry pods you just plop right into your washing machine. They are convenient, but they can pose a significant danger to babies and toddlers. They are colorful and squishy, and look like toys or candy, but of course they're toxic if consumed. While you certainly keep them out of reach from children, there is always a small chance of you accidentally losing or dropping one. To this end, stick with liquid or powder detergent varieties.
You can combine loads: You do not need to separate your baby's clothes from yours. You can do them in one big load if you choose. However, if you are using cloth diapers, you will want to launder them separately.
All those sweet mini styles are going to look adorable on that little love of yours. But to keep them looking nice and new — despite spit-up and blow-outs and formula-spill stains — you will need to care for each precious piece diligently. Having the right detergent will help ensure your child's wardrobe stays clean and cute. Just be sure Baby's skin won't pay the price for that fresh wardrobe by reading the labels carefully — no fragrance and no harsh chemicals, no problem.
Editors' Recommendations