Pregnancy comes with all sorts of aches and pains. It's par for the course when you're growing a tiny human. One common complaint? Swollen legs. Water retention, vein pressure, and a surge of progesterone can cause your lower limbs to puff up. Furthermore, this may create or exacerbate varicose veins. Suffice to say, it doesn't look pretty or feel pleasant. Fortunately, you can help quell the swell with compression socks. Using compression socks during pregnancy will allow you to handle all of the lower aches and pains with ease – they provide support, give your legs a hug, and relieve the pain associated with edema. Put on a pair in the morning when you're not yet swollen, and you'll be ready to go about your business. Of course, not all compression socks are created equal; squeeze, style, and fit can vary. Start your search by browsing our picks for the best compression socks for pregnancy. The pressure is on! We're here to help!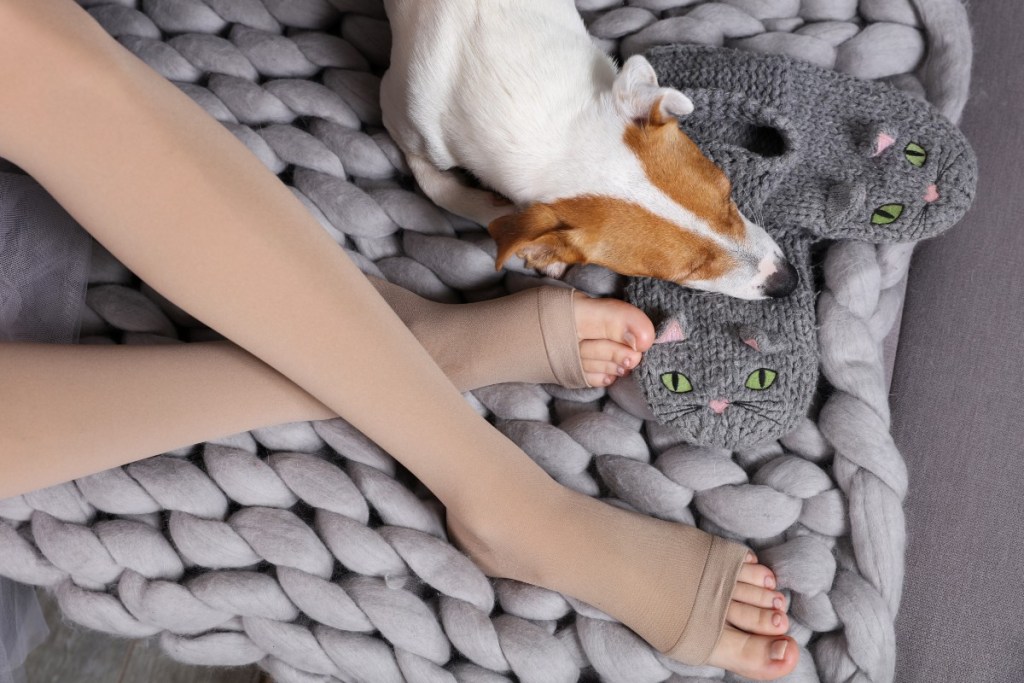 MadeMother Maternity Compression Socks
Graduated compression socks offer a lot of squeeze at the ankle with decreasing support as you approach the knee. These socks stay in place — comfortably — and give you a moderate level of support where you really need it. Furthermore, the fact that they are tighter on the bottom and less rigid at the top also means they are easier to get on and off — no sock battle for you, Mama. Made with a breathable cotton-blend fabric that is ideal for daily use, this is a great starter option for expecting moms who need a circulation boost with reliable relief. Plus, they're cozy!
Physix Gear Sport Compression Socks
These socks mean business. If other pairs have fallen short in providing you the edema relief you need, and you are considering talking to your doctor about getting a prescription for medical-grade compression socks (yes, they do exist!), consider trying these babies first. They boast 20-30 mmHG of compression throughout for a tight but comforting fit. Better yet, you may notice you are able to stand, walk, and move for longer periods of time while wearing them. Made with a moisture-wicking material, you don't have to worry about sweating through this pair. Heck, you may want to keep these long after delivery day for intense workouts — if that's your thing!
Lemon Hero Zipper Compression Socks
Yes, the struggle is real — and if you have ever cried real tears while trying to will your legs into a pair of compression socks, this might be the next must-have set for you. Just slip your foot in and zip it all the way up. It is fairly effortless, which is key for pregnant mamas who do not want or need to huff and puff while getting dressed in the morning. What's more, a built-in zipper guard ensures that you won't snag your skin while socking up. This pair offers moderate compression and just the right level of squeeze to keep you feeling great on your feet.
Charmking Compression Socks
While higher socks are usually better for pregnancy-related swelling, some moms-to-be might prefer wearing shorter socks on certain occasions. And, to be honest, sometimes your legs will just want a little breather and fresh-air break. In this instance, you can still find an effective product that gives you ample support for short-term use. These offer 15-20 mmHG of compression — so a medium amount that feels just right. Better yet, they come in a pack, so you will never need to dig through the dirty laundry to find yourself a pair before heading out the door (although, no judgment if you do!).
FuelMeFoot Compression Socks
Who says your compression socks need to look boring or medical? You can have your fit and enjoy some foot flair at the same time (win-win). These sets come in all sorts of fun and fashion-forward prints and patterns to up the ante on your sock-style game. With solid knee-high compression (20-30 mmHG), they are great for daily wear, while 360-degree flexibility makes them easy-ish to take on and off. Hand wash these pretties to keep these in quality condition so that they can and will last throughout the third trimester and beyond.
Jomi Compression Maternity Pantyhose
If you are wearing a dress or skirt, you might decide to opt for full-maternity compression stockings instead. These will give you the snug hug you desire — whether you will be dancing at a party all night or getting through a morning board meeting. These medical-grade opaque compression pantyhose are made with a nylon-spandex blend that is breathable with ample stretch and steady support (20-30 mmHG) to help with the general discomfort and edema pain that accompany pregnancy. Plus, they pull up above the belly button to provide a secure fit over that adorable burgeoning bump of yours.
Of course, you should always consult your doctor about any and all edema symptoms — especially if they come on suddenly or seem severe. There could be more serious issues at play. In the meantime, put your feet up (that will help for now!), browse our top options, and click to buy! You don't have to suffer with swollen legs and perpetual discomfort. Don't suck it up — sock it up, instead. Pregnancy can drag on, and those aches and pains are only going to get worse the longer you wait to address them. Compression can help; relief is on the way.
Editors' Recommendations