Potty training a child is a task that no parent really looks forward to doing, but it is something that has to be done. If you have a little boy that is transitioning into the stage of being ready for potty training and you are looking for some tips, we've rounded up some of the best advice from the experts. When it comes to how to potty train a boy, there are different things you can do to encourage them to use the potty when they feel like they have to go.
Potty training tips
Be sure they're ready
You can kick start the process by talking to them about what is going to happen with potty training. Mary Gavin, M.D. for Nemours Kid'sHealth recommends that you should talk to your child about "identifying" the process, such as asking them if they have to go "poo" or "pee." Gavin also recommends using small words in order for them to understand better. Another thing you can do is to have your toddler let you know that their diaper is soiled. That way, they can start recognizing what it feels like and how they will benefit from potty training. When they become uncomfortable in their diapers or disposable underwear or they don't like the feeling of even wearing a diaper anymore, that's when you know that they are ready to be potty trained.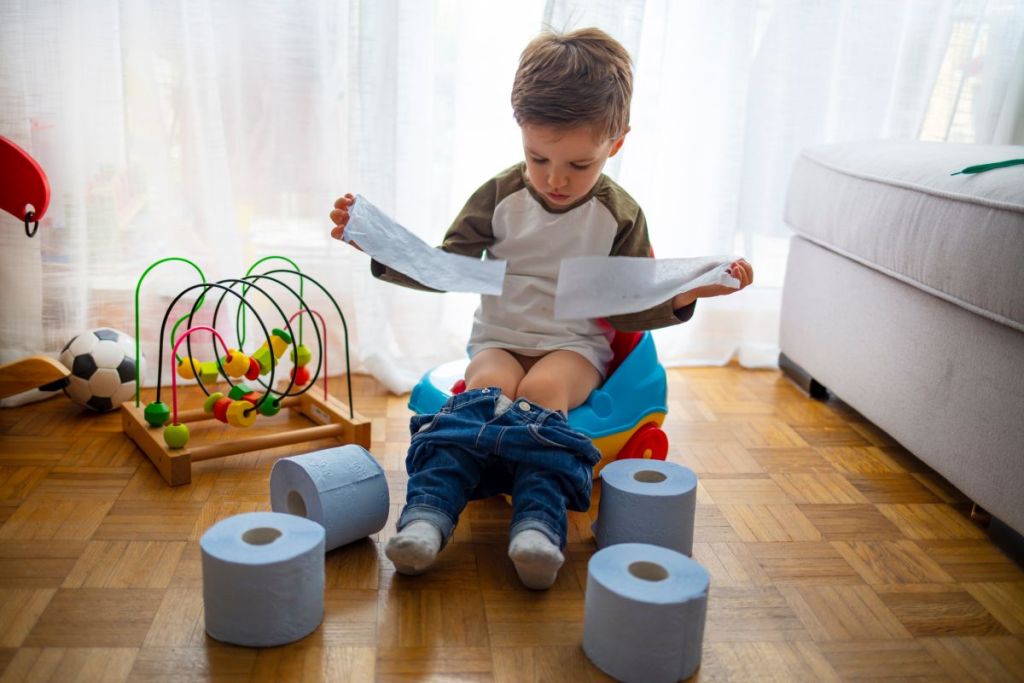 Find the right potty
Locating the "right" potty for your son is very important. They have to be comfortable with the potty they are using, otherwise, all of your hard work will be all for naught. Many small children are rather intimidated by a large toilet seat, so it's best to get a smaller one for them to sit on. Dina DiMaggio, M.D., writing for the New York Times, says that "Often pediatricians find it is easier to use a potty chair, or a small portable potty that your child can sit on while placing both feet on the ground." Having these smaller potties eliminate the fear of using a big potty and many small children's fears of falling into the toilet. A potty chair gives them more comfort and a place to put their feet on the ground.
Encouragement
Positive reinforcement is something that is so important when you are potty training a child. Dr. Michael McKenna, a pediatrician from Zionsville, Indiana tells TODAY, "Celebrate the little victories. Figure out what will inspire your kid to make good decisions." This does not necessarily mean that you need to give them a piece of candy or a toy when they use the potty, but by telling them how proud of them you are, they will then feel that inside themselves. Toddlers enjoy that feeling and very much want more of it, so they will start doing their best to try and use the potty.
Sit or stand?
When it comes to potty training boys, many make the case to begin potty training them sitting down. This kind of takes anymore kind of guesswork out of it for them. They don't have to think about two things at once just yet. Many also believe that this will ease up on the "mess factor" of potty training. Dr. Maureen O'Brien, Ph.D., director of parenting and child development at The First Years, in Avon, Massachusetts tells Parents, "It's not just because of the mess factor. When a child is learning, you want to keep the number of variables that he needs to think about to a minimum. Deciding whether to sit or stand can cause him to hesitate a few seconds—and those seconds can be crucial."
Final tips
Help them feel comfortable
Once your child has found the right potty for them, help them choose a location in the home where it is easy for them to go and sit down when they need to. It should be a place in your home where they are comfortable. Jen L'Italien, certified Oh Crap Potty Training consultant and owner of Oh Crap Potty Training From ME To You said to CNN, "It can take time before kids are comfortable with flushing. And you don't have to rush the child to flush the toilet." So, finding a place in the house together is a great idea. That way, everyone is happy.
Be Consistent
Consistency is key when it comes to potty training. Even just having them practice by sitting on the potty with their clothes on, even if they don't have to go can be effective. This is to get a sense of when to take potty breaks. Accidents are going to happen, and Joanna Vogel, education director of Kidz Village preschool in Maspeth, New York tells CNN, that when they go to school, "Several sets of extra clothes in the cubby are a must." But we shouldn't let accidents discourage them from potty training.
Once you know that your child is ready to start potty training, get ready for it. A good place to start is to get them some gear. A step stool for reaching the sink to wash their hands is good to have on hand. Other items include a potty seat, special soap to wash their hands, anything to make it special for them. These helpful tips will help you accomplish your potty training goals.
Editors' Recommendations