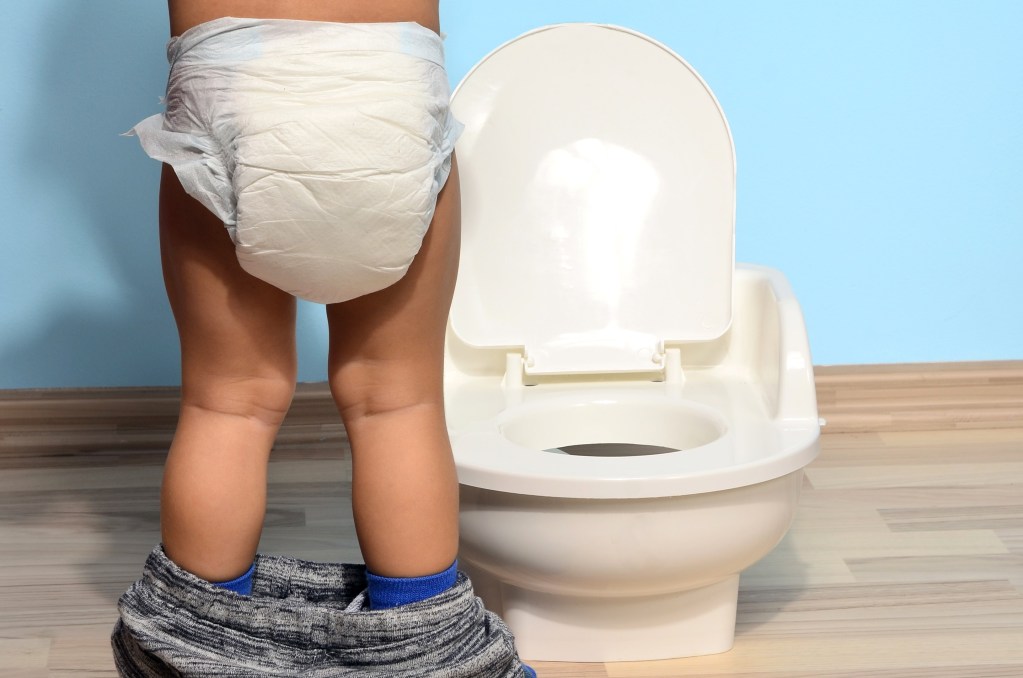 Potty training a toddler is an extremely stressful time for the entire family. Everyone has an opinion on how to do it, while everyone else's child seems to grasp the concept quicker than yours. In America, parents usually begin potty training their children around 2 years old. Other parts of the globe, though, begin the potty training process soon after birth, with toddlers being fully trained by the time their second birthday rolls around.
Is there some confidential potty training hack American parents aren't in on? Not really. The method isn't exactly classified, it's just outside of the norm here in the U.S. Elimination communication is the potty training method used in many Asian, African, Latin American, and Eastern European countries. What is this potty training method and is it a good option for your child? Keep reading to learn more.
What is elimination communication?
Elimination communication is a potty training method beginning shortly after a baby is born. The method uses a baby's body signals to identify when the child needs to pee or poop. Once the parents figure out what their child's elimination communication signals are, they can hold the child over the potty to go.
While putting the baby or toddler over the potty, the parent makes a sound like a whistle. What eventually happens is the child learns to go when hearing the sound. Parents using the elimination communication method only use diapers and training underwear or training pants for support, such as during long car rides or overnight in case of accidents.

Benefits of elimination communication
The obvious benefit to the elimination communication potty training method is fewer diapers. Diapers are only used as a backup and are needed for a much shorter amount of time. As veteran parents know, diapers are expensive and can put stress on the family budget, especially during tight times. Another plus is diaper rashes are less common with babies and toddlers using the elimination communication method. Elimination communication is also environmentally friendly. Fewer diapers means less in the landfill. Since parents using this method don't use as many diapers, cloth diapers might be a more economical and greener alternative.
Elimination communication signals
All kids have cues as to when they need to go to the bathroom. A baby may cry, wiggle around, or reach down to touch his or her private area when it's time to pee. Some babies turn red or make grunting noises when pooping. Of course, figuring out your baby's pee and poop signals takes time.

Putting the potty training method into practice
Unlike a potty training toddler, a baby can't sit on a potty. A parent or caretaker must support a baby on the potty when using the elimination communication method. Many parents using this potty training method, sit down facing the toilet to support their baby or toddler. To make getting the child on the toilet quicker, the baby or toddler is diaper-free with bottoms that allow for fast removal.

When to start elimination communication
There really isn't a set time to start the elimination communication potty training process. In places where it's culturally acceptable, parents begin shortly after birth. In the U.S., parents using elimination communication begin a few months after birth.
Is elimination communication right for you?
Whether the elimination communication potty training method is best for your family really depends on you. One thing to consider is if your baby or toddler will be attending daycare. Many daycare centers don't have the time to devote to elimination communication, which wouldn't keep the potty training consistent.
If you do decide to use the elimination communication method, it's important to travel with a potty. When you're out and about, potties aren't always easy to find or clean enough for many parents to feel comfortable putting their baby on. Parents using this method also need to be comfortable with the child being diaper-free for the majority of the day.

Join a diaper-free support group
Since elimination communication is definitely not the norm when it comes to potty training in the U.S., don't be surprised when you get raised eyebrows and comments from family, friends, and even strangers. If you decide this is your potty training method, join a support group. This way, you have others in similar situations to talk to, even if it is just online. Facebook has an elimination communication community support group for parents using this method. It can be a good forum for parents new to the method to ask questions and find a shoulder.
Pick the method right for your family
Any parent will tell you that potty training is hard, and it's different for each child. Seasoned parents can look back and laugh now, but they probably weren't giggling when potty training their toddler. The key is to choose a potty training method that fits your beliefs and lifestyle. If you're looking for a method that doesn't include stickers and food rewards, and that gets your kiddo out of diapers sooner, then the elimination communication method just might be the perfect fit.
Editors' Recommendations