Having to pick out your child's nursery theme can be a daunting task. Going with a neutral theme that can easily transition from child to child (if you have more than one) makes everything easier. A space theme is a great way to give your baby's nursery an educational touch that will grow with and entertain your child. It's also a cool theme that you won't mind looking at when you go to check on your crying bundle of joy every hour through the night. Here are 10 space-themed nursery ideas that will have you and your baby in love with the room.
Keep it basic
If you want a minimalistic approach to the theme, it's all in the colors. Grays and blues cover the nursery. White pillows for a cloud effect top it off. If you don't want to have to change up the room again or aren't into getting all of the "extra stuff" for a nursery, utilizing soft space colors like light gray and deep blue is a simple but still beautiful way to do that.
The solar system
A classic space theme is to bring the planets into your child's room. An easy go-to for anyone who wants a space-themed room, planets, shooting stars, the sun, and the moon complete this look. You can go realistic or cute, and turn the nursery into the solar system.
Include:
The constellations
We've been obsessed with our astrological signs since we were kids, haven't we? We still blame bad days on Pluto in retrograde. Plus, putting the constellations in your child's room can bring a little learning for both of you. We think this theme can look classic and elegant for a cleaner nursery aesthetic.
Include:
Twinkle, twinkle, little star
Why not embrace the fact that you will be singing that song for years to come? You don't have to cover the room in yellow stars for this. You can go subtle with silver or black and have the bedding and curtains in yellow brighten up the room.
Include:
The Starry Night
Speaking of stars, while it may be a famous painting by Van Gogh, Starry Night can also be an adorable space theme for the nursery. Make the artwork the focal point and have the bedding, rug, and other decor incorporate the colors or patterns. We love the idea of having that artsy feel in the room.
Include:
Goodnight moon
This classic book is an instant favorite. Embrace it and play with adding elements from it to your child's nursery. The book can be a focal point on a shelf, and you can bring the bold green and yellow from the cover as accents around the room. Green curtains and a yellow rug would make a fun, artistic look. You could even hang prints of your favorite pages.
Include: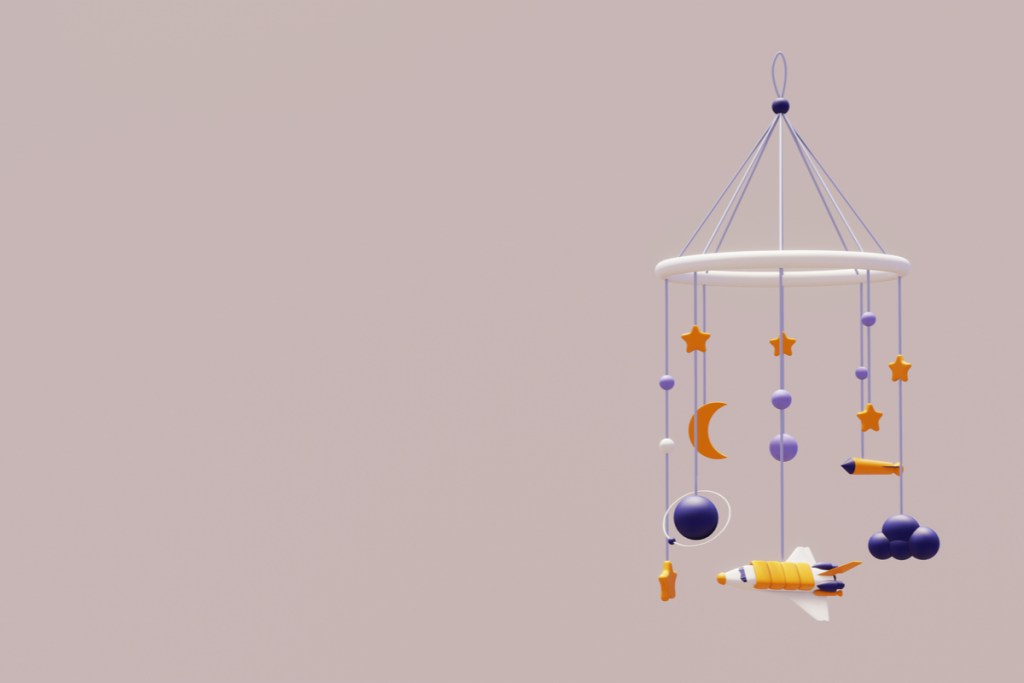 Phone E.T.
You know you can't wait until your child is old enough to watch E.T. with you. If you loved the film as a kid, you could give it a little nod in your baby's nursery. A large poster of the movie on the wall works well as the main attraction. Then add moon and star elements matching the poster around the room to tie it together.
Include:
Aliens
If you like the E.T. idea but not the movie, then try a more basic approach. Flying saucers and creatures from another planet can certainly bring the nursery to life. You don't have to paint alien heads all over the walls or paint the room a bright green. Keep it playful with cute decals and a few accents.
Include:
Out of this world
Astronauts and rockets make the perfect combination for a space-themed nursery. And it's pretty easy to find decor as well. This theme is a good neutral pick for boys or girls. After all, at some point, every child becomes obsessed with the idea of being an astronaut!
Include:
Star Wars
Obviously, we had to save the best for last. You didn't think we could talk space and not mention Star Wars, did you? This is the ultimate space theme that you will probably enjoy more than your child. Turn the nursery into something Chewbacca would appreciate. You can take this as overboard as you want, and your baby can't stop you.
Include:
From the basic to the classic to the most outrageous, we have all of the space-themed nursery ideas covered. Whether you want to keep it minimal or max out on the nursery decor, these ten ideas will help you set up for the arrival of your little one in any style you want. Whichever theme you pick, it will be gorgeous.
Editors' Recommendations