A nautical nursery can be such fun for you and your baby, and there are more than a few reasons why this theme is an ideal one for parents struggling to come up with nautical nursery ideas.
Nautical nurseries are…
Easy and affordable to put together, thanks to the abundance of nautical decor items available in your favorite decor stores and online
Gender-neutral, so suitable even if you don't know your baby's gender before birth
Versatile enough to be either as classy and upscale or cute and kitsch as you want
Ready to get started creating your new nautical nursery? Here are six nautical nursery ideas to get you started.
A clean lines nautical nursery
Every good sailor knows the importance of running a ship that's in tip-top shape. Make sure your nursery mirrors this knack for cleanliness with lots of minimalist decor and clean lines. Rather than throwing fish netting across the walls and seashells across the dresser top, choose white walls with blue accents, blue and white furniture and minimal decor in light wood tones, with possibly a few rope accents thrown in for good measure.
A blue stripes nursery
Who doesn't love a good stripe? You can give your nursery a nautical vibe with nary a sailboat or seashell in sight. Just add some blue stripes to your decor and you're good to go. Choose navy blue, of course. You can also pair the navy and white with some battleship gray, for another clean and classic look that's not too over the top.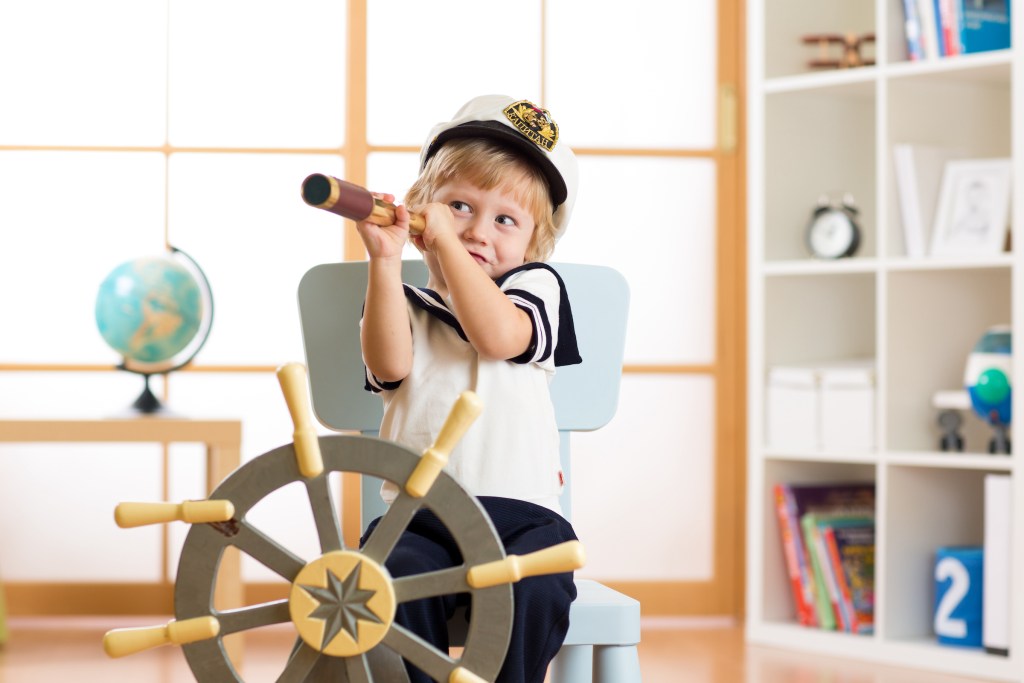 The captain's quarters nursery
Is your baby already the captain of his or her crib? If you have a feeling that your baby's going to rule the roost, set them up for success with a captain-worthy nursery. Opt for darker woods and more opulent furniture designs, with gold or brass accents. Here's where you'd want to throw in an LED maritime lantern or some wall art featuring antique or vintage maps.
A "whale of a good time" nursery
But nautical nursery themes aren't just about ships and sailors. Your favorite marine life can come into play, too. Look for fabrics featuring whales and dolphins, fish and gulls, for a mix of animal friends and the blue, white, and gray tones that work well in every nautical nursery. Add in a smattering of stuffed animals and some marine-focused wall art and you have a beautiful nursery that's sure to delight every child in your home.
A shiplap sailor nursery
Shiplap is a big trend in home decor right now and it can make the perfect addition to a nautical nursery, taking any average room to an entirely new level. Add blue shiplap to one large wall in your nursery as an accent wall, or shiplap one or two walls in white or light gray for a more low-key look. Add in a few navy accents and maybe a few maritime pieces, such as an anchor-printed throw pillow or a fishy print on the wall, and you have an upscale nursery that can easily transition into an older child's room when the time comes.
A Disney nautical nursery
Find yourself torn between a Disney nursery and a nautical nursery? Why not combine both concepts for one nursery that incorporates it all? Pick a favorite Disney movie that features the ocean in some capacity, large or small — think Peter Pan, The Little Mermaid, Fantasia, or Finding Nemo, for starters — and then add in some of your favorite nautical accents or themes, from the shiplap mentioned above to anchors and oars, whatever catches your fancy. With a little fine-tuning and careful consideration, you can have the best of both worlds.
Bring the seashore indoors with a nautical-themed nursery
A nautical nursery might just be the right fit for your baby. Gender-neutral, affordable to design, and incredibly versatile, a nautical nursery ticks a lot of boxes for expectant parents. Plus, since there's no need for bright paint colors like hot pink or hunter green, and no need for time-intensive projects like wallpapering, you can easily swap your nautical nursery out for another theme once your child is a little older.
Need more help building a themed nursery? Check out our article on the best Disney themes for your new nursery.
Editors' Recommendations