Most public schools begin introducing students to language studies in middle school. High school students typically take two years of a language with many college and universities expecting at least three on an application transcript. While some elementary schools do expose children to languages in the primary grades, budget cuts usually dictate otherwise. However, studies have shown the best time to introduce kids to languages is during their formative early childhood years, and as parents you don't necessarily have to wait until school starts to do it.
Why teach a child a second language?
Many households are bilingual with children easily going back and forth between two languages. When children learn a second language while learning their primary one, they are actually utilizing the same part of the brain. Unlike teenagers, younger children are not inhibited by fears of making mistakes in class while attempting to speak another language. Teaching children a second language also has been shown to improve critical thinking and problem-solving skills along with academic achievement.
Choosing Spanish as a second language
Mandarin Chinese is the language spoken most around the globe, followed by English. Spanish is the primary language in 21 countries and considered a secondary language in four including the United States. The popularity of the language makes it a great choice as a second language for kids with more and more English-to-Spanish translations becoming more visible in everyday life.
Teaching Spanish through play
Whether you want to introduce younger children to Spanish or are helping a high schooler master the language, bilingual toys are an excellent and accessible teaching tool. Young children playing with bilingual toys don't even realize they are learning a second language. Using bilingual toys with teens is a great way to help them become more confident with their Spanish in the classroom. When it comes to bilingual toys and books, there are a lot of wonderful options to choose from.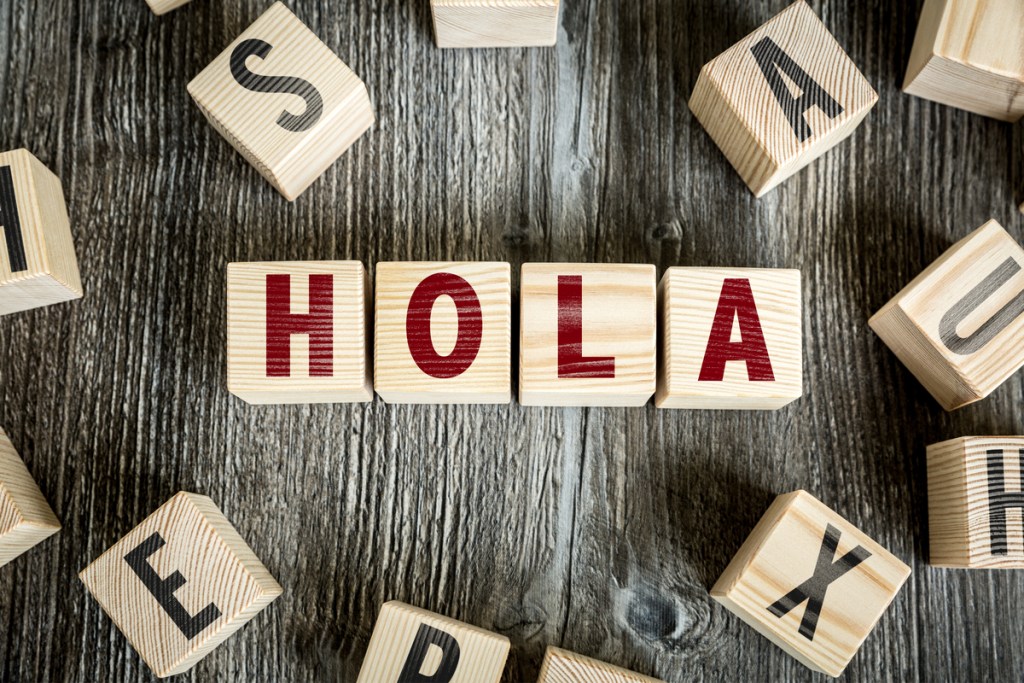 Games
Playing games with Spanish words is a fun way for younger and older children to get a grasp of the language. Spanish Bingo is geared toward children ages 3 to 5, but it can be used for any ages learning the language. The Spanish words are printed below pictures. This helps kids learn the Spanish words for animals, clothing, foods, and more.
Spanish Scrabble is ideal for older kids, especially middle and high school students who need to work on spelling and writing words in Spanish.
Play foods
Seeing Spanish words written alongside English words helps children of all ages to learn vocabulary. Many high school Spanish teachers suggest labeling items around the house with Spanish words to help students learn their vocabulary words. Wordy EnSALADa is an English/Spanish 30-piece bilingual play set for toddlers. The wooden salad set features popular salad items with the English word on one side and the Spanish word on the other. The set includes bowls, a fork, and a spoon.
Dolls
Baby Alive Sweet Tears Baby says more than 35 phrases in English and Spanish. Her nose even lights up when she's not feeling well. Playing with and taking care of Baby Alive is a fun way for kids to learn common Spanish phrases.
Talking toys
Interacting and listening to toys talking in Spanish is another creative way to teach children another language. Bilingual toys that talk give kids the option of hearing the same phrases in both English and Spanish.
LeapFrog has two bilingual toys kids will enjoy and learn Spanish with them.
The LeapFrog Learning Center actually grows with your child. Its musical table is perfect for babies as young as 6 months, while the phonics component is ideal for toddlers through preschool. The table includes a phone, laptop, globe, and a mini piano. Sounds are in English and Spanish. Even older kids could benefit from this combination bilingual toy.
LeapFrog's Scout and Violet 100 Words Book introduces kids to age-appropriate Spanish and English word categories. Categories include animals, colors, foods, activities, and more. The electronic book does need batteries. Kids as young as 18 months will have fun with this Spanish-speaking toy.
The preschool-and-up set will get a lot of enjoyment from the Ben Franklin Toys Talking Cash Register. Batteries are not included, but the talking cash register includes more than 60 pieces and can speak to children in English, Spanish, and French. This toy is excellent for high school students, too.
Bilingual books
Another bilingual option for young children is bilingual book sets. Seeing familiar words and stories in two languages on the same page is extremely helpful when exposing children to another language. My First English-Español Learning Library is a boxed set of 10 bilingual board books. Constructive Playthings has a bilingual set of eight English/Spanish classic stories like Little Red Riding Hood. Many of Dr. Seuss' much-loved and familiar reads like One Fish, Two Fish, Red Fish, Blue Fish and Green Eggs and Ham have Spanish versions for kids to read. These are wonderful for older students already familiar with the text of these Seuss favorites.
It really is never too early to expose your child to a second language. Bilingual toys are a wonderful teaching tool that children will enjoy playing with while learning. And, Spanish-speaking toys are a perfect pick for teens struggling to satisfy that language requirement in high school.
Editors' Recommendations