Just like busy moms and dads, babies are constantly on the go. Little ones often move from strollers to car seat carriers and back throughout the day. With all the time spent in strollers and carriers, it is important for a baby's development to have toys to keep your little guy or gal occupied. Baby stroller and carrier toys can often do double duty, moving from one to the other, but it's important to choose stroller and carrier toys that are safe and developmentally appropriate. Babies' brains are growing by leaps and bounds during the first year, which is why it's vital to pick toys to stimulate the mind and the developing muscles. So, what should you look for in baby stroller and carrier toys?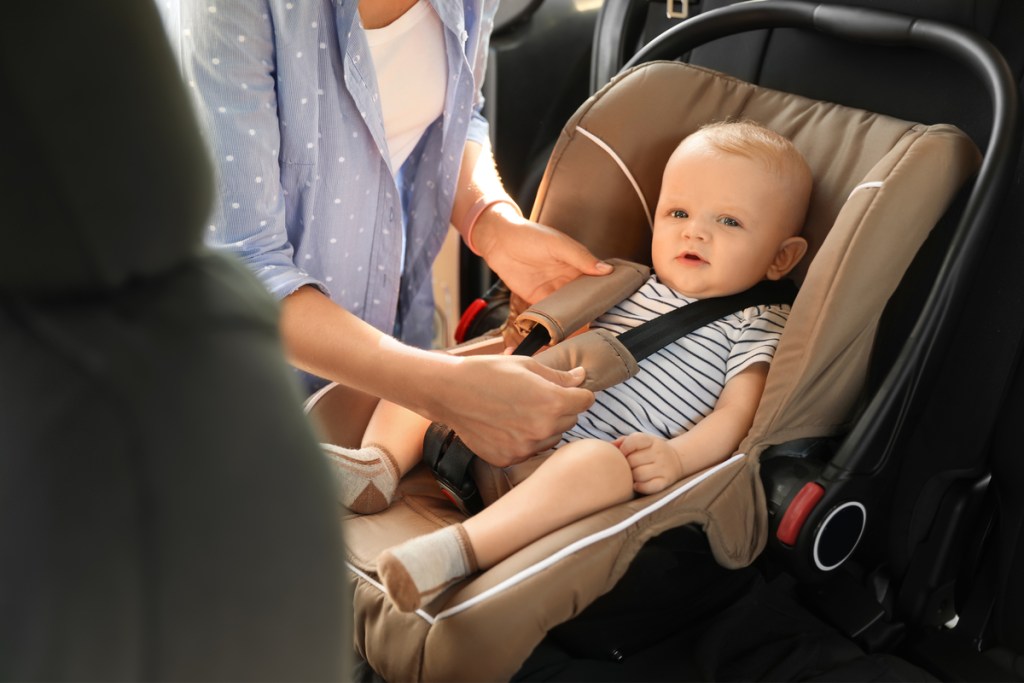 Safety first
When it comes to choosing the top toys for your baby's stroller or car seat carrier, safety is first and foremost. Make sure any baby stroller or car seat carrier toy has these characteristics:
Nontoxic: Baby toys should be made from baby-friendly materials. Check to make sure the materials the toy is fashioned from are nontoxic and baby-safe. As parents know, toys always end up in Baby's mouth.
No small pieces: Make sure any stroller or car carrier toy does not have any small pieces that are detachable or may break off and become a choking hazard.
Washable: Since babies are constantly putting toys into their mouths, it is important to make sure the toys can easily be washed to curb the spread of germs.
Stays put: Since you will be busy driving and can't necessarily see what Baby is doing, choose a carrier seat toy that attaches and stays put. Baby will be unhappy if the toy he or she is playing with drops, and you can't stop the car to simply retrieve a toy. The same is true in the stroller because you don't want Baby tossing toys out as you go.
Avoid electronics
Even babies are attracted to the lure of smartphones and tablets. According to the American Academy of Child & Adolescent Psychiatry, babies from zero to 18 months should not have any screen time unless they are saying hi to a parent or relative via FaceTime or a video chat. So, steer clear of any stroller or car carrier toys that are electronic in nature. Instead, choose toys that actively engage a baby.
Developmentally appropriate
Most children's toys include a recommended age. Taking note of the age a toy is geared toward is helpful when choosing developmentally appropriate toys. While babies develop at different rates, the recommended ages are a guide to help parents and caregivers choose toys that are appropriate for their babies' growing minds and muscles. Look for baby and car carrier seat toys that are visually stimulating, easy to grip, and make engaging sounds. Toys with different textures also offer tactile sensations that are great for igniting a baby's sense of touch and fine motor skills.
Fun and safe baby stroller and car seat toys
Now that you know what to look for in a baby stroller or car seat carrier toy to keep your little one safe and happy, here are some toy suggestions to take along for Baby on your busy day.
Infantino Spiral Activity Toy
This soft, lightweight toy is ideal for strollers and car carriers. It easily wraps around handles and can even pop into cribs or playpens. With bright colors and engaging textures, Baby will be a busy little bee on walks, errands, or car rides. It even includes a small mirror on one of the four hanging toys. The Spiral Activity Toy is a perfect fit for babies from infancy to 12 months. Infantino's popular stroller and car carrier toy is BPA-free.
Baby Einstein Star Bright Symphony Toy
Baby Einstein's adorable smiling star is the perfect on-the-go toy. It can quickly go from the stroller to the car seat and into the diaper bag. The toy plays six classical tunes and also has soothing lights. It does require two AA batteries, but it can still be spot cleaned when needed and wiped down with a damp cloth.
Infantino Hug and Tug Musical Bug
This cute little critter hangs easily from a carrier seat bar or in the stroller. When a baby tugs, it plays a tune for 90 seconds while the bug moves up and down. The BPA-free toy will also activate a baby's senses with its inviting soft and crinkly fabrics. Baby will love the built-in peek-a-boo mirror. Infantino also makes a Hug and Tug Musical frog and sloth.
Lamaze Freddie the Firefly
Another adorable critter that loves hanging around to keep your baby happy is Lamaze's Freddie the Firefly. Freddie can attach to strollers, car carrier seats, and diaper bags. He's a perfect fit for teething babies. With bright colors and different tactile sensations, a baby's senses are stimulated. Freddie is just the right size for little hands, and he can be cleaned with a damp cloth.
Most of the time, baby stroller and car carrier toys can do double duty, going from one to the other with ease. When shopping for baby-friendly stroller and carrier toys, remember to keep the top features in mind. Make sure the toys are nontoxic, washable, do not contain any small pieces or potential choking hazards, and are developmentally appropriate. Don't fall for car seat or stroller toys that contain smartphone or tablet holders. Screen time for babies should be avoided.
Editors' Recommendations