If your baby can barely walk and talk, putting them in swimming lessons seems like a crazy idea, but this practice is becoming more common these days. Parents are enrolling their little ones in classes as a preventative measure. Unfortunately, drowning is a leading cause of death among children, and one way to help prevent this is with the proper water training.
Whether you are taking a dip in your pool or heading to a lake, it is important to stay within a close distance to your baby or toddler every moment. However, it only takes a split second for the wrong thing to happen, so swimming lessons can only support the safety of your child. Even if your baby cannot actually learn to swim, they can learn how to react to falling into the water.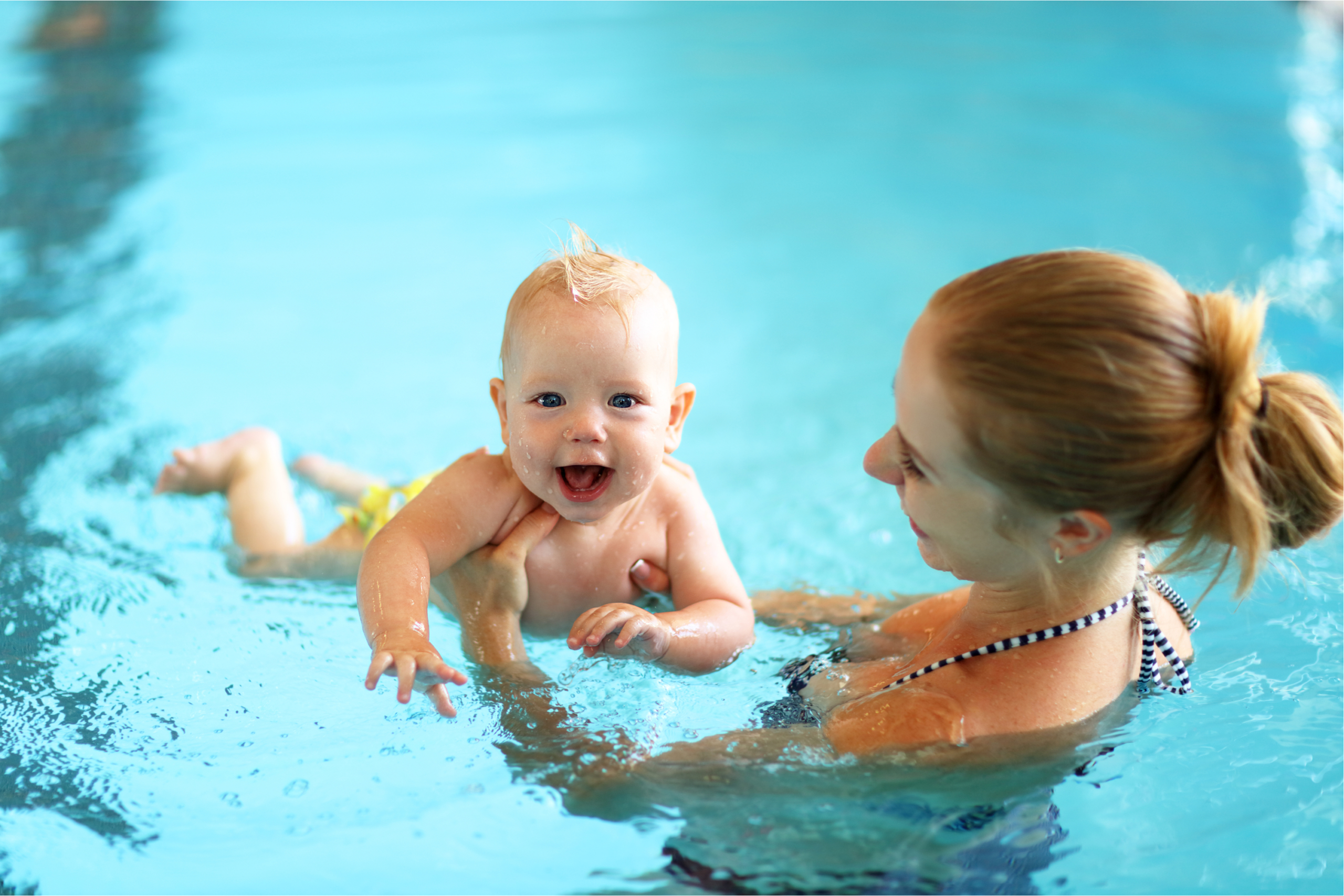 When can babies swim?
You may be wondering what age is best to start swimming lessons— well, you may be shocked to know that the American Academy of Pediatrics (AAP) has stated that your little one can begin swimming lessons at just a year old. Whether you have a pool in your backyard, live near the beach, or just would like to take precautionary measures, swimming lessons for infants are said to be highly beneficial.
Between the ages of 1 and 3 is a wonderful age for babies to start "swimming" or develop various water reactions. If you choose to take your little ones to swimming lessons, the following is what you can expect.
Lessons at ages 1 to 3
If you enroll your baby in swim lessons between the ages of 1 and 3, think of it more as an aquatics class. Your child won't be learning how to backstroke, but they will learn the basics. Your baby will learn to push water out of their mouths by blowing bubbles, kick, and float on their backs. By teaching these survival skills, your baby will gain confidence and reactionary skills in the water. When you enroll your little one in swimming lessons, you should expect to be getting in the pool with them! As the parent, you will be with your baby every step of the way, keeping them safe while following the instructor's lessons.
Remember, every child moves at their own pace, so as long as your baby isn't afraid of the water, swimming lessons can be a lot of fun and highly useful. One of the biggest goals of partaking in introductory swim classes is introducing your baby to the water and building confidence when in it.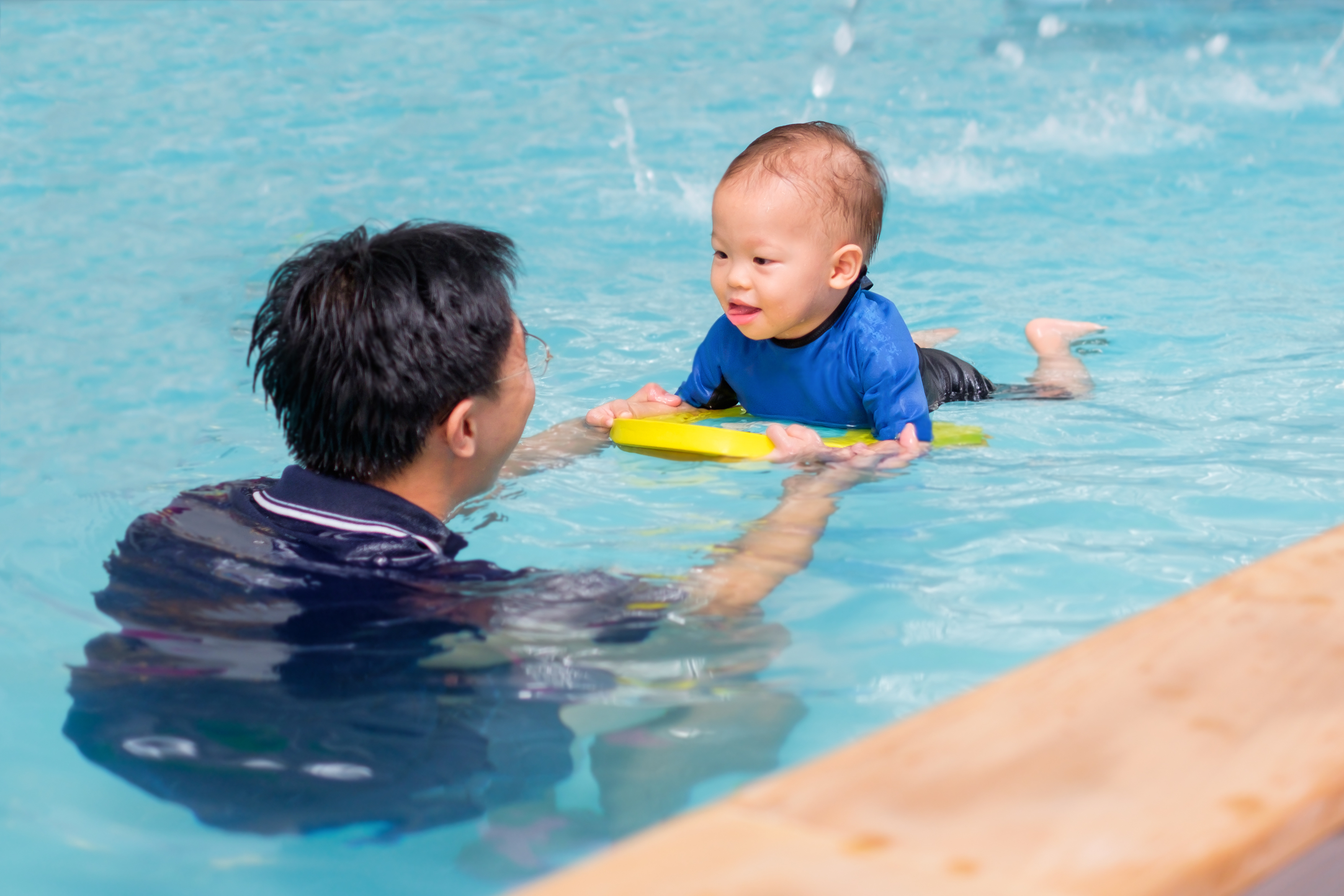 Lessons at ages 4 to 5
When your child is around the age of 4, they will continue to build on their water survival and reflex skills while learning the basics of swimming. Four-year-olds will continue to practice their floating skills, in addition to learning how to tread water. They will most likely also learn how to submerge themselves completely underwater while practicing holding their breath. Fortunately, children around this age will also learn how to exit a body of water with a doggie paddle. Once your kids reach the age of 6, they will advance to learning more technical skills and continually move forward in their training.
Parent safety
It is just as important for the parents to learn about water safety as it is for babies to learn survival skills. When researching classes to enroll your child in, make sure you look into programs that place a learning emphasis on both parent and child skills. If you are unable to find a class that provides both, you may also be able to look into courses that solely educate caregivers on water safety for their little ones. In these classes, you will mainly learn about steps to prevent drowning. You should learn the steps needed to take in the pool and ocean and what to do if your child accidentally does go under the water.
Even if your kids have been enrolled in swimming lessons since the age of 1, drowning is still possible. Make sure pools are fenced in, proper floatation devices are used, and of course, that your kids are always properly supervised. Your baby's water skills only act as a cushion.
Luckily, even if you never find yourself in an emergency, your baby or toddler can only benefit from swimming lessons. They will become comfortable in the water while developing their muscles and mind, tools that can help them throughout all levels of their lives. Most importantly, swim classes are a bonding moment for you and your little one.
Editors' Recommendations