Your baby might not be an Olympic swimmer yet, but that doesn't mean they can't look the part at the beach. Of course, it's important to prioritize comfort and practicality during the process of choosing swimwear for your newborn; sometimes, it's quite alright to consider fashion too.
For your next pool day or playdate, we've highlighted some of the cutest baby swimsuit styles below.
The one piece
The one-piece swimsuit is one of the most versatile options for babies, and it comes with almost limitless design possibilities. From ruffles to baby shark patterns, there's not a lot you can't find on a one-piece suit for your infant.
There's also a wide variety of one-piece styles, too. Some look like miniature wetsuits, but others are off-the-shoulder, use spaghetti straps, or come as halter tops.
Besides being fashionable, one-piece suits also tend to be one of the most functional styles. Many come with zippers or buttons so you can slide them off when it's time to change a swim diaper or pool time's over.
Let's not forget about UV protection, either. Babies can start swim lessons as early as 2 months, but those first few months are also critical for protecting your infant's skin — and one-pieces don't slack on coverage. Many include full-length sleeves and legs, and almost all of them should cover your baby's tummy.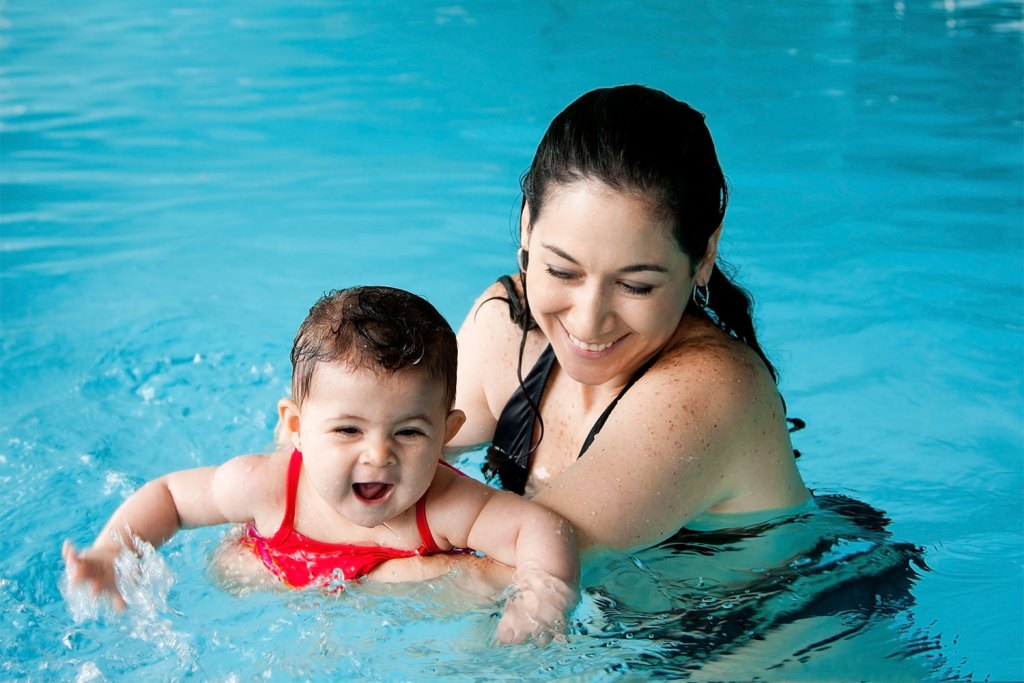 The two piece
After those first few months, you can start looking at other cute swimwear styles — like two-piece suits, which are also convenient for changing swim diapers. There are usually no buttons to deal with, so you can just slide the bottoms on and off.
Despite being called "bikinis," most baby two-piece suits don't come with tons of skin exposure. Some still come with long sleeves or even full-length pants if you're worried about those sun rays.
Regardless of the coverage, baby bikinis often feature matching patterns, cool color schemes, and plenty of bows and ruffles. For baby boys, two-piece swimwear usually includes a swim shirt paired with swim trunks. Baby girls get a few more design options with halter tops or thin straps that criss-cross in the back.
Spaghetti straps can add a bit of flair, but you'll want to make sure they don't dig into your baby's skin, especially if you plan to spend hours at the beach.
The wetsuit
Your infant probably won't be going deep-sea diving, but that doesn't mean they can't wear a baby wetsuit. Much like a waterproof onesie, wetsuits cover your baby's arms and legs, leaving only their neck and head exposed.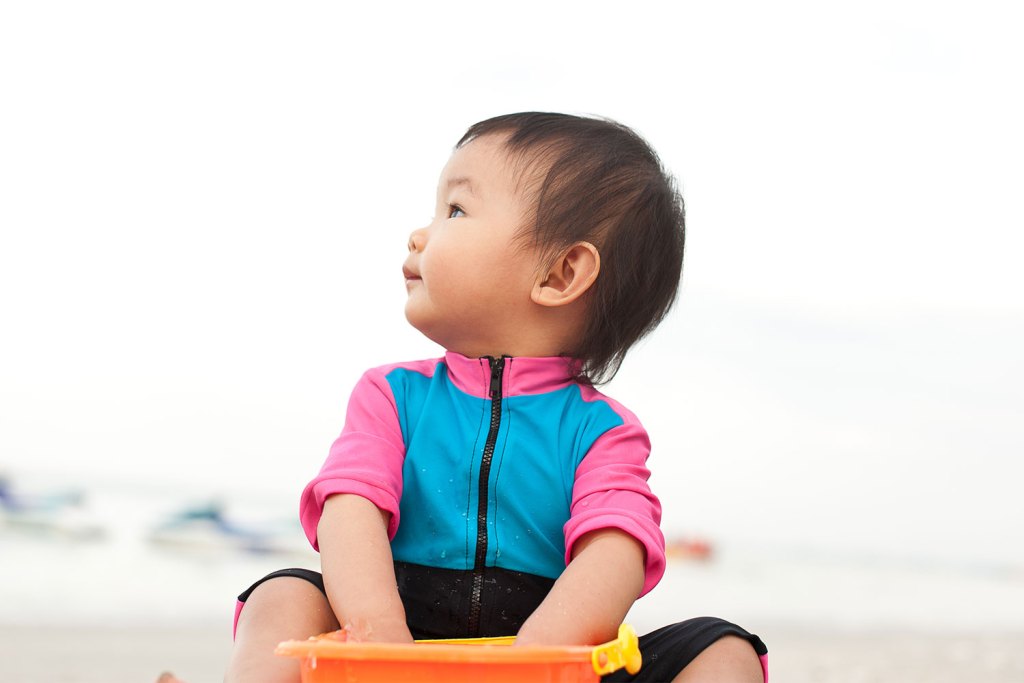 They're practical for UV protection but also for keeping your little one warm if you take them in the water or sit out in cooler weather. Thermal, fleece-lined wetsuits are especially great for keeping your infant toasty by the water.
If your baby has a sensitive skin condition like eczema, wetsuits can even prevent creams or lotions from washing off their skin. As far as style goes, most wetsuits steer clear of accessories like ruffles or bows and stick to solid colors and patterns. Even so, you can still find plenty of fun designs if you shop around.
The baby wrap
The baby wrap is a unique look, and most parents will tell you that it's also a convenient look. Similar to a vest or life jacket, baby wraps cover your infant's torso but leave their arms and legs unrestricted. The wrap connects across the front, typically with straps or Velcro. When it's time to change a swim diaper, you can usually wrestle your baby out of the wrap in a single move.
Another added benefit is that a lot of wraps use neoprene, the same material you'll find on thermal wetsuits. Your infant's arms and legs will still be free and kicking, but the neoprene can provide some warmth for your baby's core.
Besides being functional, baby wraps don't skimp on the cuteness factor — much of this swimwear comes in bold colors with bright patterns.
The swim dress
The swim dress, which you can find as a one piece or two piece, is more about fashion than functionality. Complicated designs with lots of straps might be challenging to peel off when it's time to switch out a diaper, but they might be worth it for a few memorable pictures.
However, not all swim dresses are a hassle. Most of them are just regular one-piece or two-piece suits that have another layer on top. You'll notice that a lot also use a halter top design and tie together around your baby's neck. As long as you've tied it securely, most swim dresses shouldn't come loose.
Safety and comfort might be the priority for baby swimwear, but that doesn't mean your little one can't make a fashion statement, either.
Editors' Recommendations