The idea of celebrating moms dates all the way back to ancient times. In America, an official day honoring moms and all they do was created by Anna Jarvis in the early 1900s. By 1914, Mother's Day was an official national holiday. Interestingly, Jarvis, an advocate for a day marking the awesomeness of mothers, grew to dislike the turn toward commercialism the day took on. She reportedly spent her golden years trying to get the day banished from calendars.
Sure, there is a commercial element behind Mother's Day today, but you don't necessarily have to run to the mall or stand in line at the flower shop to find Mother's Day gifts to show Mom just how much she's appreciated and loved. Sometimes, a handmade gift or card means a lot more. Putting together a DIY Mother's Day gift is a wonderful project for kids and definitely worth the effort. Even if you're not artistic, there are Mother's Day gifts that aren't difficult to craft.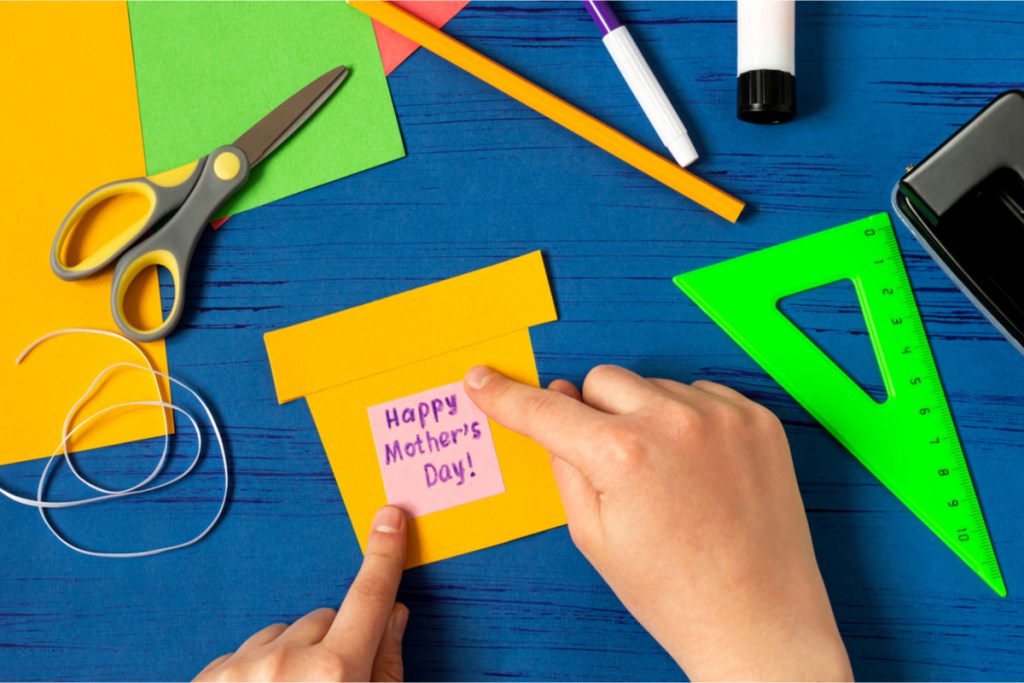 DIY Mother's Day gifts
Potted succulent plant
Flowers are traditionally given to a mom on Mother's Day, but you can avoid the overpriced blooms by planting Mom her own succulent garden. Succulents are low-maintenance plants. Pick up a plant pot. Have your child paint the pot or container. Acrylic paint is ideal for terracotta pots, but it is not washable. Then, add potting soil and arrange the succulents inside. You can buy succulents online or at a nearby nursery or garden center.
Cupcake bouquet
Instead of a store-bought box of chocolates, make Mom a deliciously simple cupcake bouquet. Kids love to cook, and you can make the cupcakes quickly with a boxed mix and ready-made icing — or bake from scratch. All you need to create the bouquet once the cupcakes are cooled and iced is a pot, a Styrofoam ball that fits snugly into the pot's base, and toothpicks. For more than one cupcake bouquet, use multiple plant pots. Remember to wash before putting Styrofoam inside. Push one end of the toothpick into the ball and the other into the bottom of the cupcake. Then, make an arrangement that looks like flowers but is actually yummy cupcakes.
Vanilla cupcake recipe
Ingredients
3 cups of cake flour (all-purpose is fine, too)
3 ½ teaspoons of baking powder
4 eggs
2 cups granulated sugar
1 tablespoon vanilla extract
1 ½ cup milk
Directions
Preheat oven to 350 F.
Place cupcake wrappers into cupcake baking tins.
Mix flour and baking soda together in large bowl.
Combine softened butter and sugar using electric mixer. Then, add in eggs and vanilla.
Slowly add the dry ingredients in the mixer.
Add milk into the mixer.
Blend until combined.
Spoon into cupcake wrappers, filling each cup ¾. (Use an ice cream scoop to make filling easier.)
Bake for 20 to 25 minutes or until a toothpick comes out clean.
Cool on wire rack before removing from cupcake tins.
Apply icing when completely cooled.
Icing ingredients
1 cup unsalted butter (softened)
2 cups powdered sugar
1 teaspoon vanilla extract
2 tablespoons milk
Blend in a mixture; add additional powdered sugar if icing too runny or milk if it's too thick.
Herb garden
For moms who love to cook, give the gift that keeps on giving: An indoor herb garden. Take a wooden planter and have the kids dress it by decorating it with paint. Acrylic paint is best, but this paint isn't washable. While the paint is drying, individually plant small flower pots with either seeds or seedlings of rosemary, basil, thyme, or her favorite herbs. Be sure to label the pots of each herb. You can head online to order the wooden planter and herb seeds or go to your local garden center or nursery. With an herb garden right at her fingertips, Mom can enjoy using it in different recipes all year long.
Tulip photo garden
Kids will need help with this DIY Mother's Day gift, but it's a fun project that doesn't take a lot of time.
For a different kind of garden, take a wooden planter and have kids paint the outside.
Print small photos of vacations, family events, the kids, Mom, or pets, then cut them out.
Cut out tulip heads using construction paper. The heads should be big enough to fit photos. Instead of paper, you can also use unfinished wood tulips. Kids can paint the tulips. Allow tulips to dry before gluing on the photos. The unfinished wood tulips will be sturdier and more durable than paper.
Glue on the pictures, then attach craft sticks to the bottom to make a stem. A glue gun works best.
Cut green Styrofoam to fit inside the planter.
Once the tulip heads are dry, arrange inside planter by pushing the craft stick stem into the Styrofoam.
Tip: Pick out the photos together. While the kids are painting, print and cut photos to save time.
Moms do so many wonderful things every day for their kids and significant others. Jarvis had the right idea when she came up with the special day to honor mothers. Remembering Mother's Day with a DIY gift is truly noteworthy. Any one of these four DIY gifts for Mom is budget-friendly, straightforward, and, most importantly, thoughtful. All the garden materials can be ordered ahead of time online. Whether you cook or create a beautiful garden for Mom, the end result will be a gesture she will appreciate and treasure.
Editors' Recommendations