September is ripe for apple picking. It's a super fun family-friendly activity ideal for late summer and fall. There's something exciting about picking this kid-favorite fruit right off the branch, but once you've picked a couple of baskets full what do you do with all those apples? Sure, the apples look amazingly inviting in decorative bowls on your counter. Leave the apples too long though and you'll have a pile of rotten ones. The solution is to find yummy recipes to make with your apples. There's no need to search the internet for the best apple recipes. Here are four of the best recipes to make with apples that the whole family will enjoy and the kiddos can help make, too. It all starts with some delicious homemade applesauce.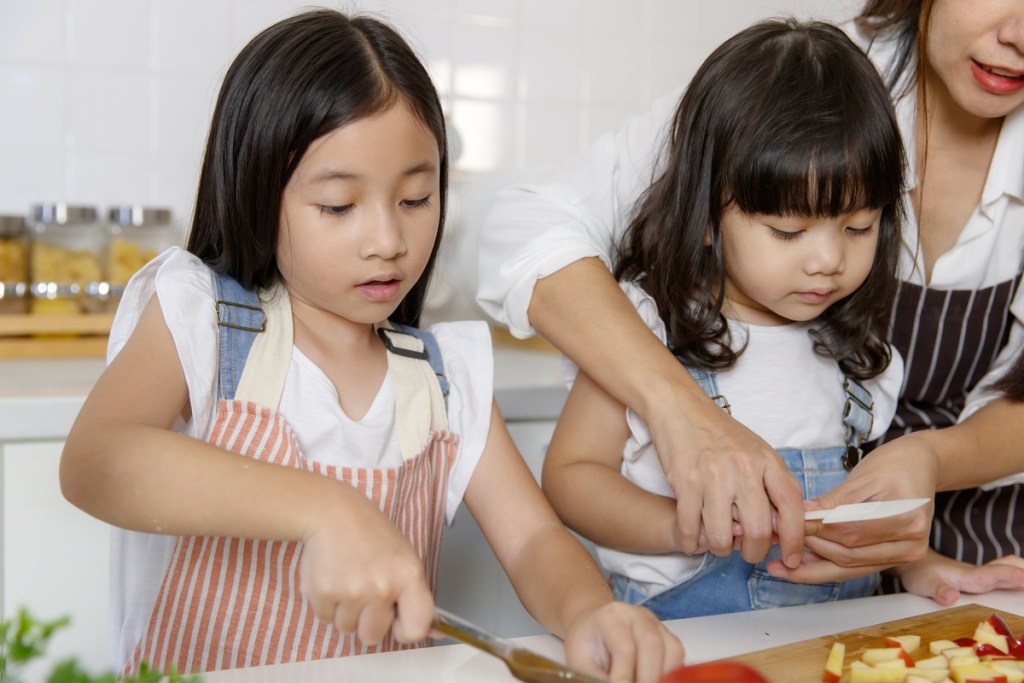 Applesauce
Ingredients
8 to 10 apples (choose your favorites or whatever have been picked)
1 cup of water
1 teaspoon of cinnamon
1 teaspoon of vanilla extract
Directions
Peel and cut apples into one inch or smaller pieces
Place in a medium-sized sauce pan
Add water
Stir in cinnamon and vanilla extract
Cover and cook until apples are soft
Remove from heat and mash using a masher or place in a blender if prefer a non-chunky applesauce
Cool and eat or store in covered container
Apple pancakes
Ingredients
1 cup flour
1 egg
1 teaspoon baking power
1 teaspoon cinnamon
1 teaspoon vanilla extract
1 tablespoon melted butter
1 cup milk
1 cup applesauce
Directions
Combine flour, baking powder, cinnamon in a medium-sized mixing bowl
Stir in gently whisked egg, melted butter, and vanilla extract
Stir in milk
Slowly spoon in applesauce and stir until combined
Heat up non-stick pancake pan
Using and ice cream scoop to spoon on pancake batter
When pancake batter begins to bubble flip
Serve warm with maple syrup if desired
Apple Muffins
Ingredients
1 1/2 cups of flour (can use wheat flour too)
1 teaspoon baking soda
1/2 teaspoon baking powder
1 teaspoon vanilla extract
1 teaspoon cinnamon
1/2 teaspoon salt
1 egg
2 tablespoons melted butter
1/2 cup milk
1/2 cup applesauce
Directions
Preheat oven to 350°
Spray muffin pan with non-stick cooking spray or line with cupcake liners (use cupcake pan if don't have a muffin pan)
Combine flour, baking soda, baking powder, cinnamon, and salt in medium-sized mixing bowl
Stir in beaten egg and melted butter
Add vanilla extract
Slowly add in milk
Spoon in applesauce
Stir being careful not to over mix
Spoon into muffin pans filling each one about 3/4 full
Bake for 15 to 18 minutes or until toothpick comes out clean
Serve warm
Can store in fridge or freeze
Apple crisps
Ingredients
Directions
Preheat oven to 200°
Line two or three cookies sheets with parchment paper
Wash and core apples
Slicing horizontally, cut the apples into thin slices
Arrange on parchment paper
Sprinkle with cinnamon to taste
Place in oven, cooking for one hour
Remove from oven and turn slices
Cook for an additional hour
Turn off the oven and allow to continue to crisp in oven for another hour (if prefer crispier slices, allow to cook for an additional 1/2 hour before cooling in oven)
Remove from oven to cool at room temperature
Apple snacking suggestions
An apple a day can't necessarily keep the doctor away as the age-old saying goes, but apples are a healthy snack packed with antioxidants, fiber, and water. Snacking on apples is a great choice for kids and adults, too. Here are a couple of other easy snacking suggestions for those apples your family picks this September.
Apple slices
Ingredients
apples
toppings (peanut butter, Nutella, cookie butter, sun butter, granola, or any other toppings your kiddos might enjoy on top of an apple)
Directions
Wash and core apples
Slice apples
Spread peanut butter, yogurt, or desired topping onto apple slice
Top with strawberries, bananas, granola, or desired topping
Serve
Baked apples
Ingredients
6 to 8 apples
2 tablespoons brown sugar
2 tablespoons cinnamon
1 tablespoon nutmeg
1 cup water
Directions
Preheat oven to 350°
Grease large baking dish with butter or cooking spray
Wash and core apples
Slice apples
Arrange apples in baking dish
Add water
Whisk brown sugar, cinnamon, and nutmeg together
Sprinkle over apples
Place in oven, cooking for 30 minutes (can add additional water if need)
Serve warm with ice cream, whipped cream, or plain
Picking apples in late summer or early fall is a perfect family-friendly activity kids of all ages and adults can enjoy. Once you get the apples home, though, you don't want to leave them sitting on the counter until they get too mushy to eat. Apples are an excellent healthy snack for the entire family as is, but there are a lot of delicious and simple apple recipes, too. Homemade apple sauce is healthy and yummy. It can also be used to add a twist to pancakes and muffins. You can make applesauce healthier by skipping sugar as an additive. Then, when you spoon it into pancake and muffin batter, an added sweetener like sugar is unnecessary. After you and your family head to the apple orchard, have fun in the kitchen whipping up one or more of these tasty recipes. You can even get the kids involved in the cooking process giving them a hands-on example of farm-to-table.
Editors' Recommendations