Decorating for Halloween is just as much fun (if not more) than getting ready for the big guy in red to come down the chimney. Kids aren't the ones who love Halloween, and getting ready for all the excitement associated with October 31 doesn't have to be just about pumpkins, costumes, and jack-o-lanterns.
Decking the halls with cute or creepy Halloween crafts is a delightful way to get everyone into the spirit. Do-it-yourself Halloween crafts are also an activity the whole family can enjoy together. Here are five easy kids' crafts for Halloween that are fall-tacular.
Painted pumpkins
There isn't a Halloween rule saying all the pumpkins picked on the fall excursion to the pumpkin patch must be carved. Painting pumpkins can be just as exciting and the end result will last longer on the front porch. All you need for kids to get creative with their pumpkins is a set of paint markers. Before starting to paint, it's a good idea to clean and dry the pumpkins first. While the pumpkins are drying, have kids sketch out the intended design on a piece of paper. If kids want to, once the painted design is dry, use a glue gun to add colored gems or pompoms.
Bat leaves
Holy fall, Batman! Making bats from fall leaves is a snap. Go on a walk and collect a bunch of large fall leaves, leaving the crunchy brown ones behind. Let kids color one side of the leaves black with a paint marker. You can also spread the leaves on newspaper in the garage and spray paint them black. Once the paint is dry, kids can use a white paint marker or a Sharpie marker to draw eyes and of course teeth. Hang the bat leaves around the house or string them on a piece of yarn for a high-flying garland.
Black cat pumpkins
Meow! Black cats rock Halloween and these adorable black kitty pumpkins won't disappoint. So, when the family hits the pumpkin patch, make sure to pick up those cute baby pumpkins. With a bit of painting, you'll soon have a litter of Halloween kitties to use as decorative accents.
Paint each mini-pumpkin black using a paint marker. You can also spray paint the pumpkins black. Two coats may be necessary.
Allow them to dry completely.
Using a glue gun attach gems for eyes and a small orange pompom for a nose.
Cut black or white pipe cleaners in half and glue two on either side of the nose.
Make ears by cutting two triangles from black felt or poster board.
Glue a toothpick to the bottom of the triangle behind the ear.
Glue on each ear using a glue gun. (Attaching the toothpick will help kitty's ears stand up)
Cut a piece of black yarn to the desired length and glue on the back of the pumpkin for a tail. A curled pipe cleaner can be used as a tail too.
Creepy crawly wreath
Need a quick DIY Halloween wreath that's a scream? All you need is a twig wreath, styrofoam balls in different sizes, plastic spiders, and a bag of spider web gauze.
Using a glue gun decorate the wreath with the Styrofoam balls (spider eggs) and plastic spiders.
Allow them to dry.
Carefully spread the spider web material all over the top for a spider-ific Halloween decoration for the front door.
If you love how the creepy-crawly wreath comes out, make multiple ones to hang around the house.
Balloon pumpkins
Kids will have a lot of fun stuffing and decorating these simple Halloween decorations.
Have kids stuff rice or beans into deflated orange balloons.
Tie off the end of each balloon once stuffed (an adult may need to assist with this).
Use a black Sharpie to make a jack-o-lantern face.
Place around the house for a cute Halloween decoration.
Jack-o-lantern jars
This simple kids Halloween craft makes for a festive decoration on the mantle or tabletop and it gives new life to the glass jars in the recycling bin.
Clean and dry an empty glass jar.
Use a plastic spoon to fill the jar just under the rim with orange craft sand.
Using a black Sharpie or paint marker, draw a jack-o-lantern face.
Lollipop ghosts
For a tasty Halloween decoration, these lollipop ghosts are super sweet.
Cover a lollipop with a tissue.
Tie an orange or black ribbon just under the covered lollipop.
Use a black marker to give the ghost eyes.
Lollipop ghosts are fun for the kids to make for a class Halloween party or to give out to trick or treaters.
Paper plate ghosts
To make these easy ghosts, all you need is paper plates, glue, and white crepe paper.
Cut paper plates in half.
Cut strips of crepe paper in different lengths.
Glue on the back on the paper plate so the crepe paper strips hang down.
Make eyes with a black marker.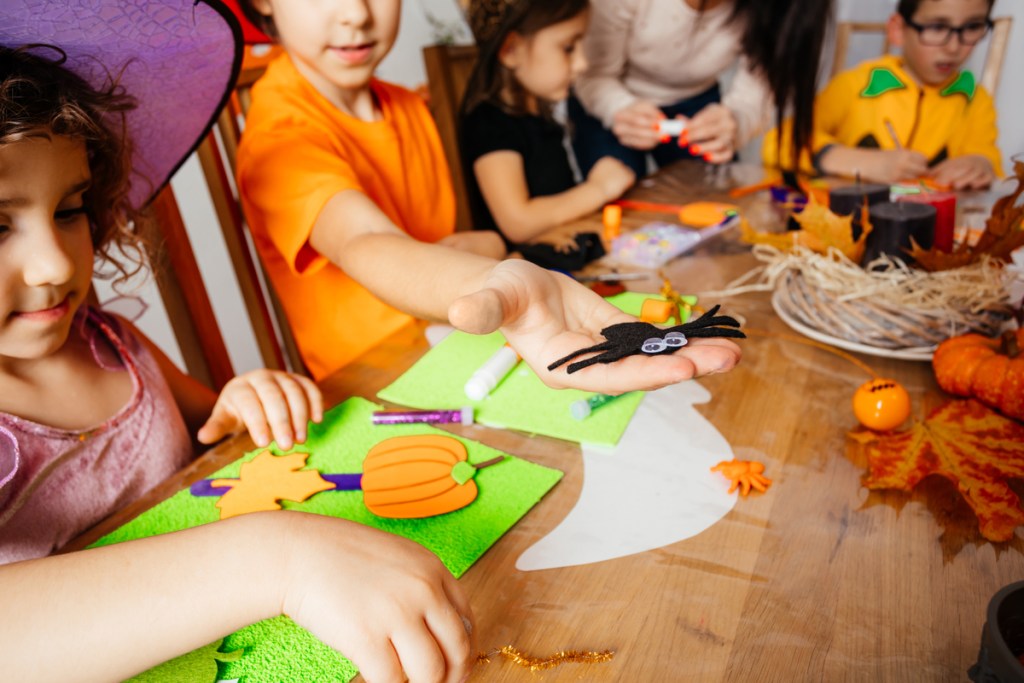 Kids start getting excited for Halloween as soon as the calendar turns to October. Sure scarecrows are cute and fall decorations are nice, but when the pumpkins and black cats come out, it means Halloween is just around the corner.
More and more people have caught the Halloween spirit and are decorating their house inside and out in anticipation of October 31. With these eight simple Halloween crafts, the whole family can be involved in decking the halls.
Editors' Recommendations