The Fourth of July is synonymous with fireworks, parades, and backyard barbecues. Movies have also become a Fourth of July mainstay, as many blockbusters are released in time for the federal holiday. And while there are some Independence Day classics — like, say, Independence Day — that are fun to watch, sometimes you need a flick with a little less action when you're watching with kiddos. Here are great patriotic movies to stream on the summer holiday that are good, wholesome fun.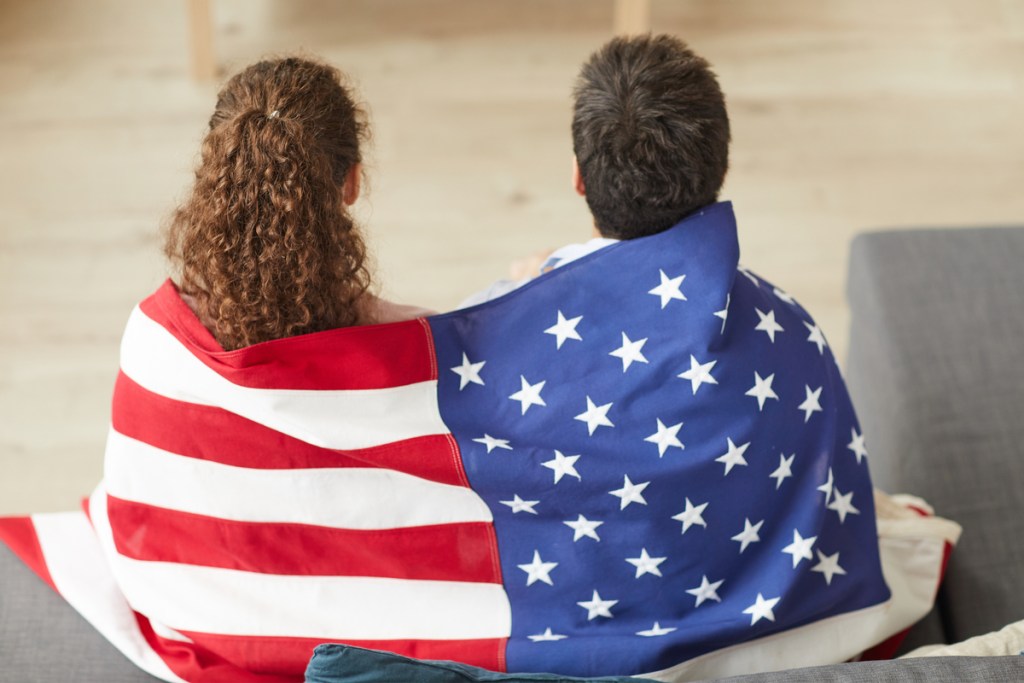 The Sandlot
Even if you're not a baseball fan, this '90s movie is for kids and adults everywhere who have dreamed big. When Scottie moves to a Los Angeles suburb in the 1960s, he doesn't know how to catch or throw a baseball. He's taken in by a group of neighborhood boys who spend their summer days playing baseball on a sandlot. What makes this charming movie a Fourth of July film is a scene depicting a quintessential July Fourth with family barbecues, baseball, and, yes, fireworks. (And, to be honest: The entire movie has us all nostalgic for the summers when we were kids.) Available on Prime Video, The Sandlot is a perfect pick to end the holiday.
A League of Their Own
"There's no crying in baseball!" laments Tom Hanks' character in another baseball flick — but with a twist. A League of Their Own is a story about two sisters who join the first professional women's baseball league during World War II. It boasts a stellar cast, including Hanks, Geena Davis, Madonna, and Rosie O'Donnell. The movie is rated PG and is a great choice if you have older tweens and teens, especially daughters. You can find it on Prime Video.
National Treasure
How can you not watch an action-thriller with a main character named Benjamin Franklin Gates on the Fourth of July, especially when the plot involves the Declaration of Independence? National Treasure is streaming on Disney+. It's rated PG and is an ideal movie for tweens and teens after the little ones have gone to bed. If you're looking for a July Fourth movie marathon, National Treasure 2: Book of Secrets is also available on Disney+.
An American Tail
If you have younger kids, cuddle up for this '80s classic animated tale about a group of Russian mice emigrating to the United States. Kids will love Fievel as he tries to find his family as they pursue the American dream. It teaches children about how the United States became a "melting pot" of different cultures. It's a cute and appropriate family-friendly movie to watch together on the Fourth of July. An American Tail is available on Prime Video.
Miracle
"Do you believe in miracles? Yes!" Sportscaster Al Michaels made this legendary call in what is considered one of the greatest sports moments of the 20th century. Miracle is the movie depicting the 1980 U.S. Olympic hockey team's unbelievable gold-medal victory in Lake Placid, New York. Okay, while it is technically not a Fourth of July movie, the team victory over Russia to set up the gold-medal win over Finland brought cries of "USA! USA!" across the nation. Even if you're not a hockey fan, this movie is pretty patriotic and a fun film for older kids and teens. Miracle is available on Disney+.
Topping off a Fourth of July holiday with a family-friendly movie is a definite do. All of these movies have a July Fourth or a patriotic theme and are fabulous flicks to watch after a fun Fourth.
Editors' Recommendations