Cooking with kids is an exciting and worthwhile family activity. When parents and caregivers introduce kids to the kitchen at an early age, they are on the road to being able to make their own meals by the time they are tweens and teens. Forget relying on takeout and ramen noodles in college, your junior chefs will be able to whip up homemade pasta sauce and more. Kids cooking in the kitchen doesn't have to be a Chopped Junior episode either. Cooking is an important life skill, and the earlier kids get comfortable in the kitchen the better. Start with easy, hands-on recipes before moving on to more complex dishes. Here are 10 kids cooking ideas to have fun with.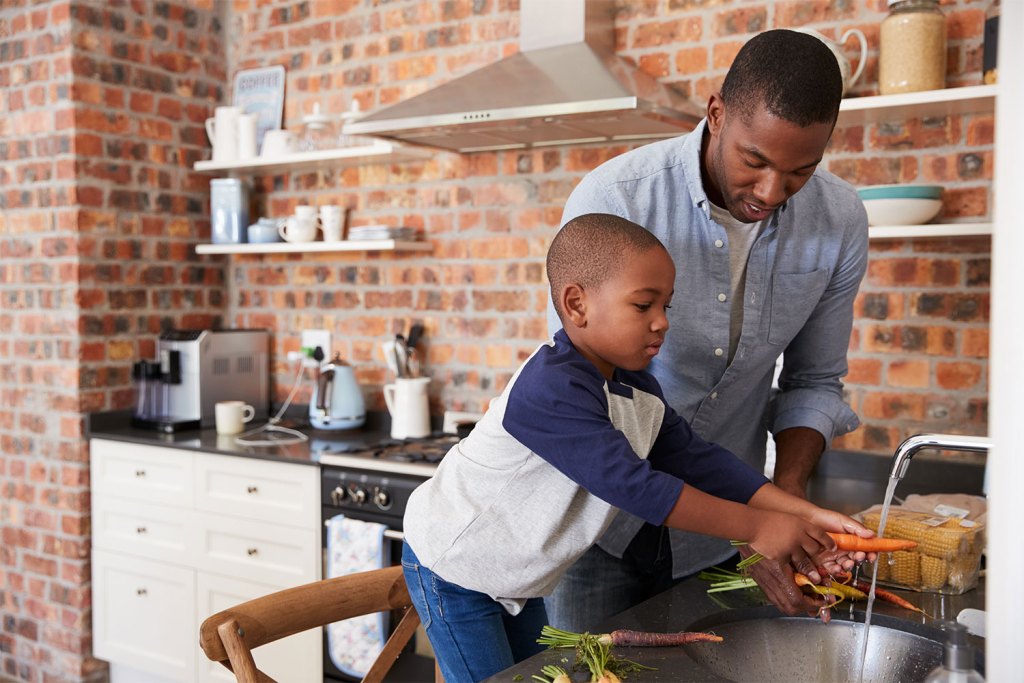 Pizza
Use pre-made dough or bagels for this kid-favorite.
Have kids spoon and spread marinara sauce before adding a layer of mozzarella cheese and any desired toppings.
Place in the oven at 350° for 12 to 15 minutes.
Sandwiches
Sandwich night is the ideal time to let kids experiment with creating their own sandwiches. Provide pre-cut rolls and have a spread of various lunch meats, lettuce, tomatoes, and onions on the counter. Then, let kids make their own sandwiches.
Yogurt parfaits
Take a large glass, plain Greek or vanilla yogurt, and chopped fruits (blueberries, bananas, strawberries)
Spoon in a layer of yogurt at the bottom of the glass
Next, add a layer or fruit
Alternate between yogurt and fruit layers until almost to the top of the glass
Eat or refrigerate until later
Nachos
Layer nacho chips on a cookie sheet
Spoon a light coating of salsa (store-brought is fine)
Sprinkle a layer of chopped lettuce
Add chopped tomatoes, beans, peppers, or any other favorite
Sprinkle cheese over top
Bake at 350° or until cheese melts
Pancakes
Combine 1 cup of flour, a teaspoon of salt, 2 teaspoons of baking powder, and a teaspoon of sugar in a medium mixing bowl
Beat one egg and stir in dry mixture
Melt 2 tablespoons of butter and stir into mixture
Slowly add in a cup of milk and stir until combined
Once the batter is ready, use an ice cream scoop to measure onto the warm griddle
Flip once when batter begins to bubble
Oreo ice cream pie
Spoon vanilla ice cream into a pre-made Oreo pie crust, filling almost to the top
Spread a layer or whipped cream like icing
Crush Oreos and sprinkle on top
Drizzle Hershey's Chocolate Syrup all over the crushed Oreos
Freeze for at least four hours before eating
Tacos
Cook ground beef or chicken in pan and season with a packet of McCormick Taco Seasoning
Heat favorite taco shells in oven for five minutes (tortillas are fine too)
Cut up lettuce, tomato, peppers
Grate cheese
Heat up a can of Goya Black Beans
Place meat and toppings into bowls with spoons and arrange a taco bar on the table
Serve while meat and beans are hot
Trail mix
Mix a half of cup of Cheerios, mini-pretzels, raisins, sunflower seeds, pumpkin seeds, and M&Ms in a large mixing bowl (feel free to play with the ingredients and add personal favorites)
Eat or spoon into sealable snack bags
Quesadilla
Lay one tortilla on a cutting board
Spread favorite cheese inside
Sprinkle chopped tomatoes or spinach if desired
Place tortilla on top
Use back of spoon to spread a light layer or olive oil
Place the olive oil side down on griddle
Cook until side turns light brown about two to three minutes
Spread a light layer of olive oil before flipping
Cut in half or fourths
Serve hot
Cinnamon toast
Arrange six to eight slices of whole wheat or white bread on a cookie sheet
Lightly spread a layer of butter or vegan spread on one side
Combine cup of brown sugar, 3 teaspoons of cinnamon, teaspoon of nutmeg, and 2 teaspoons of vanilla extract in a small mixing bowl
Sprinkle mixture on top
Place in preheated oven on 350°
Cook for eight to 10 minutes
Serve warm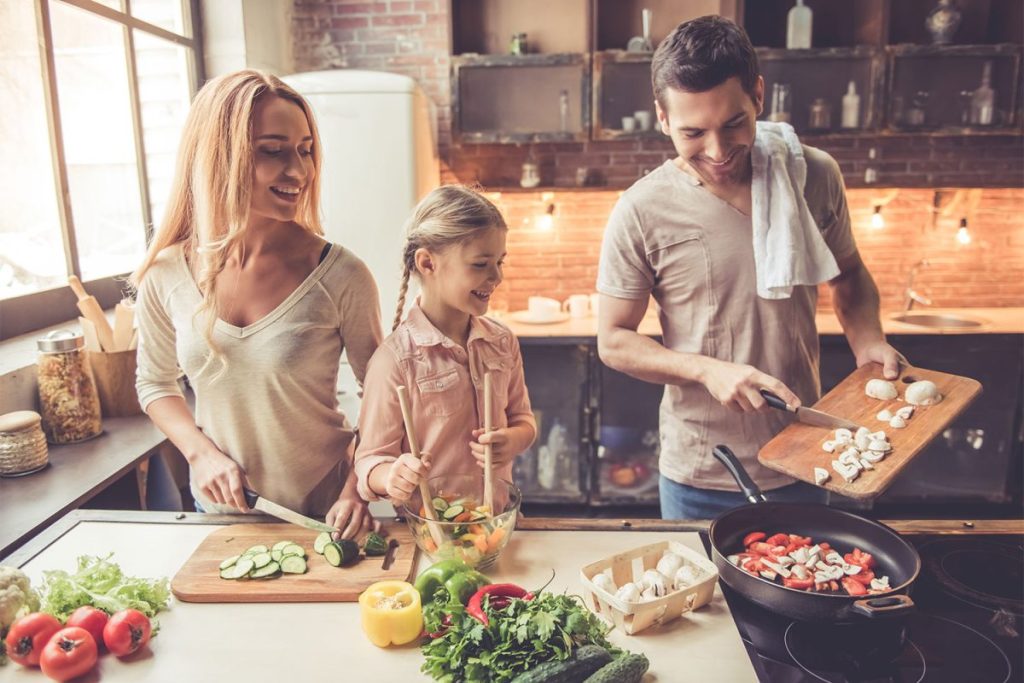 Kid cooking tips
Always leave anything involving the stove and oven to the adult in the kitchen
When cutting, have children use kid-friendly knives
Cooking with kids is fun, but it does take patience. Children will spill and drop stuff. Before starting any recipe with kids in the midst, accept that mess is part of the deal.
Yes, cooking with kids can get messy, but some adults are chaotic in the kitchen, too. The best time to make a recipe with the kids is when you have time. If you're rushing out to practice or another activity, don't make a recipe with the kids unless they're already seasoned cooks in the kitchen. Pick a free evening during the week or on the weekend when you have the time. Weekend breakfast and dinners are perfect. Since cooking is a life skill, it is important to get kids comfortable in the kitchen at an early age. Try one or more of these 10 simple kid-friendly recipes as an introduction. All the recipes are easy for kids to make with supervision. Whenever the stove or oven is involved, let the adult handle it. As kids become more experienced in the kitchen, they can handle more tasks with guidance and eventually solo. Getting kids involved in making foods they love to eat is a great way to teach vital cooking skills as well as help them learn to make healthy food choices as they grow.
Editors' Recommendations