Keeping toddlers entertained can feel quite tricky on a normal day. Add in the excitement of the holidays, and much likes us parents, kids tend to get a little out of sorts sometimes with the influx of pressures and extra festivities. Kwanzaa, much like other holidays families may celebrate, can sometimes enhance the challenges of keeping kiddos engaged and amused.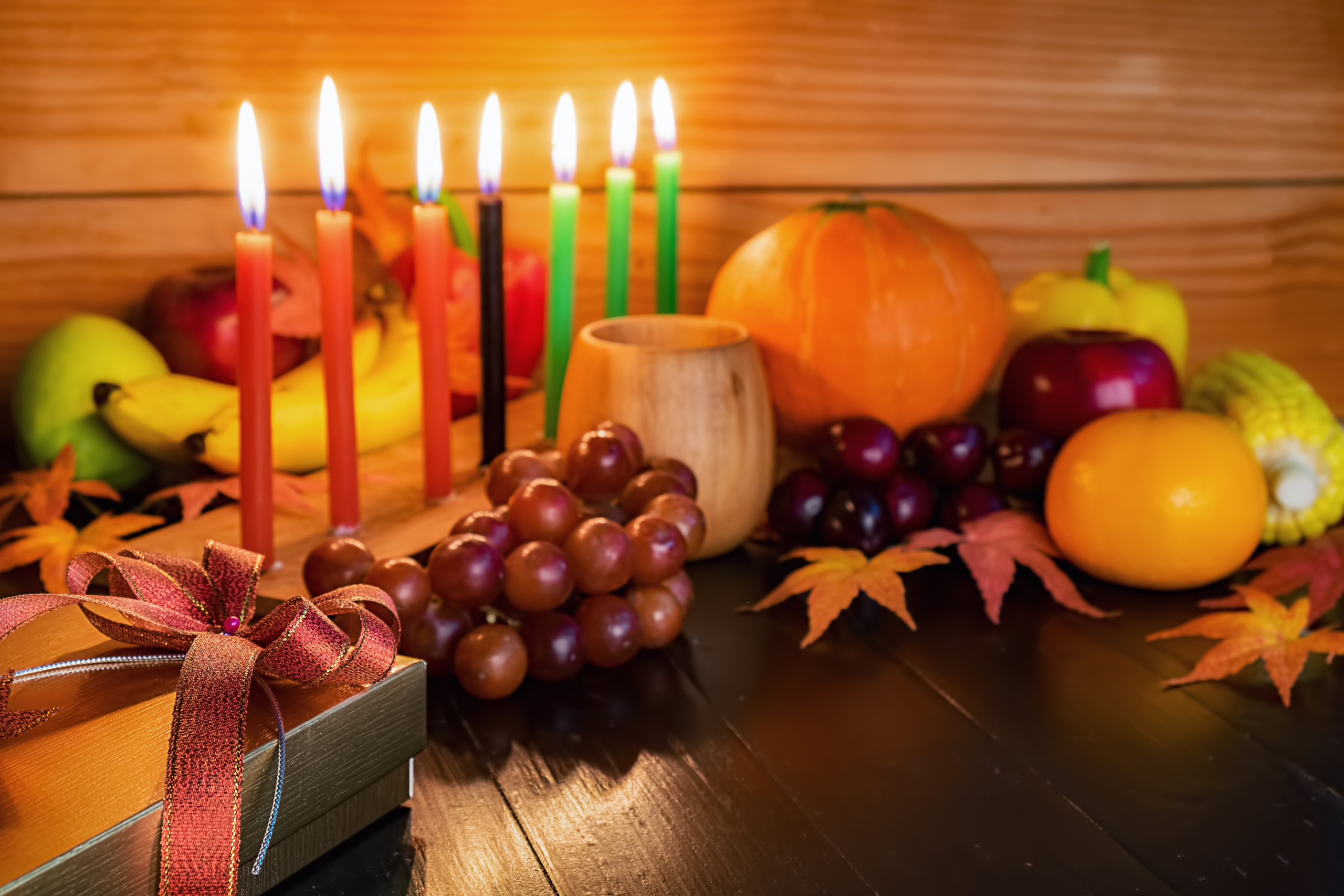 Kwanzaa — an African-American holiday created in 1966 by California State University Professor Maulana Karenga — is a weeklong celebration of the fruits of the harvest. The term "Kwanzaa" is derived from the African-Swahili language meaning "first fruits of the harvest." It is celebrated from December 26 through January 1 and was first commemorated in the winter of 1966/1967.
Like the Jewish Hanukkah celebration, Kwanzaa focuses on togetherness, unity, and faith over a period of nights on which candles are lit in remembrance. The colored candles are then placed into a kinara — a wooden candle holder. Each candle — seven in total — represent the seven principles of Kwanzaa that are: Creativity, faith, unity, self-determination, cooperative economics, purpose, and responsibility. The red, black, and green-colored candles represent the colors of the African liberation movement flag. To coincide with each night's individual theme, special handmade "zawadi" (Kwanzaa gifts), dances, and specialty food dishes are exchanged.
This special holiday celebration is an important one for African-American families, including children of all ages. Special ideas to include young toddlers in all the fun might seem hard to do, especially for busy or working parents. We have curated a few activities and ideas to help keep your kiddos engaged in this wonderful and awed time.
Grab the blindfold
You'll need it for this game! It's based on the African schoolyard game "mbube" — which means "lion" in Zulu. For the game, you'll need one person to be a mbube (lion) and another to be an impala. The lion has a blindfold placed over their eyes, then must seek out the impala. While the game is being played, the other players will say "Mbube, mbube!" louder and faster as the lion gets closer to the impala and softer and slower when he or she get farther away from it. This goes on until the lion catches the impala, then the roles are reversed. This is an excellent game to play at any age during the Kwanzaa season.
Color the world vibrantly
There is something so nostalgic and comforting about coloring pictures with your children. Why should Kwanzaa be any different? The Kwanzaa Coloring Book (Games and Puzzles) by Steven C. Thedford provides exceptional coloring pages and puzzles to help parents teach their children the history of the holiday and why it is celebrated in a fun and lighthearted way. Step it up a notch and suggest a coloring contest. The winner could receive a special prize, food item, or ceremonial task as a reward for winning.
Build a puzzle and your family's bond
One major theme throughout the weeklong celebration of Kwanzaa is togetherness. What better way to be together and grow the bonds of family love than building a puzzle? This gorgeously themed, 500-piece puzzle displays a loving family lighting candles and exchanging Kwanzaa gifts. Puzzles are a wonderful way to include the entire family, young and old alike. Not only do puzzles blend holidays and togetherness, they also subtly help teach young ones the idea of problem-solving, matching, and shapes.
Something a little extra
Though this is not a game for toddlers, it is an excellent tool to help explain this incredibly meaningful holiday to small children. My First Kwanzaa — written and illustrated by Karen Katz — helps young ones understand the idea of Kwanzaa and why it is celebrated in a sweet and honest way. The story has brought smiles to many small faces and is highly recommended by teachers and parents alike. Consider adding it to your list for this season.
Kwanzaa is a beautifully celebrated holiday for African-American people and their families. Help build your young child's sense of pride around this holiday by engaging them with not only these games and activities, but also reading stories and cooking meaningful dishes together. We hope our suggestions can help bring about many smiles and laughter, plus feelings of unity and pride no matter what age.
Editors' Recommendations