Sometimes, one of the best gifts you can give moms on Mother's Day is a relaxing day. Sure, she appreciates reservations for brunch, but a low-key way to celebrate Mother's Day is to make the day totally about her! Let Mom sleep in while you and the kids make a delicious brunch. If weather permits, set up a pretty table on the deck, patio, or porch. Give her an afternoon to herself to do whatever she wants. Cap it off with her favorite takeout and a family movie night of the best movies for moms.
Thankfully, there are a bunch of family movies to watch together on Hulu that showcase moms, families, or just make you feel good. Here are seven that will warm everyone's hearts.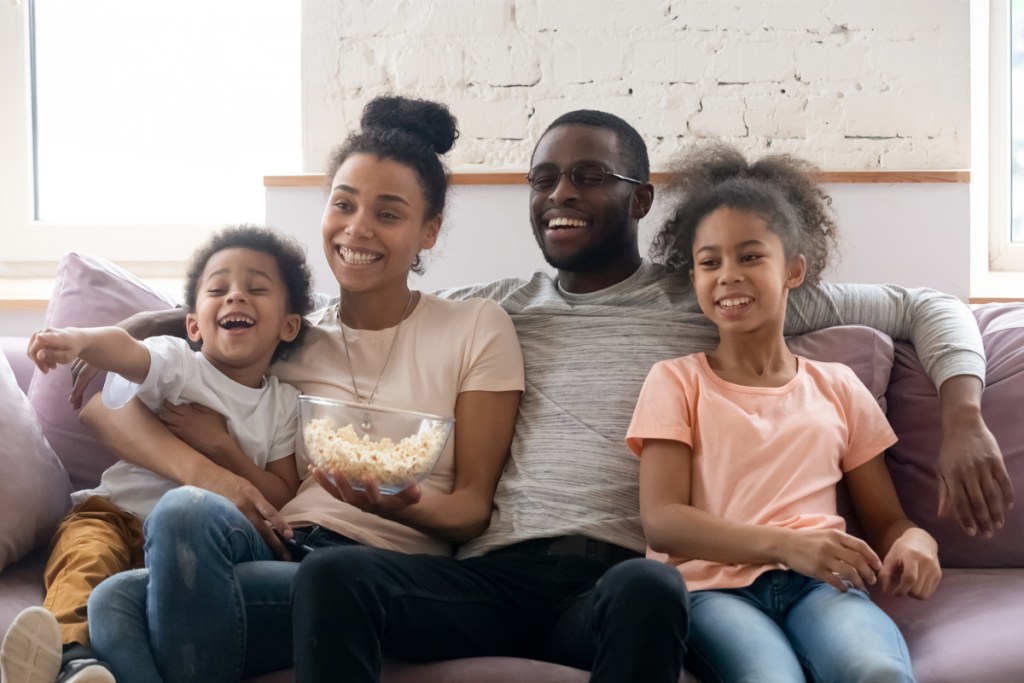 Instant Family
Rose Byrne and Mark Walhberg star in this comedy about a couple's journey to become parents. The pair adopt three children in foster care and are unprepared for the trials and tribulations of parenting, especially with kids who don't have any interest in becoming part of the family. Sean Anders writes and directs the flick, which is supposed to be based on his personal experience.
The Princess Bride
This classic directed by Rob Reiner has a jam-packed cast and is definitely a heartwarming pick for Mother's Day. Even the kiddos will become invested in this timeless tale of true love set against a backdrop of castles, princesses, pirates, sword fights, and more. "Have fun storming the castle!"
Mrs. Doubtfire
Robin Williams is at his comedic finest in this sad and sweet movie about a down-and-out divorced actor who becomes the ultimate female nanny just to be close to his three kids. Sally Field stars as the mom, Miranda, seeking a nanny to bring order to her single-parent household. She unwittingly hires Mrs. Doubtfire (Williams), and the fun begins as the family eventually finds its way back to each other. The '90s comedy/drama is ideal for the whole family and boasts an awesome cast.
Don't Tell Mom the Babysitter's Dead
If all the kids in the family are teens, check out this silly '90s comedy starring Christina Applegate. Everyone will get a chuckle out of this fun movie where teen Sue Ellen finds out that adulthood isn't all it's cracked up be to when the babysitter hired to watch the kids while mom vacations with her boyfriend suddenly passes away.
Little Women
Debuting in 2019, the movie is the seventh adaptation of this enduring novel by Louisa May Alcott. The film features a stellar cast in Meryl Streep, Laura Dern, Emma Watson, Saoirse Ronan, and James Norton. This classic drama showcasing strong female leads is the perfect movie to share on Mother's Day. Running time is a little over two hours, so be sure to have plenty of snacks on hand. It is rated PG and a great pick for tweens and teens.
The Pacifier
Mom already knows just how tough it is to raise kids. So, she will get a laugh as will the rest of the family in this comedy about a Navy Seal taking over the nanny duties of five children he must protect from danger. If all else fails, it does star Vin Diesel — who wears tight tees throughout the movie.
Charlotte's Web
Based on the timeless novel by E.B. White, this tale of the friendship between Wilbur the pig and Charlotte the spider is a touching tale that always warms the heart. The 2006 version is a perfect fit for the whole family on Mother's Day.
Skip the pricey, crazy crowded Mother's Day brunches this May and kick back with a mom-centered celebration on the second Sunday in May. Give Mom the gift of a day to herself — after a homemade brunch, of course — and wrap it up with a family movie night that leaves everyone feeling good. Any one of these Hulu flicks are fabulous films to cap off a relaxing Mother's Day.
Editors' Recommendations