Doing arts and crafts with kids is a wonderful way to spend quality time while also getting them to put down those devices they love so much. Kids, especially little ones, love doing crafts of all kinds, but flowers are always a popular pick. Paper flower creations are easy to make and can also be used as gift tags, cards, and even a present to brighten up someone's day. Even if you're not crafty, paper flowers are low-stress and simple to create. Learning how to make paper flowers for kids is easy and there's no better way to evoke a smile from your children than presenting freshly-made tissue paper flowers for kids.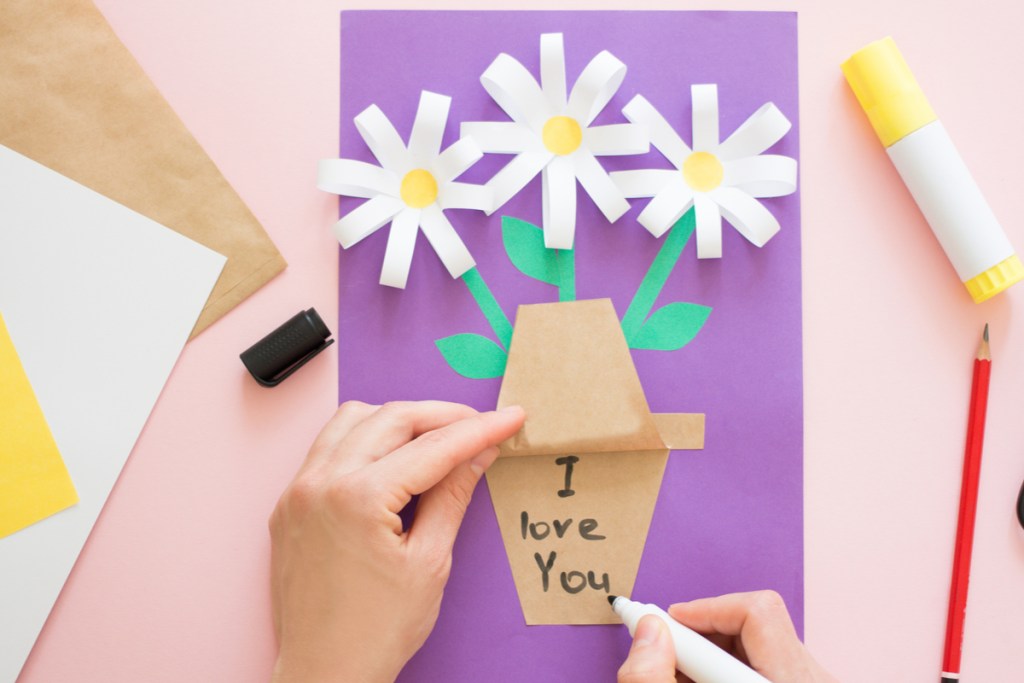 How to make paper flowers for kids
Before you sit down to make paper flowers, it's a good idea to have these basic craft supplies at your fingertips.
Construction paper (various colors)
Green pipe cleaners
Tissue paper (various colors)
Scissors
Glue sticks
Stapler
Colored cupcake wrappers
If you don't have a craft table, no worries. Just clean off the kitchen table and lay down some newspaper or a disposable tablecloth to make for a quick cleanup.
Tissue paper flowers for kids
Tissue paper is easy to work with, inexpensive, and can be used to create some lovely flowers. Here are four to try with your kids.
Tissue paper carnations
Carnations are such a happy flower, and this easy tissue paper flower craft can be used to make paper flowers sit in a vase or attach to a wrapped package. You can even make a bunch and place them in a bowl as a seasonal decoration.
Directions:
Place four to five pieces of tissue paper in a pile (you can use the same of multiple colors depending on the type of flower you want to create).
Begin along the side of the tissue paper that's shorted and start folding the paper back and forth like an accordion. Kids will need an adult to demonstrate this process.
Staple it in the middle.
Leave as is if you don't want a stem. For stems, wrap a green pipe cleaner around the middle of the accordion where you stapled, making sure to securely wrap one end around the tissue paper. The long end hangs down to form a stem.
Using scissors, round the ends of each side of the tissue paper accordion. You can make circular or triangular edges.
Fan out or gently peel open the tissue paper layers on each side for a fluffy carnation flower.
Tissue paper sunflowers
This tissue paper sunflower craft is ideal for preschoolers and kindergarteners. To make you will need yellow, brown, and green tissue paper as well as a 12×18 piece of construction paper or poster board. Sunflower seeds are optional, but a fun addition for the kids.
Directions:
Pre-cut a brown circle (use a larger mug bottom as a template to trace).
Pre-cut yellow tissue paper sunflower petals (some should be large, medium, and small).
Pre-cut a stem and two large leaves using green petals.
Glue brown circle in the center of the poster board or construction paper.
Using the pre-cut petals, layer the sunflower petals all around to make the flower. Start with the large petals on the bottom. Be sure to demonstrate for little ones.
Glue on the stem with the green leaves on either side.
For the sunflower center, use traditional school glue instead of a glue stick. The sunflowers will stick better. To avoid a gluey mess, apply a layer of glue all around the inside of the circle for little ones. Then, let them stick on sunflower seeds to fill the circle.
Let dry before hanging up. It will look sunny on the door!
Tissue paper tulips
If you're looking for a craft to do on a rainy day, try this one. Finished tulips make for a pretty card or can brighten up a wrapped gift.
Directions:
Cut up different colored tissue paper into small squares.
Draw a tulip face on a piece of construction paper or poster board (If you need inspiration, there are free templates online to download and trace).
Cut out the tulip face.
Crumble up the tissue paper squares to fill up the tulip face.
Allow it to dry.
Write a message on the back if making a card.
Cupcake wrapper tulips
This is a ridiculously easy flower craft that makes use of those leftover cupcake wrappers in the cabinet.
Directions:
Take a 12×18 piece of construction paper and glue on cupcake wrappers using a glue stick. Place the glue on the circle part of the cupcake wrapper.
Draw or glue on green pipe cleaners as stems.
Draw or glue on green pipe cleaners as leaves.
Kids can flatten the cupcake wrappers and color or leave them as is.
Variation:
To make cupcake wrapper tulips for a vase, poke a green pipe cleaner through the center of a cupcake wrapper. Fold down the end of the pipe cleaner to keep it from slipping out. Make multiple cupcake wrapper tulips and pop them into a vase for a fun centerpiece or a quick gift for grandma.
Doing arts and crafts is an ideal way for kids and adults too to relax. Crafts are perfect for those stuck-in-the-house days or to change up a family fun night. With these easy paper flower crafts, kids of all ages can create decorations, gift tags, and even cards. To make seasonal tissue paper flowers, just use colors to emphasize fall, winter, summer, or spring or an upcoming holiday. Orange and black tissue paper carnations will look spooky for Halloween, while pastels will rock spring
Editors' Recommendations