When kids hit the teen years, it gets harder to connect with them. As teens begin to withdraw into their smartphones and video game chats, it is more important than ever for parents to make it a point to engage. Middle and high school is a difficult time for tweens and teens as they try to fit in with their peers and face academic pressures, all while navigating the awkwardness of adolescence.
Watching TV shows is a great way to spend time with teens and explore some of those difficult subjects through comedies and dramas focused on their age group. There are plenty of Netflix shows for teens that have plotlines dealing with relevant issues like relationship anxiety, friendship problems, college application stresses, and more. Here are six Netflix shows for teens and parents to enjoy together.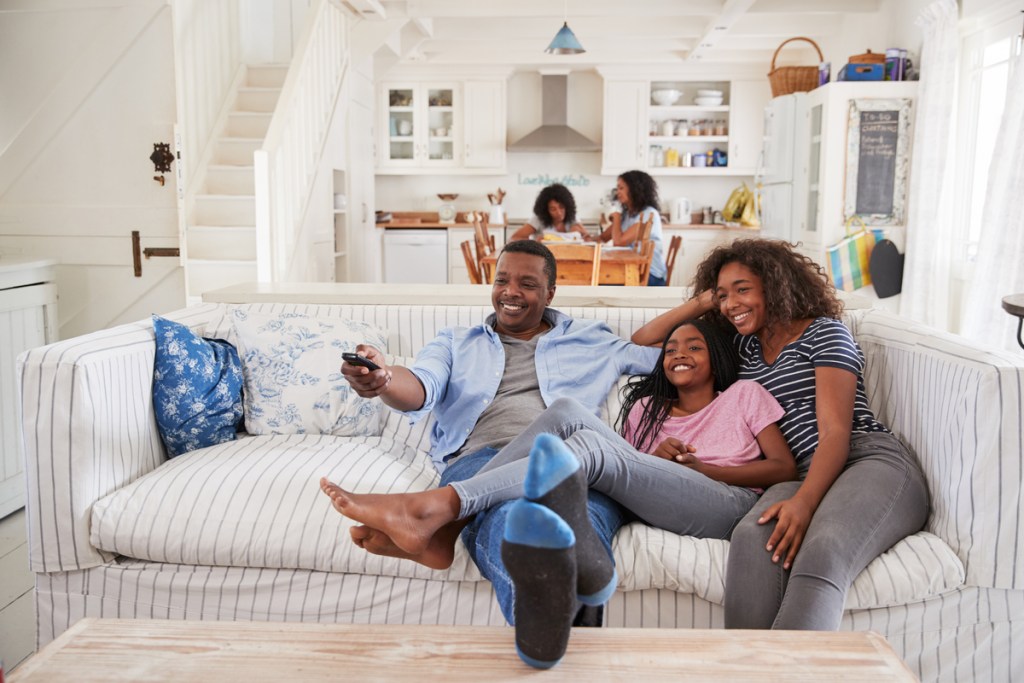 Dash and Lily
Based on the book by the same name, this eight-episode series is directed by Fred Savage of The Wonder Years and features a diverse cast of eccentric characters set against the backdrop of NYC at Christmastime. Misunderstood loner Lily sets out to experience her first romance by leaving a journal in the famous Strand Bookstore. Dash finds it on a shelf, writes back and the romance begins. You and your teen will laugh, cry, and hope Netflix makes a series of The Twelve Days of Dash and Lily.
Everything Sucks
Don't let the name scare you off. This fun series set in Boring, Oregon (yes that is the name of the high school and town), focuses on two outcast groups, the drama and the AV clubs, and how the members navigate the nuances of teenage life in the '90s. It's a window into the uncomfortable and sometimes embarrassing life of a teenager and the ups and downs of trying to fit in.
Anne with an E
Based on the beloved book series Anne of Green Gables by Lucy Maud Montgomery, Anne with an E is a somewhat darker version of the '80s miniseries that was a fan favorite. Anne, played by AmyBeth McNulty, is a 13-year-old orphan mistakenly sent to live with a bachelor and a spinster in the 1890s on Prince Edward Island in Canada. Despite her abusive childhood in orphanages and foster homes, Anne's enthusiasm, intelligence, and creativity inspire everyone she touches. There are three seasons of Anne with an E on Netflix.
Chilling Adventures of Sabrina
This definitely isn't a reboot of the '90s Sabrina the Teenage Witch. Get ready for black magic, witches covens, demons, extreme mean girls, sweet teenage romance, laughs, and creepiness as half-mortal, half-witch Sabrina Spellman turns 16 and must decide whether she wants to succumb to her dark baptism and give up what she knows and loves or try to walk a fine line between the two worlds. The show just began streaming its final season on Netflix, so you and your teen have four to watch.
Julie and the Phantoms
Can a high school student sing in a band with the ghosts of three former boy-band members? Tune into this fun and a little sad comedy/drama and find out. Madison Reyes is Julie who loses her love for music and performing after the death of her mom. That's when the ghosts show up and the plotline gets interesting.
Gilmore Girls
This '00s series has a strong fan base. It ran for seven seasons on the CW Network and has lived in reruns ever since. Netflix has all 153 episodes along with a Netflix miniseries Gilmore Girls: A Year in the Life. Set in Stars Hollow, Connecticut, the show features an array of eclectic and eccentric characters as it focuses on the lives of single mom Lorelai and her daughter, Rory. It's a multigenerational show exploring the wonderful and complicated relationships of mothers and daughters.
Between the eye rolls and the angst, connecting with teens often feels like climbing a mountain. Bonding over a TV show is a way to carve out quality time with teens. Dramas and comedies dealing with some of the same issues teens face can also be a springboard for those difficult and important conversations or just something to enjoy together.
Editors' Recommendations