If you've found yourself in a dinner-time rut, constantly rotating the same tried and true handful of recipes, and want to change things up a bit, you may want to add chicken carbonara to your meal plan. If you've ever felt intimidated by chicken carbonara and worried you don't have the kitchen skills to pull it off, have no fear because chicken carbonara can be very simple and straightforward to prepare.
You won't believe how easy a chicken carbonara recipe is to make, especially since it's the kind of dish that many will think took you hours of preparation and cooking. This yummy and satisfying dish is sure to be a hit with the whole family.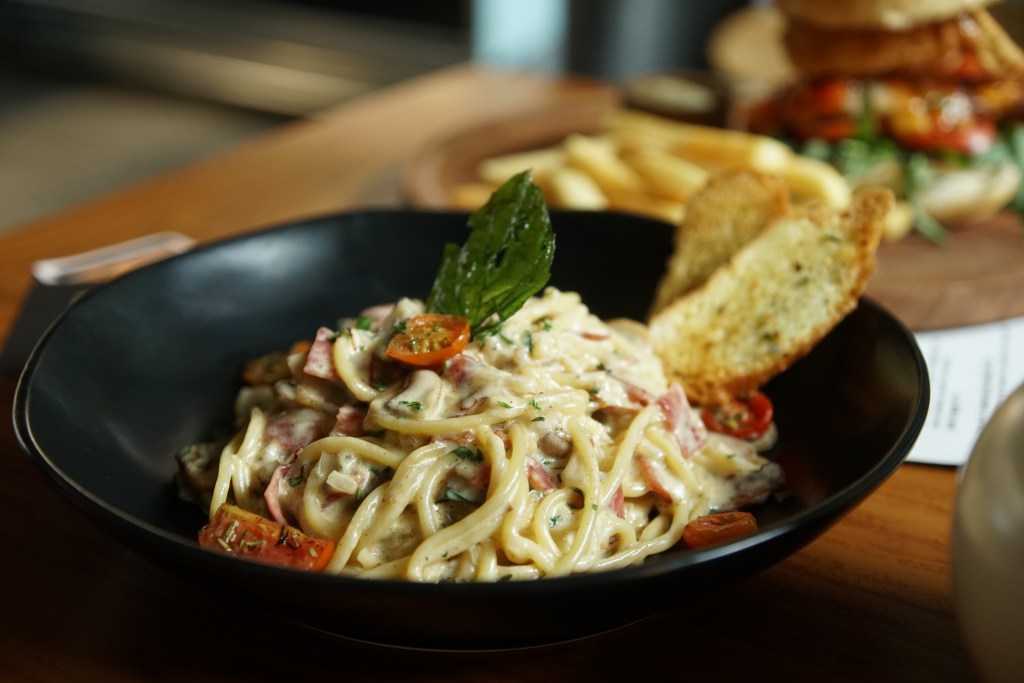 What is chicken carbonara?
Chicken carbonara is a deliciously creamy and satisfying meal that is typically made using chicken, eggs, cream, bacon or pancetta, and pasta, seasoned with black pepper, parmesan, or pecorino cheese, and garlic. The beauty of this dish is you probably have many of the ingredients in your pantry and refrigerator already, and you can use a store-bought roasted chicken in place of cooking your own chicken breasts to save time and effort. While it's most commonly made with fettuccine pasta, you can substitute linguine, angel hair, spaghetti, or any other pasta you prefer.
What is carbonara sauce made from?
There are two basic types of carbonara sauce: a classic sauce made without cream and a sauce that uses cream, milk, or creme fraiche to keep the dish creamy. Most recipes call for you to mix some of the reserved bacon fat to cook your garlic and chicken. After cooking your pasta you should reserve some of the pasta water to help thicken your sauce to your desired consistency. A carbonara sauce is made in the same skillet that you've cooked your bacon and chicken, but after it's been removed from the heat of the stove to prevent cooking the eggs. Add the pasta to the bacon and chicken to combine and then the sauce, which is a combination of your eggs, grated cheese, cream, and pepper. Combine all the ingredients and season to taste.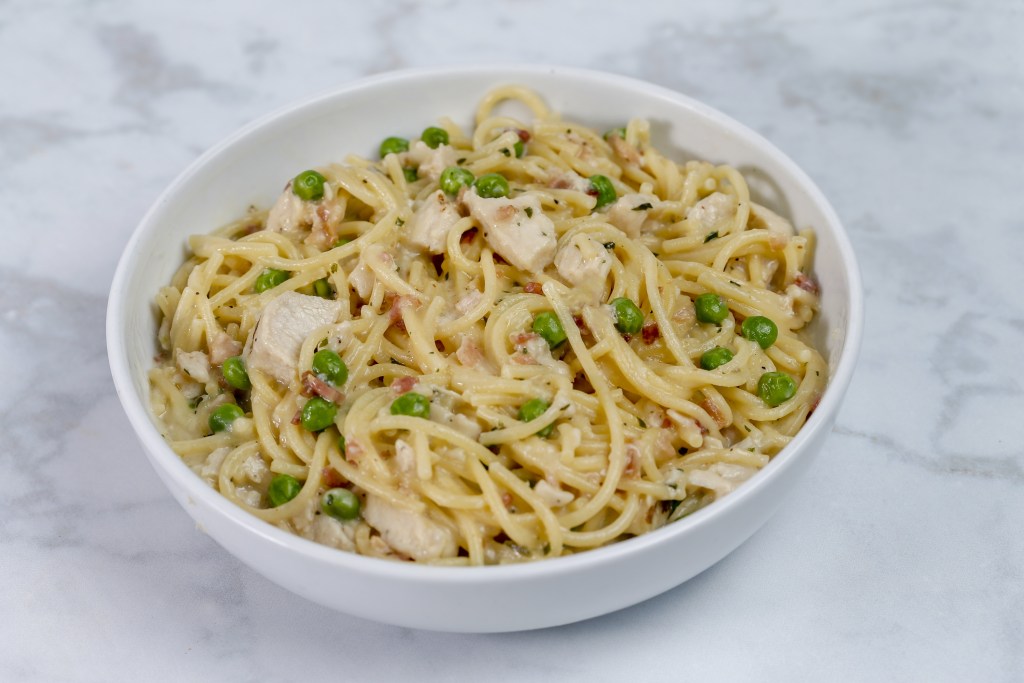 Is carbonara better with or without cream?
While traditional carbonara sauce wasn't made with cream, many adaptations in North America contain some form of milk, creme fraiche, or cream to the sauce. As this recipe from Bon Appetit shows, a classic carbonara is made simply using eggs, pepper, pasta, cheese, and guanciale (salt-cured pork jowl. Purists tend to agree that cream has no place in any carbonara sauce. Chef Mitch Orr explained to Vice that it really isn't that difficult to make a good carbonara using the five main ingredients of egg yolk, Pecorino Romano, guanciale, black pepper, and pasta, and noted that there may be some changes to the recipe if needed. "Now, you may substitute Parmigiano Reggiano for the Pecorino, and pancetta for the guanciale, but that's already pushing it," he said. "Under no circumstances can be there be any other additions or switch-ups. And in case you haven't guessed, that goes double for cream."
However, how you make your carbonara sauce is totally up to you, and celebrity chef Gordon Ramsay prefers to use a bit of creme fraiche or milk in his carbonara recipe to help prevent the dish from going dry, as you can see in the video below. Basically, it's all about personal taste and whether you prefer a carbonara with or without cream.
What does chicken carbonara taste like?
Chicken carbonara tastes like a little bit of heaven. While you may think it would have an egg flavor, it really tastes like pasta with a traditional cream sauce made with cheese. You get to flavor your sauce how you like, using as much or little garlic as you prefer and adding in spices like basil and parsley to suit your own personal preferences. Chicken carbonara is definitely a comforting, filling meal made with chicken, pasta, and cheese that will leave the whole family satisfied.
Recipes to try
In addition to Bon Appetit's classic carbonara recipe and Gordon Ramsay's take, there are countless recipes for chicken carbonara to try online. We love this creamy version from Sweet and Savory Meals, and this simple recipe from Simply Recipes. Ina Garten puts her own spin on the recipe with her spring green spaghetti carbonara while Kitchen Swagger keeps things pretty straightforward with their recipe.
Chicken Carbonara is one of those recipes that is so much easier to make than it sounds and is a recipe you can experiment with each time to find exactly the ingredients that you love. But the best part is that there are so many different ingredient options to choose from when making chicken carbonara that you typically could have all the ingredients in your kitchen already. Making a dinner that is easy and quick and doesn't require a special trip to the grocery store is priceless! The next time you're in the mood for a bit of creamy, cheesy goodness, give chicken carbonara a try.
Editors' Recommendations