Busy afternoons following work and school often result in fast food or takeout for dinner. It's quick and convenient when the family is rushing around with activities and playdates, but it's not healthy. Of course, the kids love the takeout, especially when it's pizza night. Parents, however, understand the lack of nutritional value in fast food, not to mention the toll eating out takes on the family budget. Instead of opting for takeout on those busy nights, save eating out for special occasions and embrace air fryer cooking.
Making family favorites like fries, chicken tenders, hot dogs, and more in an air fryer are healthier than conventional frying in a pan or deep fryer. Even better is the plethora of healthy air fryer recipes that will make the kids forget about their favorite fast-food and takeout stops. If you haven't tried air fryer cooking, now is the time. So, what is an air fryer and why is it healthier? Let's find out.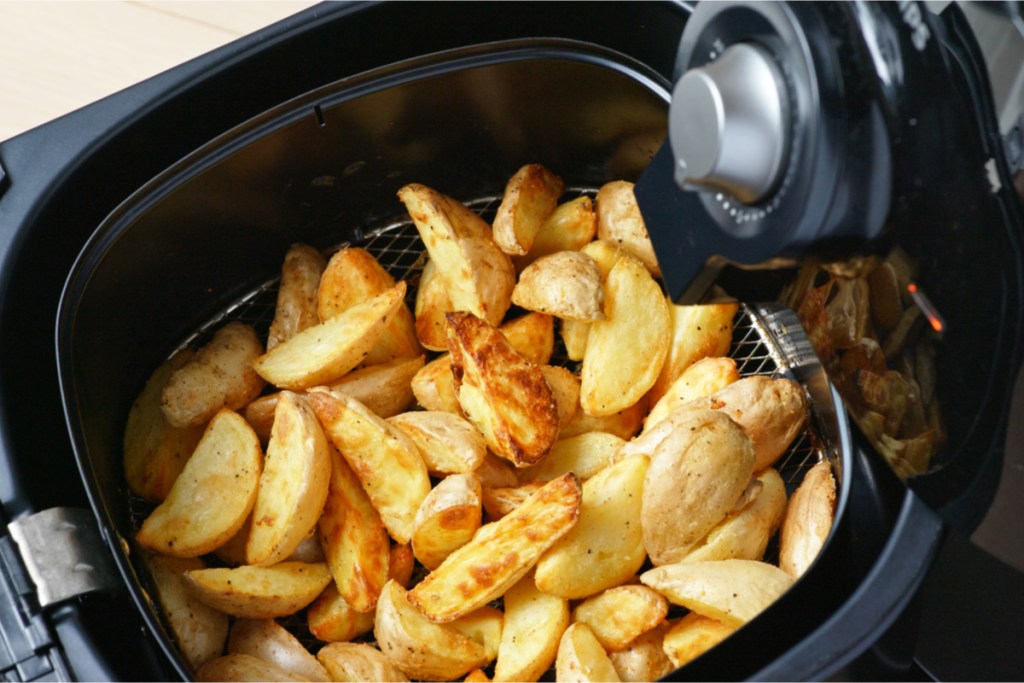 Welcome an air fryer to the kitchen
Basically, an air fryer is a type of convection oven that fits right onto a kitchen countertop. An air fryer can crisp, bake, roast, broil, and grill, but it's not a deep fryer. The air fryer cooks food using hot air, which circulates around the cooking basket courtesy of a fan. Since only a small amount of oil with a low smoke point is necessary for cooking, air frying is a much healthier and safer option than a traditional deep fryer, which uses a lot of oil at high temperatures. Cleanup is easier, too.
Air fryers come in all different sizes and are relatively simple to use for whipping up a variety of tasty and healthy recipes. Unlike a slow cooker or an Instant Pot, an air fryer isn't going to make an entire meal at once. You can certainly make potatoes, veggies, and proteins in an air fryer, but with most fryers, it will need to be done in different batches.
Whenever any batch is cooking, it's important to be on hand to shift around the food in the basket during the cooking time to ensure the pieces cook evenly. Once you're introduced to air fryer cooking though, you're going to love the ease and the range of dishes you can create and so will the family.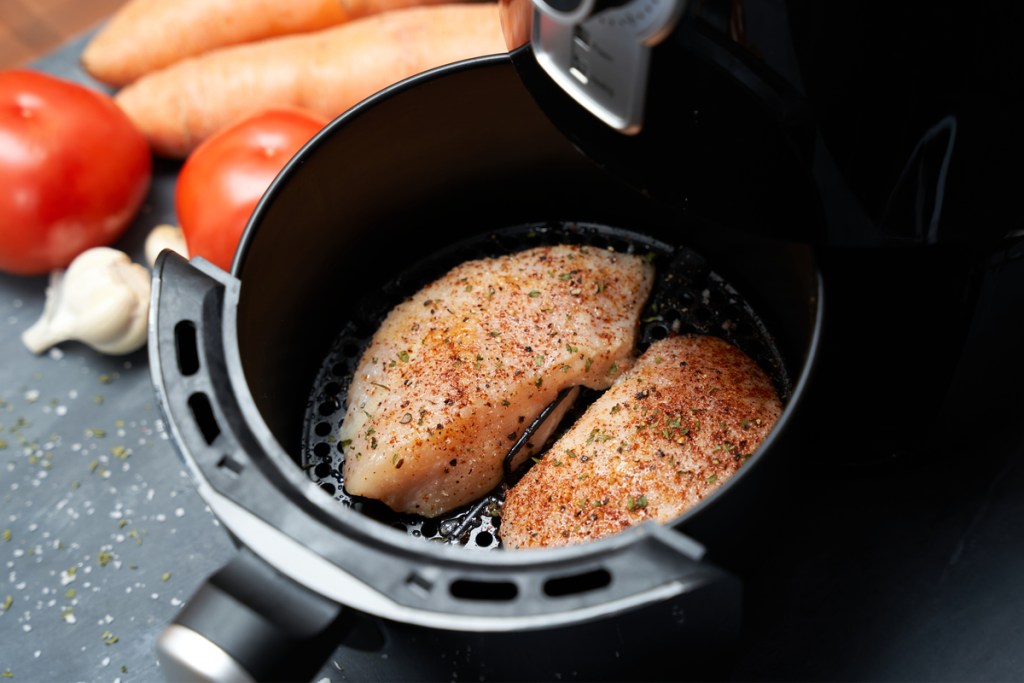 Healthy air fryer recipes
Once you find the air fryer that suits your family's needs, get cooking with these delicious and healthy air fryer recipes that will put takeout on the back burner.
Chicken tenders and nuggets are a kid staple. Try Simply Homecooked's yummy recipe for air fryer breaded chicken tenders. The air-fried tenders are delicious and so much healthier than those fast-food nuggets that may or may not contain chicken.
What are chicken tenders without potatoes? Dish out the perfect side with The Recipe Critic's delectable air fryer potatoes. The kids may end up liking them better than fries.
It's important to round out dinner with a veggie. Of course, Brussels sprouts aren't generally a kid favorite, but that's going to change once the family gets a taste of Well Plated's air fryer Brussels sprouts recipe. This recipe is so inviting that one will realize they're eating Brussels sprouts.
Pizza is probably the most common takeout busy families rely on for dinner. With an air fryer, you can make your own pizza with homemade or store-bought dough. Give Live Eat Learn's air fryer pizza recipe a try and say goodbye to those cardboard frozen options and greasy takeout pies.
Skip the boxed mac and cheese and give My Forking Life's air fryer recipe for mac and cheese a go. This mac and cheese air fryer recipe comes out super creamy and inviting.
Burgers are a quick weeknight dinner. Of course, homemade hamburgers are a more nutritious option than fast-food burgers. Thanks to Spend with Pennies' air fryer hamburger recipe, you can have mouthwatering hamburgers, cheeseburgers, and sliders on the table relatively quickly. Pair with the Recipe Critic's air fryer potatoes and a salad for a meal that's sure to become a family fave.
After hamburgers, chicken sandwiches are a fast-food mainstay. Skip the drive-thru line and make these fabulous barbecue chicken sandwiches in the air fryer. Lemon & Zest's simple recipe takes about 20 minutes. Pair with a salad and air fryer potatoes.
Looking for a Meatless Monday meal the family will enjoy? Try Love and Lemons' air fryer recipe for breaded eggplant. Even the kids will love the crisp outside of the eggplant as well as its flavorful inside. Turn the eggplant into an eggplant parmesan meal by adding sauce and cheese or serve as is with pasta and a veggie side.
Hot dogs are another one of those quick fast-food meals, but with an air fryer, you can make them at home in around 8 minutes. Now, that's a quick dinner when you have to run to practice. Hot dogs in the air fryer are a healthier pick when using the grill setting.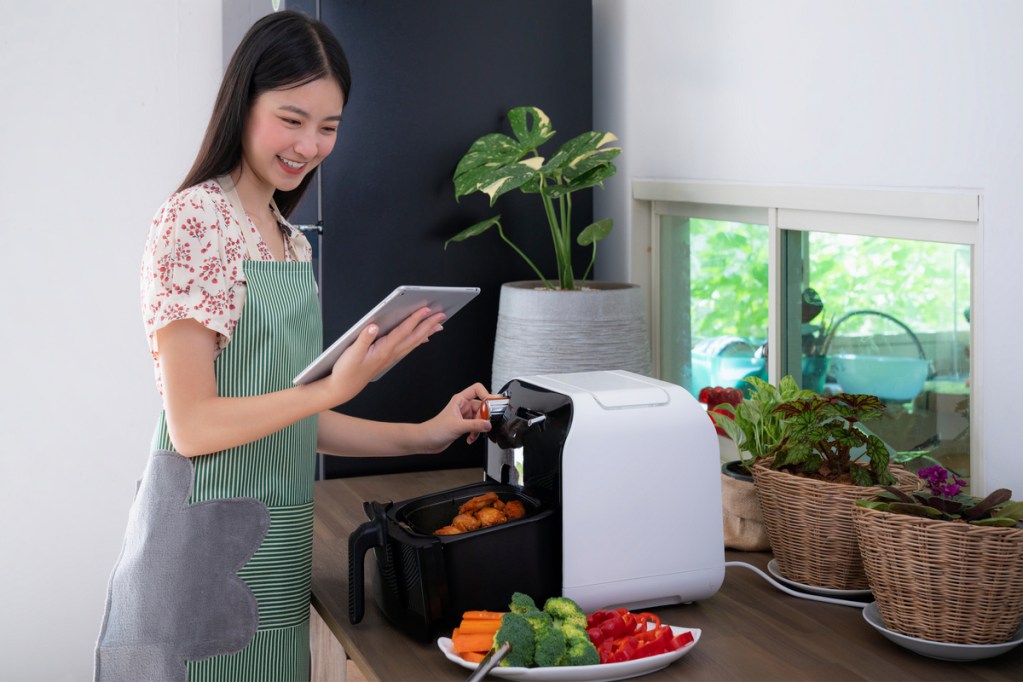 Give air fryer cooking a go
As parents, we know cooking at home is a nutritious and more budget-friendly option for the family than eating out. The reason why many families grab takeout so often is because of time constraints. Making and cleaning up a home-cooked meal is a time-consuming task. Air fryer cooking is a way to get dinner on the table faster. Since it uses air and less oil, the end result is healthier. Give these healthy air fryer recipes a try. The kids won't even miss those takeout nights and think of the money you'll save.
Editors' Recommendations