Before you know it, Halloween will kick off the holiday season. At this time of year, your family can make the most of this special day by choosing a memorable costume. One way to make this holiday even more fun is by wearing family Halloween costumes. So go all out and have fun with selecting (or creating) the best disguise. Here are a few ideas to get you started.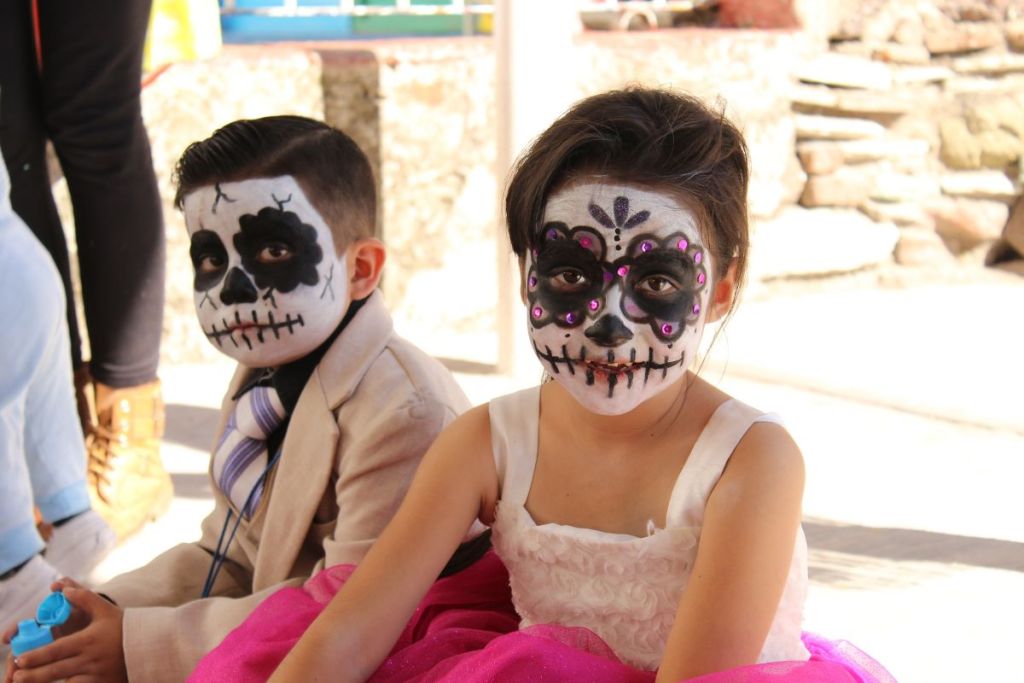 Family-themed Halloween costumes
Dia de los Muertos theme
Why not explore another major holiday from another country? Dia de los Muertos is considered one of the most important holidays in Mexico because it's the day when families pay tribute to their loved ones who have gone before them. One aspect of this holiday that has also grown popular in the U.S. is the elaborate face painting.
Therefore, you can search the internet to find an instructional video on how to re-create the intricate patterns or find a kit with instructions online or at your favorite department store. In addition to the face painting, your little girls would enjoy having their hair styled with brightly colored ribbon braided through it and maybe some colorful flowers. Little boys can dress up in a suit or vaquero (Spanish for "cowboy") style.
Ghostbusters
When you're coming up with ideas for a unique, family-themed Halloween costume, "Who are you gonna call?" These guys (or gals from the 2016 reboot) may not have been related, but they had quite a bond and some really amusing uniforms and gadgets.
By looking online, visiting a DIY store, or a second-hand shop, you can probably score some khaki coveralls in various sizes. On the pocket of these uniforms, you'll just add some name tags with the characters' last names. The proton packs that the Ghostbusters carried on their backs can be fashioned out of empty cardboard boxes and detailed with duct tape, tubing, and black marker. (And don't forget a smaller box for the containment unit.) Or another idea is to order the props online. Either way, the most complicated part of this will be deciding who is going to be which character. With two reboots and the original, you have many characters to choose from. If you have toddlers, then you can find or create some super cute costumes for Slimer and the Stay Puft Marshmallow Man.
"Star Wars" characters
Another theme that gives you a broad list of characters to choose from is the "Star Wars" series. In fact, you can select from the characters featured on the Disney spin-offs or the ones from the movies. For instance, if you have a baby or toddler, you can opt for an Ewok, Baby Yoda (The Child), or a Jawa costume. Adults and kids alike can choose from a repertoire of their favorite heroes or villains from Anakin to Darth Vader or Rey or Kylo Ren. The Skywalker/Solo family may have had its issues, but you have to admit that you have a great array of characters with cool costumes from which to select.
Also, if you're having difficulty finding a toy lightsaber online, you can take a thin, brightly colored pool noodle, place it over a dowel, and add duct tape and black electrical tape for the handle.
Your own royal family
You don't necessarily have to go with a family from a movie or cartoon—although costumes inspired by Mufasa, Serabe, and Simba would be adorable.
Anyhow, you can create your own brand of royalty by creating or obtaining costumes that depict kings, queens, princes, and princesses of centuries past. Along with the costumes that often depict royal figures from Europe, you can also select a set that's reminiscent of ancient Egypt or Rome. Other ideas include indigenous royalty from the Aztec or Incan cultures. Whatever you and your family choose, you'll learn a lot about history from researching royal families. Otherwise, you can also have a lot of fun going through an online or brick-and-mortar store to find intriguing family-themed Halloween costumes.
The Munsters Family
You may have caught just a few of the reruns on streaming services, but the Munsters are still popular when it comes to family Halloween costumes. And this masquerade would be super easy to pull off with the Frankenstein costumes being widely available and long black wigs with a touch of white for Lilly Munster. You might even be able to find or recreate the short-sleeved, full, middy dress that Marilyn, their niece often sported along with the perfectly coifed blond hair or wig.
The Ingalls Family
If you'd like to go more for the pioneer look, then watch a rerun or two of "Little House on the Prairie." For the guys, wide-brim hats, suspenders, and boots would complement the long-sleeved shirts and trousers. (Picture Charles, the dad, and Albert, the son the Ingalls family adopted.) For the ladies, long, floral print, long-sleeved dresses, and bonnets make up the attire from this classic that is set in the late 1870s. You can also duplicate Laura's signature braids, Mary's half-updo, Carrie's long, straight locks, and Caroline's low bun. The combination would definitely be one of the most unique family-themed Halloween costumes.
Now that you have some ideas for family Halloween costumes, perhaps you, your partner, and kids can narrow down to a couple of choices and flip a coin. As mentioned, half the amusing challenge is searching for and/or creating the characters' attire and props. Plus, you might even be able to get the pets in on the fun.
Editors' Recommendations