If you have an iPhone, it turns out you've actually got a built-in, constantly updated guidebook in your pocket. It's not just the ability to search for family activities like hikes, but your iPhone has full-on guides prepared just for you. Each "Guide" in your Maps app gives a list of the top destinations in your city around a theme, like best parks or best beaches. Many are tailored to be kid-friendly, and there are hundreds to browse through. Read on for how to access this iPhone feature.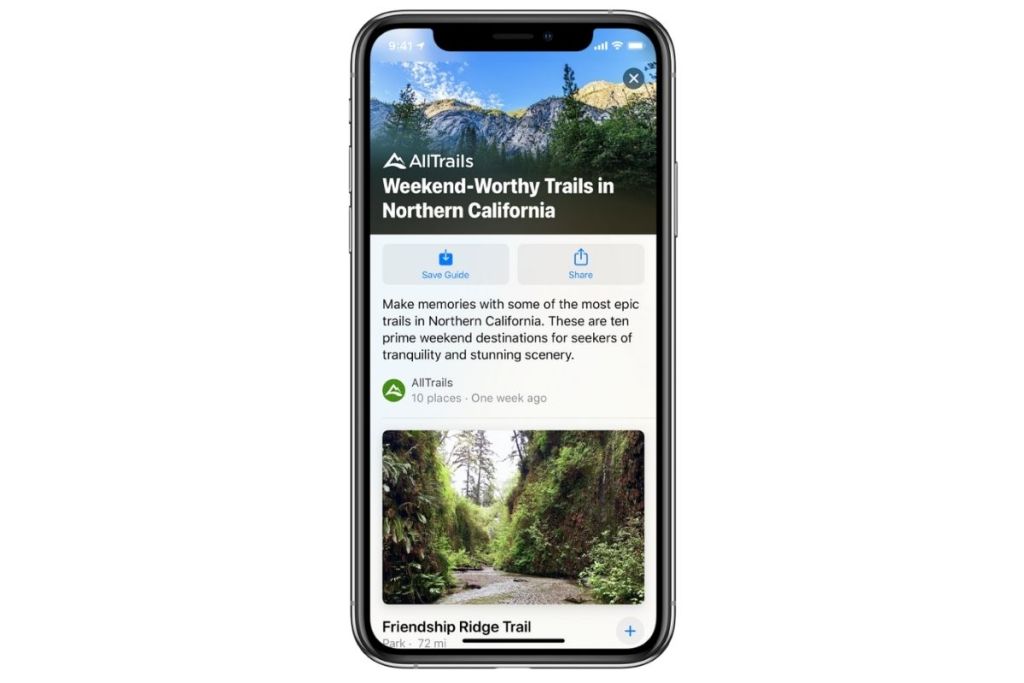 Guides in Apple Maps
The recently launched Guides feature in Apple Maps shows up on all iPhones and any new guides show up as they're added without needing to update anything. Open the pre-installed Maps app and you'll automatically see the area around where you are at the moment. Tap the search field and scroll down, and it's all right there. You'll see "Editor's Picks" with guides from publishers like the National Park Foundation, Lonely Planet, Culture Trip, Fodor's Travel, AllTrails, Atlas Obscura, Washington Post, Michelin, VolunteerMatch, Red Tricycle, and many more.
You can then tap the cover of a Guide to see it; tap "See All" and browse guides from there, or swipe down further to browse guides by publisher. There are over 500 guides on topics from "New York City's Coolest Public Murals" to "Best Hiking Trails Near Seattle." More cities are being added all of the time, mostly in the U.S., but some are in Canada and Europe.
Once you tap a cover with a title, you'll see a list of locations relevant to that title. There will be an image, opening hours, distance from you, and a description of each location to help you choose if you're interested in visiting. If you are, tap the plus sign to add it to "My Guides." You can also save an entire Guide with the "Save Guide" button at the top.
Types of Guides
Best of all, many of these guides share free family activities. While some are about restaurants, there is an abundance of guides to trails. Here are some other guides for things to do as a family:
Play activities
Kids Adore These LA Splash Pads (Red Tricycle)
NYC's Best Playgrounds for Kids (Red Tricycle)
Our Favorite Playgrounds in Seattle (Red Tricycle)
Where Families Can Zipline Around NYC (Red Tricycle)
Where to Go Ice Skating in NYC (Red Tricycle)
San Diego Parks with Fun Features (Red Tricycle)
History tours
A Walking Tour of Boston's Landmarks (Culture Trip)
Celebrating Women's History in DC (Lonely Planet)
Civil Rights Tour of Atlanta (Culture Trip)
DC Spots to Learn About Black History (Red Tricycle)
Stunning Statues to Honor Strong Women (Atlas Obscura)
Gardens & zoos
Bay Area Botanical Gardens to Visit Now (Red Tricycle)
DC's Best Gardens with Free Admission (Red Tricycle)
DC's Best Petting Zoos (Red Tricycle)
Farms & Petting Zoos Near Chicago (Red Tricycle)
Smell the Flowers at These NYC Gardens (Lonely Planet)
Lakes, beaches and national parks
San Diego's Best Beaches for Kids (Red Tricycle)
The Coolest Tide Pools for Kids Near LA (Red Tricycle)
Top US Lakes that Are Hidden Gems (Lonely Planet)
Under-the-Radar US National Parks (Lonely Planet)
Lakes Near Atlanta Perfect for Kids (Red Tricycle)
Most Beautiful National Parks in the USA (Culture Trip)
And those don't even include all of the guides to trails and restaurants! There are even more guides for different cities about playgrounds, picnic spots, beaches, and more, plus the foodie ones for ice cream spots and the hiking guides that include easy paths for kids. Almost everything to do in the listed guides above are free, just like going to play in the park. You don't need a big vacation to have fun activities that give the traveling feel of exploring somewhere new.
These guides can give you new ideas about where to get out of the house and get outside. You may discover a new splash pad or petting zoo, or get an idea about teaching your kids the history of their area. Whether a day trip, staycation, or weekend getaway, all of these locations are brimming with fun for parents and kids together. Enjoy the time as a family with these built-in, free guides.
Editors' Recommendations