Moms can still have style, regardless of age or how many kids you've wrangled in the past (or are currently wrangling). When it's time to skip the typical mom fashion of yoga pants for the day and trade out your T-shirts for something a little more stylish, you don't need to look very far to find fashionable outfit ideas that are also functional enough to meet your needs — after all, few moms can run after a screaming toddler in sky-high heels.
Check out these stylish mom-outfits ideas for your next parent-teacher meeting, girls' night, date night, or simply a trip out to the grocery store when you want to look a little more put together.
Opt for a one-piece outfit
When it comes to styling outfits as a mom, easy is the way to go, but easy doesn't necessarily have to mean sloppy. Add a one-piece outfit to your wardrobe — a sweater dress, sun dress, jumpsuit, etc.
You'll easily have a quick, no-brainer, and go-to outfit in your closet that requires minimal styling. Plus, if you go with a dress option, you'll have a roomier fit that you may appreciate if you're expecting another child (or just in general).
Since there's only one piece to your outfit, there's no worry of finding a clean and matching bottom or top; just add some shoes and maybe some accessories if you feel like it, and you're good to head out the door.
Put together an outfit from high-quality basics for an upscale look without a ton of effort
There are a few basic items that you can add to any outfit and instantly be rewarded with a more upscale look — nice jeans in a current cut and wash, a designer bag, or statement shoes, to name a few. Invest in a few of these high-quality basics that you can add on to any outfit when you want to look a little more put together. Even yoga pants can be enhanced when you're also wearing a nice jacket and some high-end shoes, à la Gigi Hadid.
The key is to know where to look for these high-quality basics and what brands, cuts, and styles you should go with, but an easy search through your favorite fashion magazine or blogs can often tell you.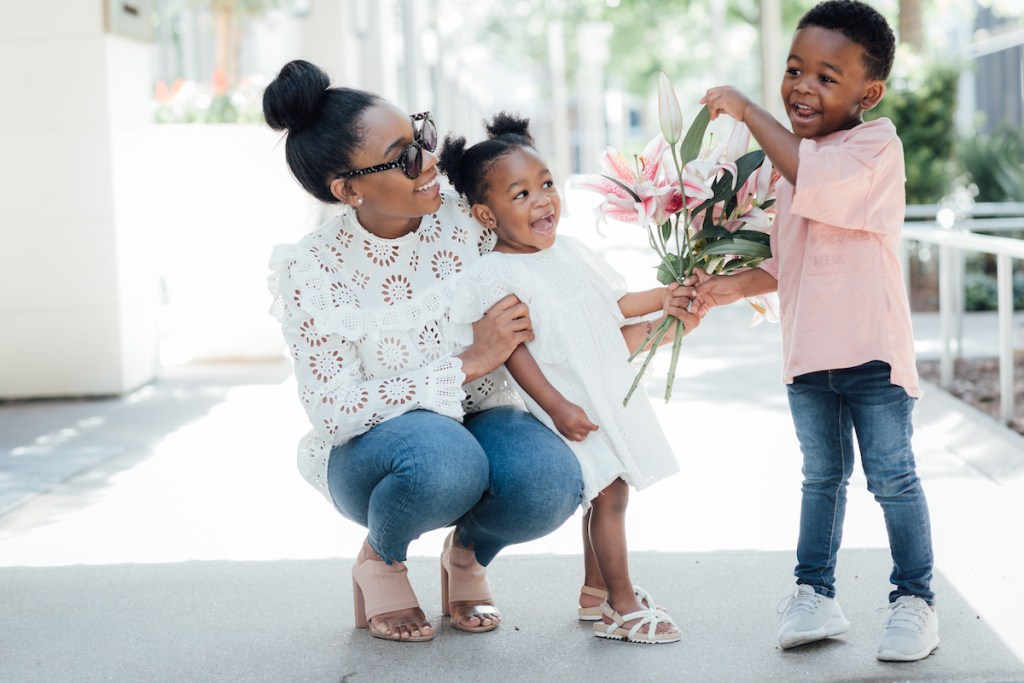 Find your uniform
There's nothing wrong with wearing the same thing all the time — so long as you do it right. What would you consider your ideal "uniform" — the outfit that you go back to time and time again, anytime you want to both look nice and feel confident and comfortable? Maybe it's a pair of black trousers with a matching black sweater and slacks; maybe it's a pair of nice jeans with a sleek turtleneck and blazer.
Whatever your "uniform," start building your closet and your outfits around it. If you really love that particular outfit, buy more clothing items that can build very similar outfits. If your closet is filled with black slacks because you love them, that's fine!
Once you have a uniform established, you'll find that throwing together outfits becomes as easy as going to your closet and picking just about any top and bottom and pairing them with the right shoes and accessories. Shopping becomes easier, as well, as you're no longer flipping randomly through clothing racks. You'll know exactly what you want and need, before you even set foot in the store.
Striking the right balance of self-care and just plain getting things done
Putting effort into your appearance and clothing choices as a mom can be a great form of self-care and do wonders for your mental health, but don't let it become just another thing to check off your to-do list, adding to your stress. Especially for newer moms, getting dressed up simply isn't always an option; there are too many other stressors and things to worry about.
When it comes to fashion, as a mom, make sure to keep things enjoyable and stress-free, whatever that looks like for you. After all, your family will always love you no matter what you're wearing.
Editors' Recommendations