Kids are small, so they need highchairs to help get them on your level. Highchairs are a staple in any home with small kids. Even restaurants have highchairs to provide you and your family with a comfortable dining experience. Since highchairs bring your kids pretty high off the ground, it is important to ensure your child is safe and secure when sitting in one.
Highchairs come in many designs and styles, so it is important to find one that is all about safety. Check out some of the safest types of high chairs for your kids so you can enjoy family meals together without worry.
Traditional highchairs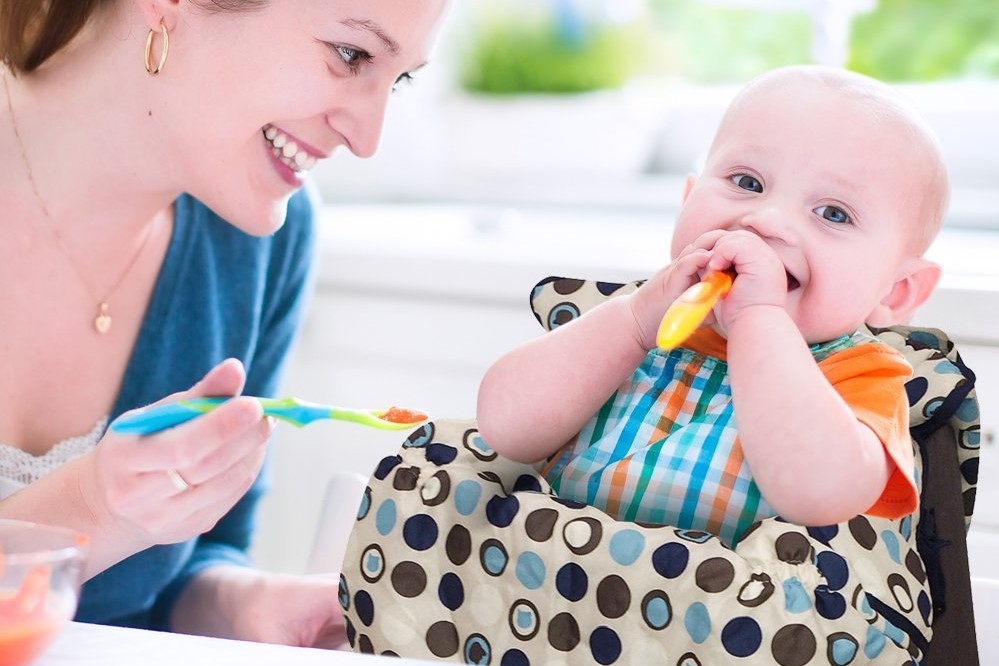 Sometimes, the simplest version is best. Traditional highchairs are typically wooden and built to be secure and sturdy when your child is wiggling, scooching, or banging. Traditional highchairs essentially look like taller versions of a standard, wooden chair. No highchair is complete, however, without a handy table.
Traditional highchairs have either a fold-down table that can be completely lifted up and back, a table that flips up and down from one side, or a table that doesn't move at all. Many traditional highchairs also come with a simple safety strap to keep your child in place securely.
Modern, adjustable highchairs
There have been advancements on design and technologies with every single product. When it comes to highchairs, the new and improved modern versions feature adjustability. They allow you to raise and lower the seat, recline or bring forward the back of the seat, adjust the height of the tray/table, and raise or lower the footrest. This type of chair will "grow" with your child, adjusting as your child gets bigger and taller.
These modern highchairs are designed to not only be functional, but to also be super safe. They feature comfortable padding, sturdy straps, and the adjustability factor allows you to ensure that your child remains secure in the highchair, no matter their size.
Booster seats
These may not be the exact definition of a highchair, but they serve the same purpose — to raise up your child's seating so they can eat comfortably with the family. Booster seats are designed to strap securely to any existing chair. They range in size and design so you can find the one that will best fit your child's height.
Booster seats are very safe because they have tight, secure straps for both the chair and your child. You will love how versatile this seat is, too. You can strap it on to nearly any chair in your home, allowing your child to sit comfortably at every table. It is also extremely portable, which is great for giving your child a little boost at the homes of your friends and family.
Convertible highchairs
The highchair phase is a pretty short one, even if you have a great highchair that adjusts for your child's size. So, when your child is ready to leave the highchair behind, it can be helpful to have a chair that is able to convert into another handy product. Convertible chairs are designed to convert into booster seats, toddler friendly chairs for activities, and a child-sized table and seat for crafting and more.
These types of highchairs come in a variety of styles and designs. It is important to find one that is comfortable, safe, and sturdy. These chairs come with secure straps to keep your child in place.
Highchair and step stool combo
Some highchairs are designed to benefit both you and your child. Highchairs combined with step stools allow your child to safely climb into their chair (under your watchful eye, of course). These chairs also allow the highchair portion to be removed. This way, the highchair can be turned into a handy step stool just for you. This chair style is not only safe, it is completely multifunctional and versatile.
When it comes to picking out a highchair for your child, safety is the No. 1 factor. As a parent, all you want is to protect your child and keep them safe. Luckily, there are many great highchair options that will keep your child safe and comfortable during meals. Some chairs offer multiple functionalities while others have one purpose. There is no wrong choice when it comes to these super safe highchairs. You just need to figure out which type will best suit your family's lifestyle.
Meanwhile, check out the benefits of portable highchairs – because there are definitely reasons why you should take one everywhere with your child.
Editors' Recommendations