Automatic baby gates are one of those things you never think about until you have a child in the house. Self-closing baby gates save you from the headache of your curious child getting into things they shouldn't. This means fewer messes to clean up, peace of mind, and a safe, happy baby. If you're still on the fence about if an auto-close baby gate is a good fit for your home, hear us out.
They keep your baby safe
The obvious reason why auto-close gates are an essential tool in any home with a child is that they keep your children safe. Babies love to explore. Who can blame them? When they're finally crawling and moving around on their own, they can't be stopped. A sure way to keep them from potentially dangerous areas in your home like the kitchen is an auto-close baby gate. Using technology like gravity-powered locking mechanisms, self-closing baby gates are useful for areas like stairs and garage doors.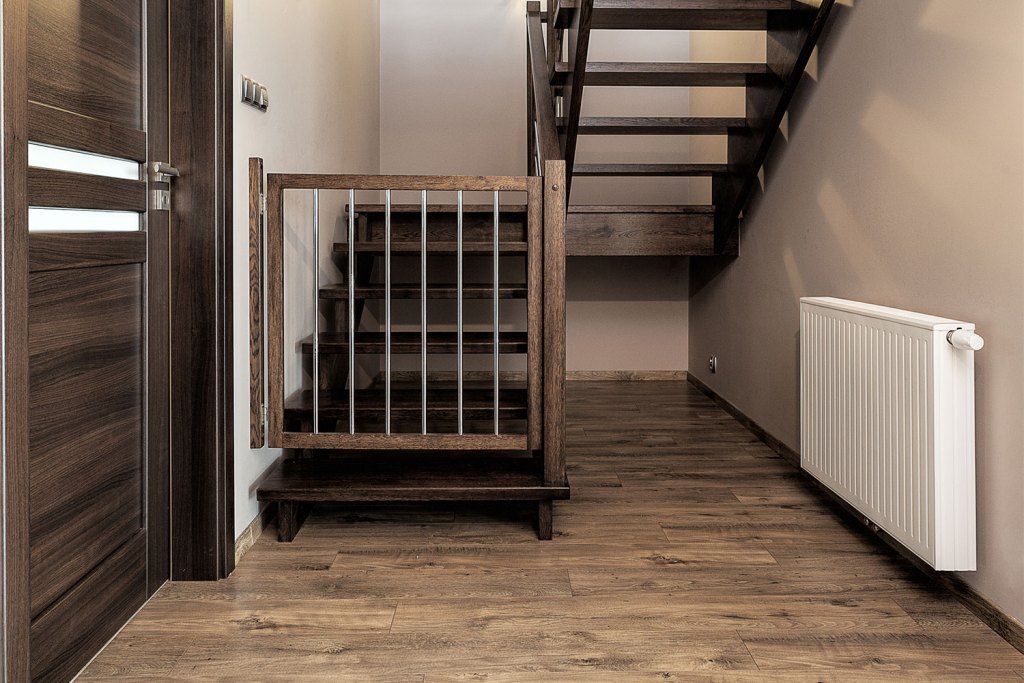 To make sure they're not an obstacle for any adult or older child passing through, many auto-close gates have dual swinging hinges that let you open the door either way. Most auto-close baby gates have a lock on top that opens easily without much force or potential to hurt your hand. Other advanced gates close just by pushing on it, but, of course, these should be reserved for very young babies who will not accidentally open them.
They contain your fur babies, too
Baby gates also keep your pets out of trouble. We know how much our little fur babies also love to wander, especially when there are treats involved. This makes auto-close baby gates perfect for keeping babies and pets out of kitchens and certain parts of the home. We found that homes with babies and dogs benefited most from metal gates because they're durable and easy to install. Tall metal baby gates mean even larger dogs will stay put. Note, however, that most metal gates require screws, so these might not be ideal for apartments.
They have you covered when you're not all there
You will thank self-closing baby gates on days when you barely get three hours of sleep. When you're running on fumes and trying to run a household, closing the baby gate might be the last thing on your mind. Perhaps this is why they invented automatic baby gates after all — to support us tired parents when we can barely keep our eyes open.
A self-closing baby gate is one less thing you need to think about so you can save that mental space for equally important things.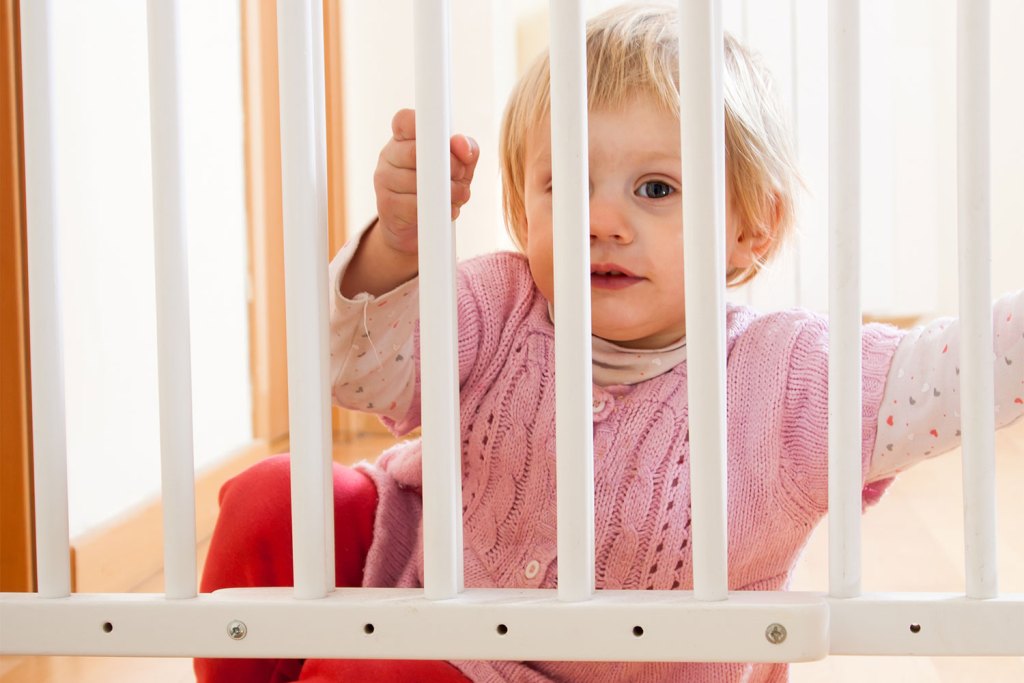 They've got your back when your hands are full
Baby gates that close with just a push of your leg or hip are especially useful for when your hands are full — literally. Whether you're carrying your crying toddler or transporting a load of laundry from the wash to the bedroom, auto-close baby gates save you from awkward and potentially dangerous solutions. If you've ever tried to carry 20 bags of groceries from the car to the kitchen in one go while simultaneously trying to operate a traditional baby gate or door, you know what we're talking about. As a parent, you're always multitasking and trying to find more efficient ways of doing things. Well, good news: A self-closing baby gate leaves you to focus on the task in front of you.
Things to consider
Dimensions
Features
Installation
Before you settle on an auto-close baby gate, here are some deciding factors to think about. One key factor is the gate's dimensions. You want a gate that's tall enough to safely keep your baby out of adults-only areas. Equally important is a gate that actually fits the doorway or entrance you want to cover. Measure the stairway or doorway you want to cover to make sure you have the right width. Fortunately, many gates have adjustable widths that fit a range of doorways, but it's good to be sure to save you a trip back to the store or return fees.
You might also consider additional features like a stay-open option for when children are asleep or out of the house. These gates close when kept at a certain angle and stay open beyond certain angles. Of course, this means you might accidentally leave the gate open when you don't mean to and may be a cause for trouble, especially if you have a very young child or a very active pet.
Besides automatic levels, also consider what type of locking mechanism you're comfortable with. There are various options that let you further personalize your baby gate: hands-free gates that close with a push, gates that close with a one-hand top lock, or gates with multiple locks to keep the most persistent and curious children closed in. If you're a busy bee and are constantly completing chores around the house, a hands-free gate is your best bet. If you like the peace of mind a top-locking or multiple-lock gate brings, feel free to try out these options as well.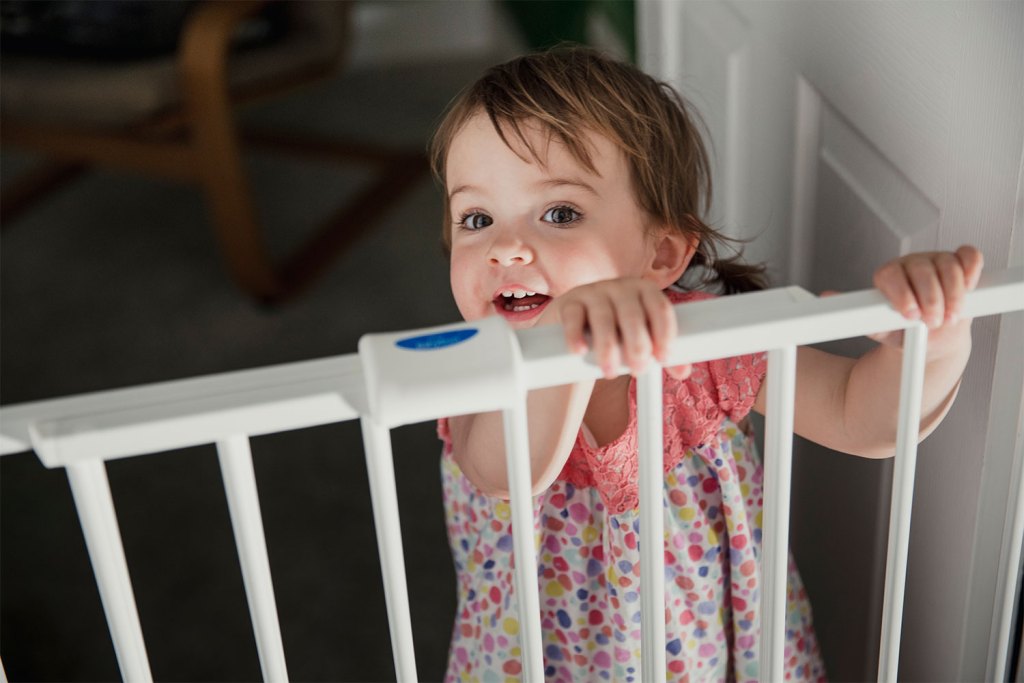 Last, think about what type of installation will work for you. On-pressure baby gates use suctions on the sides to attach to doorways. These are useful for apartments or homes where screws or nails aren't feasible. By contrast, fixed wall gates are a little more permanent and require more work, but are good for long-term use, older children, and/or larger pets.
We've covered the main reasons why auto-close baby gates might just save your sanity. Whether you opt for a tall, hands-free closing gate or a wide, multiple-lock gate, you can make sure your child moves safely in their designated play area. You know what else? An auto-close gate leaves you free to finally finish that load of laundry or that cup of coffee you made three hours ago. So go ahead. Stay efficient, and try out that auto-close baby gate you've been scouting!
Editors' Recommendations