Neutral colors create a soothing environment for you and your baby during the blur of the first year of being a family together. Without putting pressure on finding out the sex of the baby or what their gender will be, putting together a chic gender-neutral nursery can be an adventure into choosing the perfect items to create a unique space. Gender-neutral nurseries can have many themes, from a starry night to an African safari, using browns, whites, yellows, and beiges, and bringing in some hues of other colors like pink, blue, green, or orange without them dominating the palette. Using organic materials like rattan, jute, and Water Hyacinth brings in these colors naturally and softens the look of the room.
Here are seven stand-out nursery items from Scandiborn that will bring personality into your gender-neutral nursery.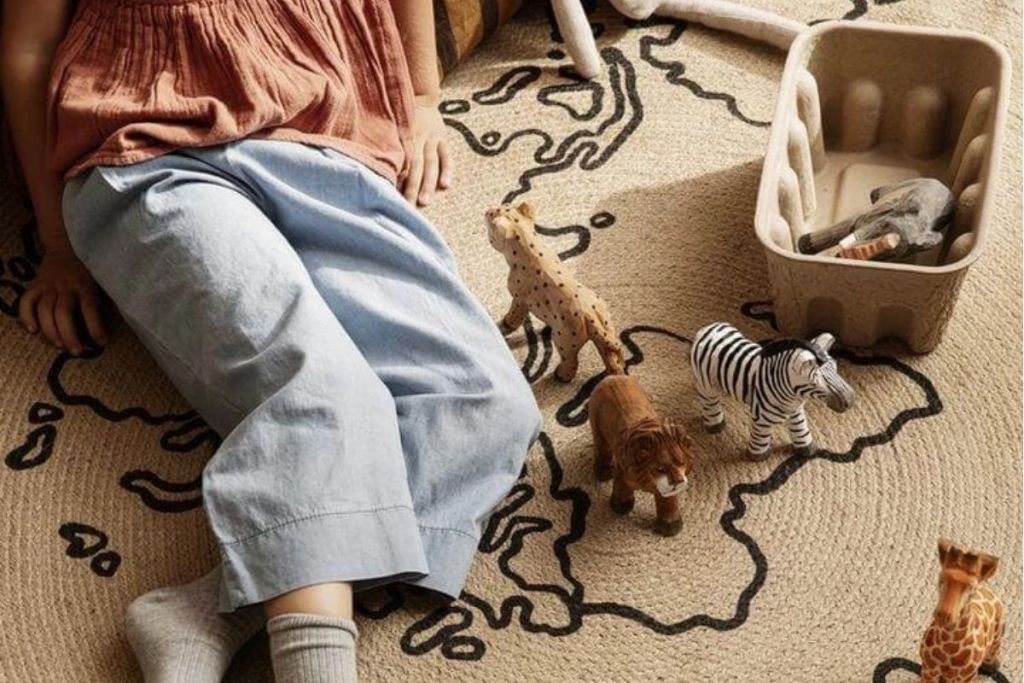 Ferm Living Jute Carpet – World
An area carpet can tie a whole room together, and this world map printed on 100% natural jute brings in earth tones that can connect to many different themes. Jute is a sustainable, durable material that works well as a play mat and is safe to vacuum. This woven carpet is available in small or large sizes to fit your nursery's dimensions.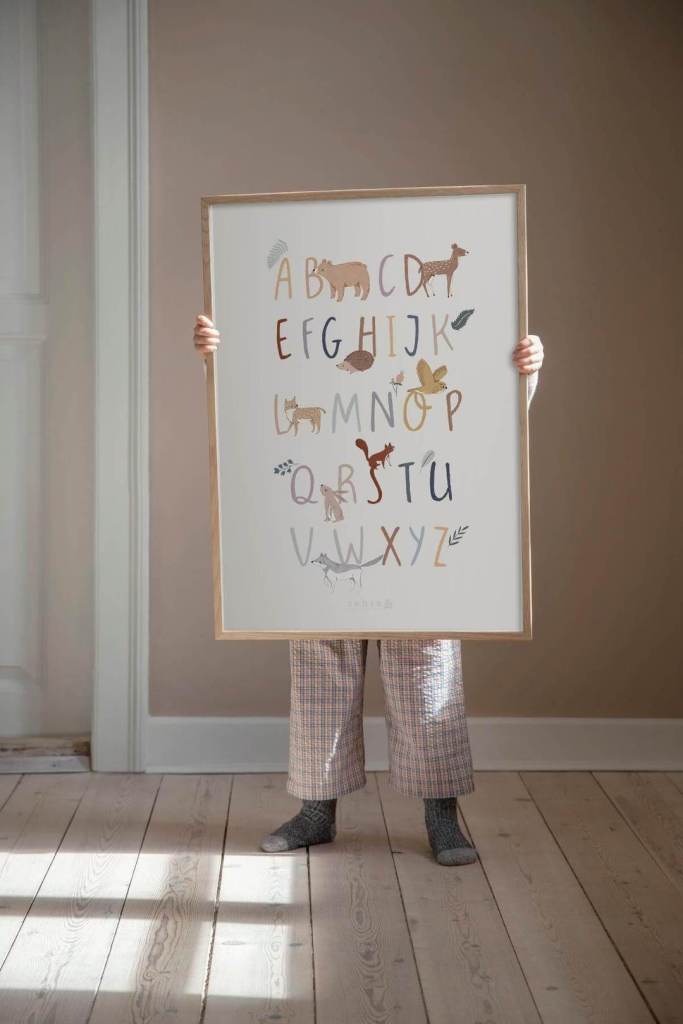 Sebra Alphabet Poster – Nightfall
This sweet poster features the full alphabet with illustrations woven throughout the letters. There is a bear by B, a deer by D, a hedgehog by H, and so on. Fourteen different drawings from animals to leaves complement the unique lettering, all in a neutral, varied palette of browns, blues, and yellows. The poster measures 50 cm (19.7 inches) by 70 cm (27.6 inches).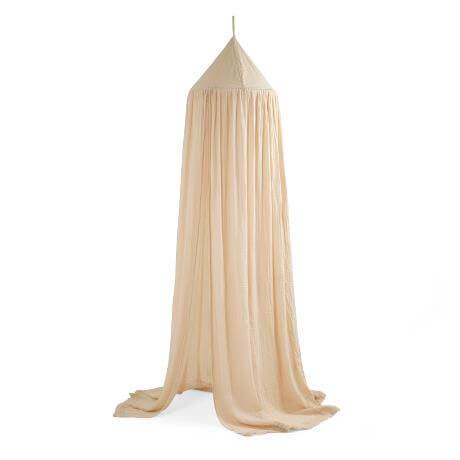 Sebra Canopy in Straw Beige
A canopy is a small and simple investment that brings elegance and whimsy into a nursery. After decorating above a crib, it can be used as a hide-out by kids for years to come as a private reading nook. This beige is warm and fits in with any neutral nursery. The canopy is made of 100% cotton and had a metal hanger inside for attaching a mobile.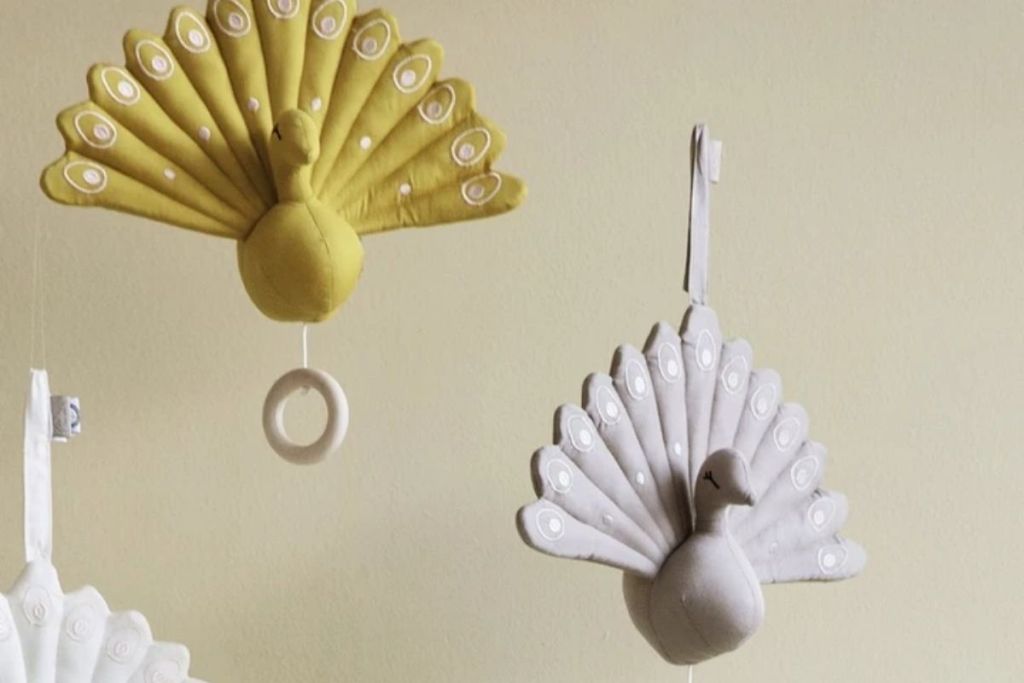 Cam Cam Peacock Music Mobile in Hazel
Mobiles are practical for entertaining and calming your baby but also add a pop of style above the crib or changing table. This peacock mobile is hand-crafted from 100% certified organic cotton with white embroidery accents. Pull the small wooden ring to play a sweet lullaby tune. The beautiful neutral colors and pretty animal choice will bring a comforting element into your baby's safe haven.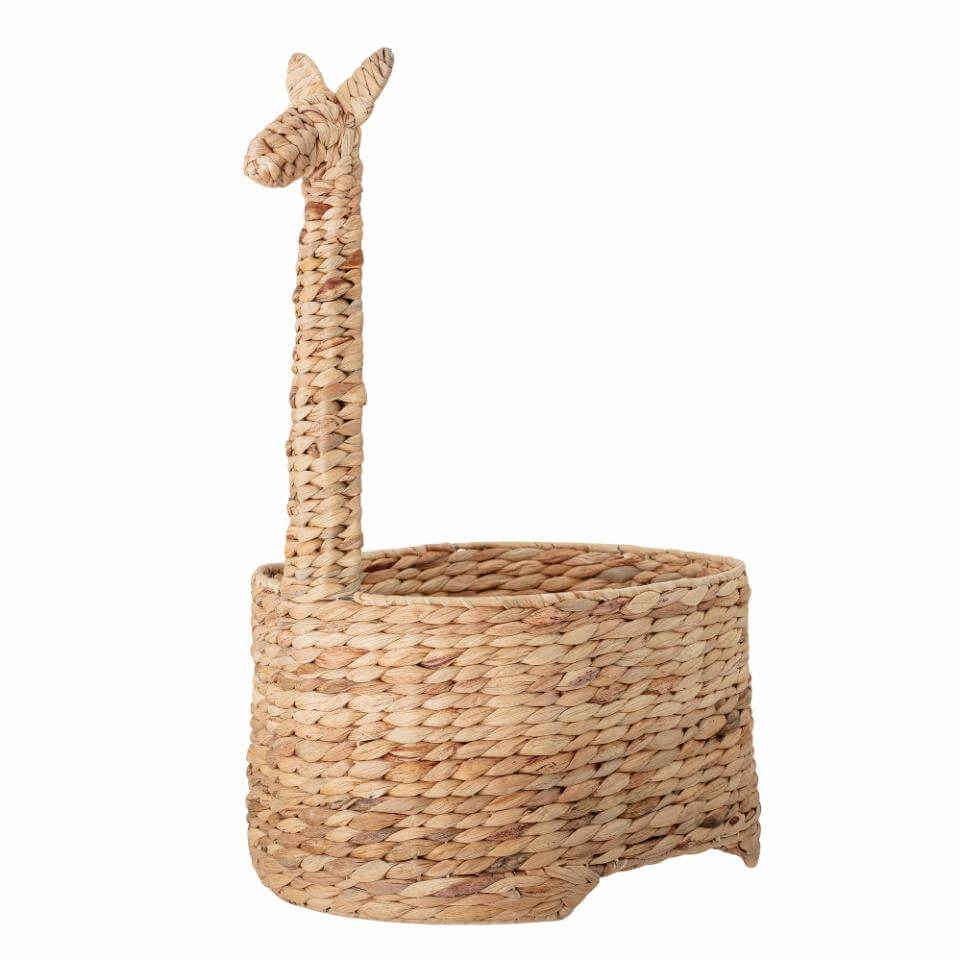 Bloomingville Giraffe Nature Basket
Storage baskets are functional, but a stylish one like this one will also tie the room's theme together. Instead of a typical woven basket, this one adds a giraffe neck and head sticking up straight above it for a totally unique look. Woven of the renewable resource Water Hyacinth, this basket with a wicker look has a sturdy iron frame within. The natural-look basket provides practical storage space for toys, shoes, bedding, blankets, or anything else you need contained in one place. It is 36 cm (14.2 inches) long, 56 cm (22 inches) high, and 30 cm (11.8 inches) wide.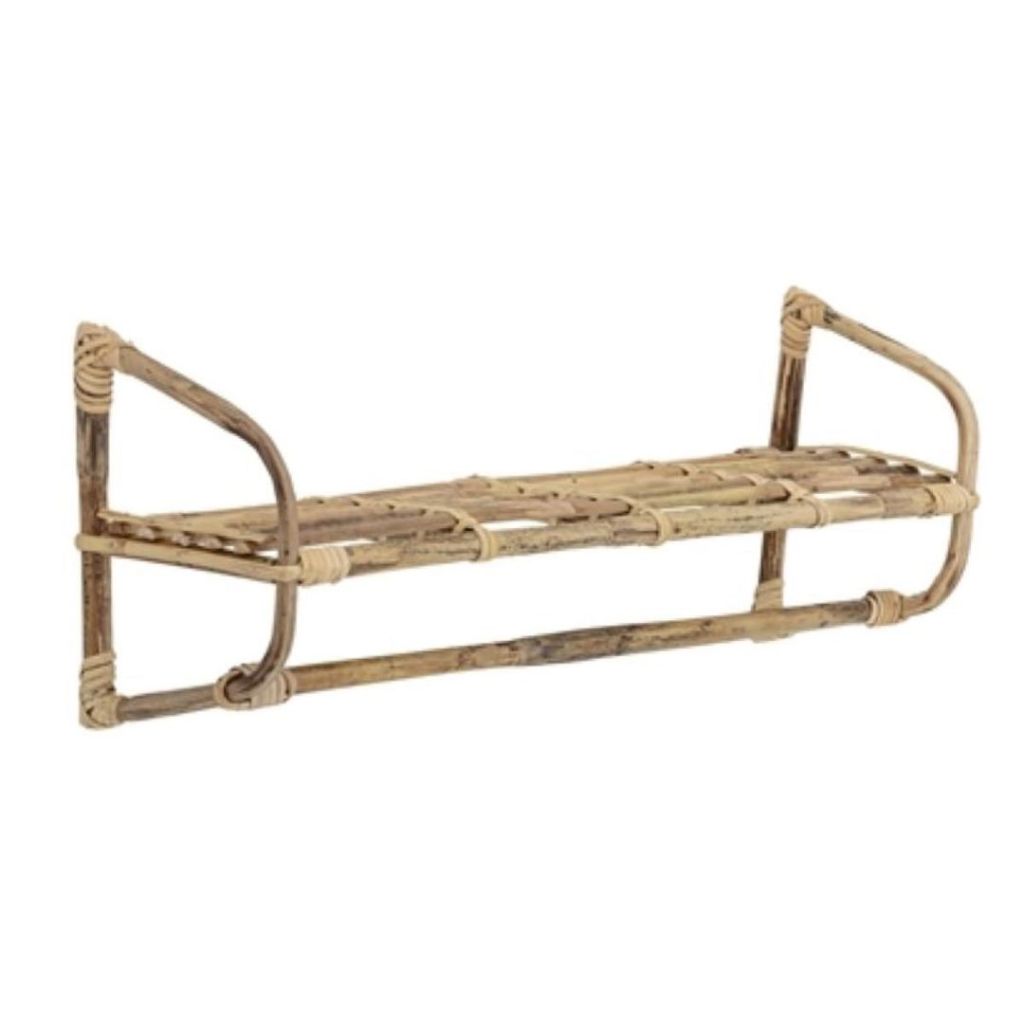 Bloomingville – Cathleen Cane Shelf in Nature
Even a shelf can be a stylish moment that enhances a theme. This shelf made of natural cane brings a boho element into your gender-neutral nursery. Use it to display trinkets or to store wipes and other necessities above the changing table. It is 55 cm (21.7 inches) long, 22 cm (8.7 inches) high, and 16 cm (6.3 inches) wide and brings nature to the indoors.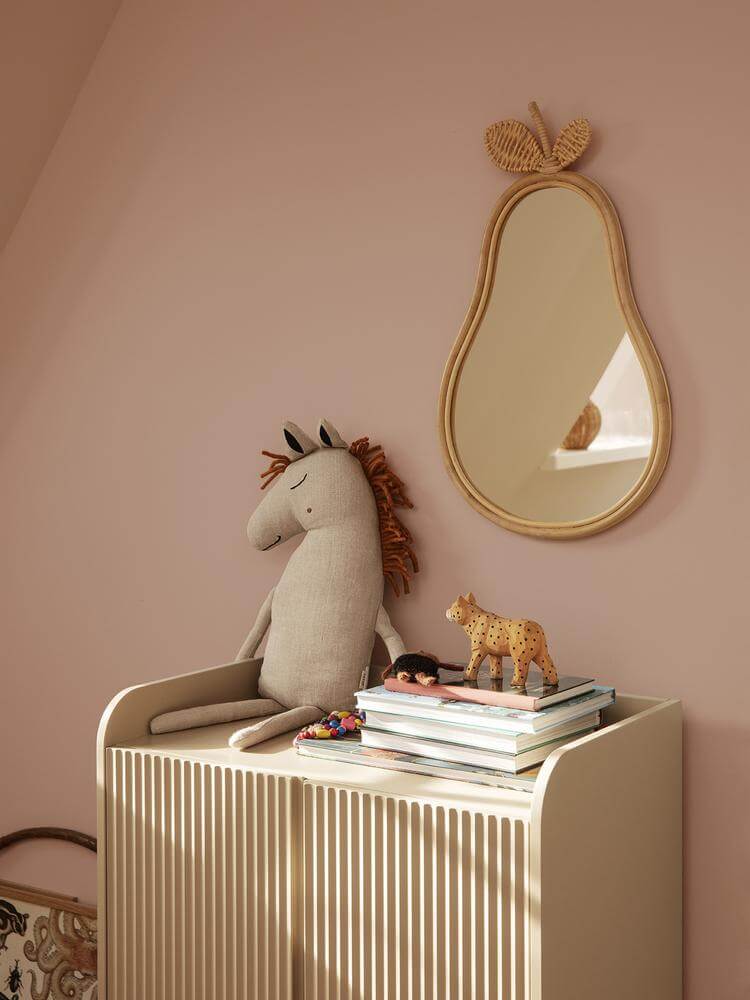 Ferm Living Pear Mirror – Natural
While a mirror isn't on every must-have list for a nursery, having one for your baby to look into can be very entertaining and help their development, and it can also make a room look bigger. In the case of this unique mirror shaped like a pear, it also brings in a style element. This 37 cm (14.6 inches) wide, 61.5 cm (24.2 inches) high, 3 cm (1.2 inches) deep mirror has a rattan frame around it that is a creative addition to any gender-neutral nursery.
Neutral doesn't have to mean boring with these seven bold pieces that will bring your nursery to the next level. While being simple and practical at the same time as stylish and unique, these neutral nursery products will become treasured elements of your child's room even as they outgrow their crib. Bring a natural look into the room with these high-quality items from Scandiborn, and be sure to use the coupon code Newfolks5 to receive 5% off your order.
Editors' Recommendations