Coming up with the perfect name for your baby on the way is a daunting task and weighty responsibility… but it doesn't haven't to be a chore! With the Baby Name Genie website, you can dive deep into finding and testing out the perfect name for your new bundle of joy.
There are many websites where you can find baby name meanings, but Baby Name Genie is about finding the right combination of names in a flow of first, middle, and last names and how a name sounds in real-life situations. This is a site where you can see how everything sounds together, get others' opinions, and see which popular names are trending. If you're stumped and looking for new inspiration, the Baby Name Genie will magically generate a name for you.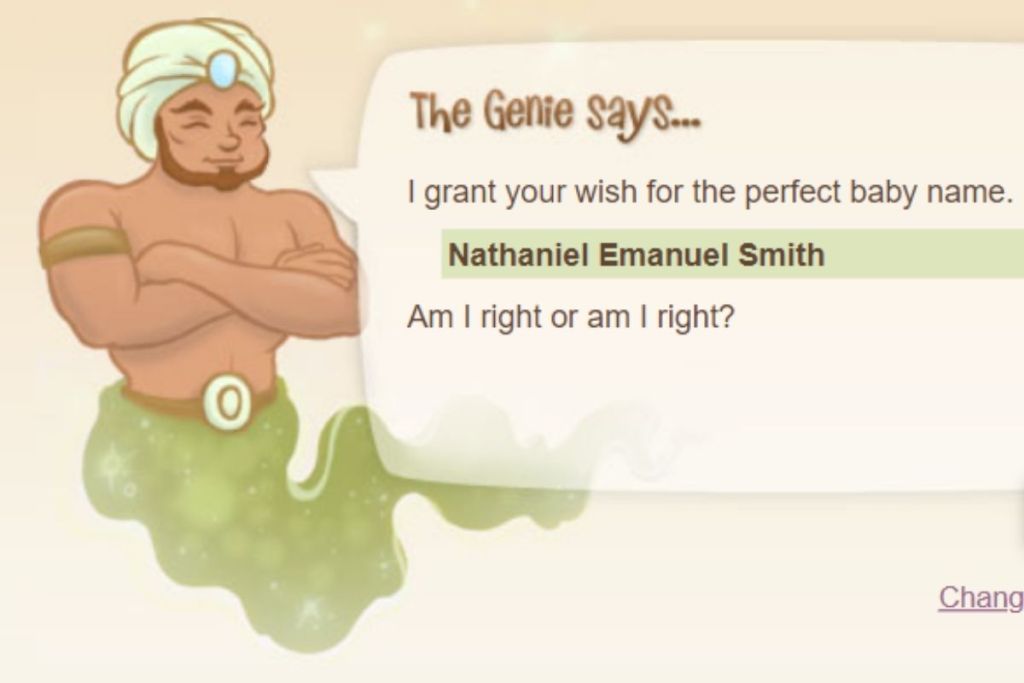 Baby Name Genie features
The Baby Name Genie website offers several ways to help you find the right moniker for your baby on the way.
Are you so far into your search that you need a fresh start? Or are you just getting started and don't know where to begin? The Baby Name Genie baby name generator generates a random baby name for you with each click of the button to give you brand new inspiration each time. Enter in your baby's last name, choose boy, girl, or surprise, and make a wish on the genie and he will "grant your wish for the perfect baby name." The genie will give you a first name and middle name combination laid out with the last name you provided so you can see how it looks. Wish as many times as you want…there is no limit of three with this genie.
You don't have to keep coming back to the genie every day; he can come to you. Enter your email address, baby's last name, baby's gender (or leave as "surprise"), and your due date, and the genie will email you a "sometimes wacky, sometimes genius" name suggestion every day.
This may be the most helpful of all of the genie's features: the test drive. What really matters in a name is how it'll be used in daily life and this part of the website plugs your prospective name into 27 sample sentences. Here are a few examples of test driving "Jack Smith:"
Jack

, could you please set the table?

Jack! Jack

! Are you listening to me!?!
Hello, Wellington Inc. this is

Jack

.

Jack, Smith

. Spelled J-A-C-K.
Do you

Jack Smith

, take this woman to be your lawfully wedded wife?
I am sorry,

Jack

isn't here right now. Can I take a message?
You'll have to see

Jack Smith

about that. He will know what to do.
And the winner is…J

ack Smith

!
Hello, you've reached the voicemail of

Jack Smith

. I am away from my desk right now.
Write back soon. Your friend,

Jack
Vote on other parents' questions about which option you prefer…Ann or Anne? Charlotte Marie or Charlotte Rose? Michael James or James Michael? You can view results to see what others think and you can also create your own poll to have folks weigh in on those tough questions.
You'll see also see which names appear in the polls most often for the top 10 boy's and girl's names on the site.
Get plenty of answers to your questions about which name is better, potential issues with a name possibility, how to solve disagreements with your co-parent over naming, and talk about non-name topics, too. You can create an account and become part of the genie's community of parents-to-be. Even if you don't ask anything yourself, reading what others are asking and answering can generate lots of ideas.
Write to the genie to see if he can answer your question. What's a good sibling name for Alexandra? What's a good name to honor my grandfather Claude without using the name Claude? The genie's wisdom will be published on the mailbag page and if it doesn't get selected for the genie himself to answer, others have a chance to answer over in the forums.
The Baby Name Genie website
From the baby name test drive to the baby name generator, the Baby Name Genie can grant your wish for the perfect name. Find a new idea, refine the right middle name or spelling, or confirm that you have found the perfect name with all of the tools and the community of other parents ready to chime in as well as the genie himself. Happy naming!
Editors' Recommendations