You can smell it in the air, and hear the leaves as they crunch underneath your feet. There is no doubt that autumn is here and that means one thing: Halloween is coming up! For those who love the holiday, it is an exciting time – especially when you have a new baby. There are a plethora of baby Halloween costumes to choose from! It's so much fun to dress up your baby for Halloween, especially when you pick a super cute theme for their costume. Here are some fun and popular Halloween costumes for babies that you can draw ideas from.
Pumpkin or jack o' lantern
An ever steadfast costume that parents choose for their baby's first Halloween is a pumpkin or a jack o' lantern. Parents typically choose this costume because it can be for both girls and boys, and is a rather sweet costume for their first autumn holiday. They come in various styles of costumes, too. They can come in a onesie, a costume they can pop their legs through and have a pumpkin head hat, or even a bunting pumpkin costume for really young trick-or-treaters. If you're looking to purchase a pumpkin costume, you can find great ones online.
Little Red Riding Hood
When it comes to little babies, a classic costume for girls is Little Red Riding Hood, from the popular fairytale. There are a few reasons that parents choose this costume. It is a fairly easy one to have your baby wear, with minimal fussing and trying to take it off. All it takes is a little red hooded cape, alongside a white onesie with some white leggings, and suddenly you have an adorable Little Red Riding Hood. It also is quite an easy costume to take off if changes are needed. If you're looking to purchase a Red Riding Hood costume, check out this one available from Amazon.
Teddy bears or cuddly stuffies
There is just something so cuddly and snuggly about teddy bears. They are not only cute but typically one of a child's first stuffed animals. That is why they make a really fun Halloween costume. Not only will your child be incredibly adorable, but these costumes are usually very warm for their first fall season, and their first real foray out into the neighborhood to trick or treat. If you're looking to purchase a teddy bear costume, just look around online.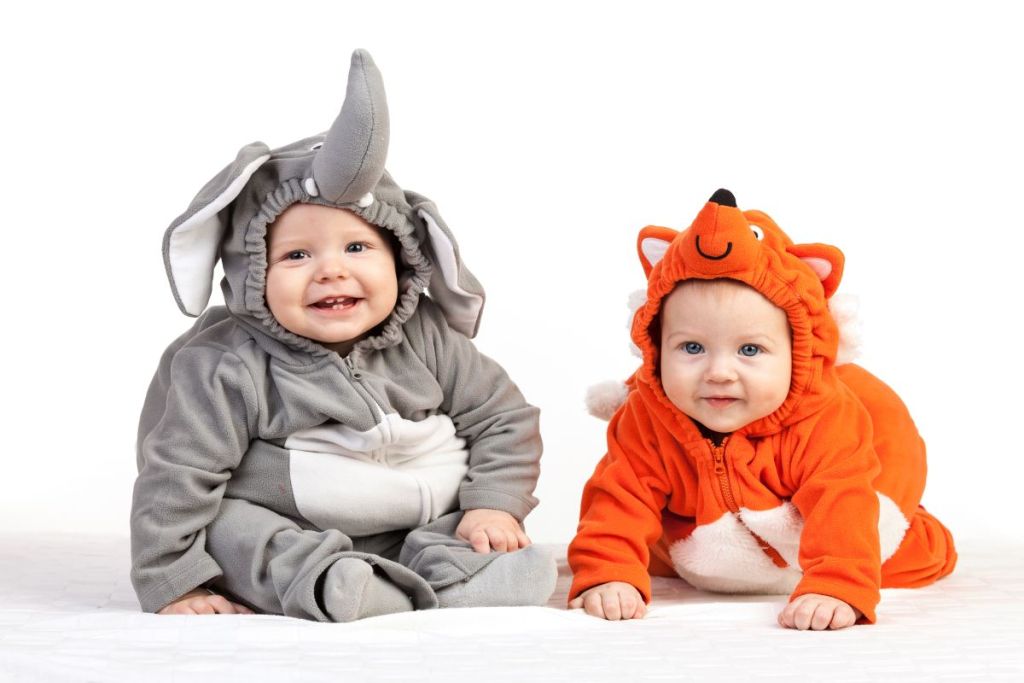 Animal costumes
Another popular choice of Halloween costume for babies is animals. Whether it's small soft foxes, a chicken clucking, or a darling puppy, animals remain a popular costume choice for babies. Not to mention, animal costumes tend to be warm and fuzzy, which is great if Halloween falls on a chilly day. A cute little lamb, a tooting elephant, or a hoppy bunny are all other sweet animal costume ideas. There are many more animals as well. Let your imagination go with this one and you can think of some really fun animal costumes. If you are looking to purchase an animal costume, there are adorable options to choose from.
Character costumes
There are so many fun character costumes from movies or cartoons that you may love and your baby might enjoy. For example, the well-adored Mickey Mouse has been a popular option for baby costumes. Other costumes can include Winnie the Pooh, Dumbo, Stitch, Monsters, Inc. characters and so many more, if you think about a fun animated movie, chances are there is probably a baby costume for it.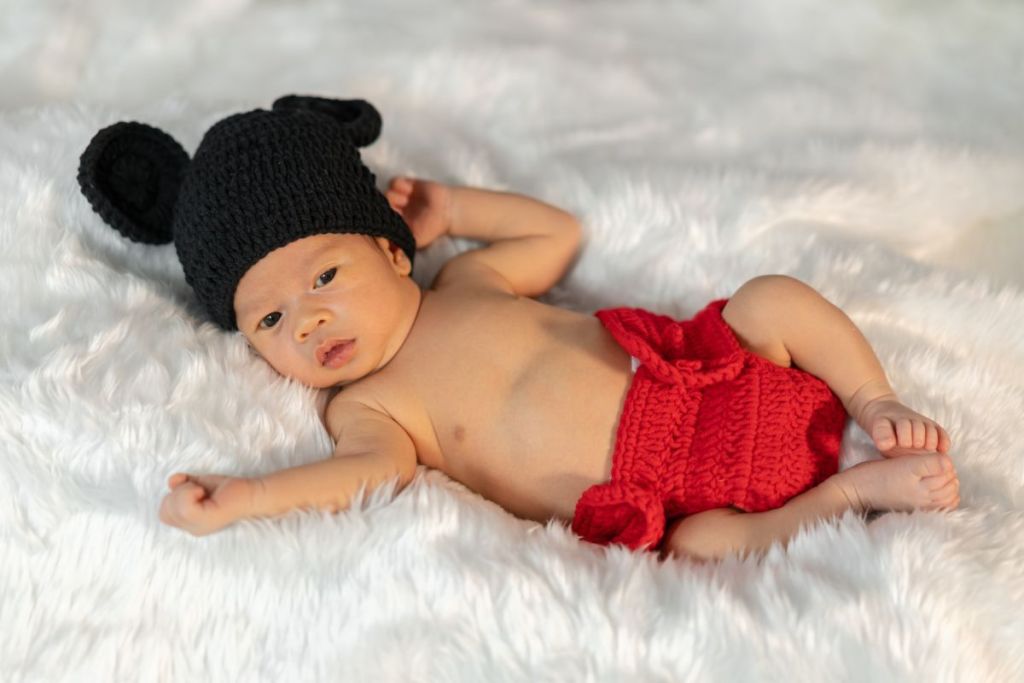 A word on costumes and accessories:
If you've found the perfect baby Halloween costume, there are just a few things to make sure of before purchasing.
Make sure that fabrics are not abrasive against the baby's skin. Good options to include are cotton, microfiber, and fleece.
Costumes should also be fire safe as well as comfortable against the baby's skin.
Babies should never wear anything near their face, especially masks. They do not have the dexterity to pull them down.
Some fun accessories to include that do not pose a threat include fun socks that match their costume, mittens to keep their little hands warm, and, of course, a hat to match the costume to keep their heads warm.
While makeup can complete a costume, be sure to research the face makeup that you want to use and ask your child's pediatrician before applying it to your child's face. Make sure that the makeup that you purchase is non-toxic and preferably all-natural.
If makeup is used on your child, be sure to keep it to a minimum and keep it on as little as possible. So, as soon as trick or treating is done, or when grandpa and grandma leave or after pictures, wash it off, as any kind of makeup can clog their pores and irritate their skin, so it is important that it comes off as soon as possible.
Halloween can be a wonderful time for parents, especially if it is your baby's first one. However, you want to make sure that before you go trick-or-treating that your baby is safe in their costume so you are all set and ready to enjoy a wonderful Halloween. Get ready to create some treasured memories that will last a lifetime.
Editors' Recommendations