Getting outside to explore or even staying indoors can turn into a thrilling adventure with walkie-talkies. Kids can hide and give clues about treasure hunts and secret hideouts with these simple and safe devices that don't have to break the bank.
If you're shopping for the best walkie-talkies for kids, these are a few of the features to keep an eye out for.
Range: Almost all children's walkie-talkies have a range of almost 2 miles. If you find a longer range, that's a plus. Though you may not imagine your young kids playing miles apart from each other, if you're on a family hike with older kids who are communicating with them, a longer range could be very helpful.
Flashlight: This is very common and you should expect the walkie-talkie set you buy to include flashlights. It may come in handy especially in an emergency or for overnight camping, plus kids love them.
Backlit display: This is also pretty standard.
VOX mode: Not all walkie-talkies have this. Instead of pushing down a button to talk (which can be tough for some little fingers), VOX mode lets you listen and speak without pushing any buttons, like a baby monitor.
Batteries: All of the options below require batteries and do not include them. Most require three or four AAA or AAAA batteries. Look for battery save mode and low battery alert function as well.
Keypad lock: This allows you to set your kids' walkie-talkies to the same channel and then lock that in so they can't change it. It prevents them from messing with the settings while they're off playing and needing to run back to you when they can't figure out how to get back on the same channel.
With these features in mind, let's go over some our top picks of the best walkie-talkies for kids.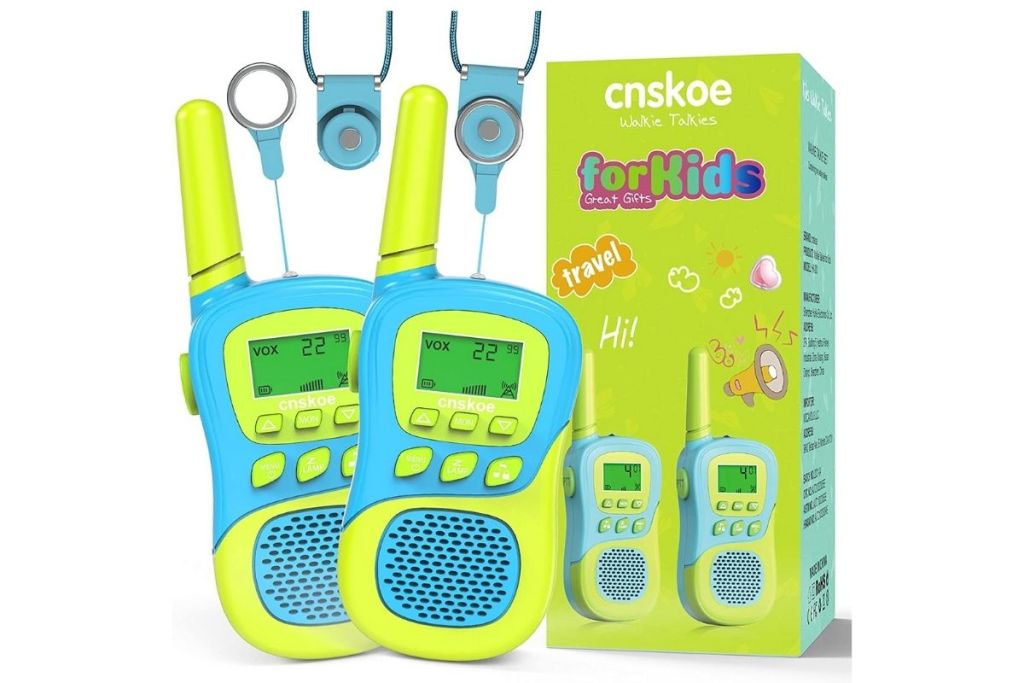 These compact (2 x 2 x 5 inch) walkie-talkies come in four color combos: pink-blue, blue-green, red-pink, and yellow-blue. The two-pack comes with stylish lanyards for each walkie-talkie in addition to a belt buckle so carrying them around is no problem. They also only weigh 0.25 pounds so they aren't heavy to lug around. They require four AAAA batteries and these walkie-talkies have a double buckle to prevent kids from being able to open the area where the batteries are to take them out.
When three want to play instead of two, this set's walkie-talkies are a good choice. Each walkie-talkie has a flashlight, a belt clip, 22 channels, VOX mode, and is waterproof. The comfortable design and rubber finishing and buttons make these walkie-talkies comfy to use.
For kids who like playing G.I. Joe, this set fits the bill. These palm-size walkie-talkies are perfect for children's hands. There is a keypad lock to prevent kids from changing the settings so once you set them to the same channel, it will stay that way. They are not water-resistant, but they are drop resistant. They're also made from an eco-friendly material.
These water-resistant walkie-talkies are ergonomically designed and weigh only 2.8 ounces each. The sound quality is very clear with a range of up to three miles with adjustable volume with either VOX or push-to-talk.
This waterproof set (choose between pink or blue) is also drop-resistant and has all of the bonus features like VOX mode, auto-battery save, and keypad lock. It's also made from eco-friendly materials.
These walkie-talkies are rechargeable by USB so you don't have to worry about batteries! While that may be the parents' favorite part, the kids' will love the cute ears on top that light up. These can also connect to Bluetooth to play music. Choose from pink, red, blue, or green.
Enjoy the best walkie-talkies for kids
Each of these five sets costs under $25 so the years of fun they will provide will be well worth the small investment. Three-year-olds love them as much as nine-year-olds and they are long-lasting so you really get your bang for your buck. Walkie-talkies make a great birthday present or Christmas gift especially if you're not sure what else to get because any kid will like them. You just need one other person to play with (maybe even a parent) and you're off and running. And they are a camping must-have!
Editors' Recommendations