Parents need all the life hacks they can get to make things a little easier. There are so many logistics that come along with parenting, but arguing over who gets to watch what they want on the TV shouldn't be one of them. The Disney+ bundle makes this one easy.
Arguing for control of the remote between kids of different ages doesn't need to happen anymore, and parents deserve to get to watch the movies, shows, and sports they want, too. With the Disney+ bundle, every family member across multiple devices (and even multiple homes) will be satisfied with plenty of quality entertainment.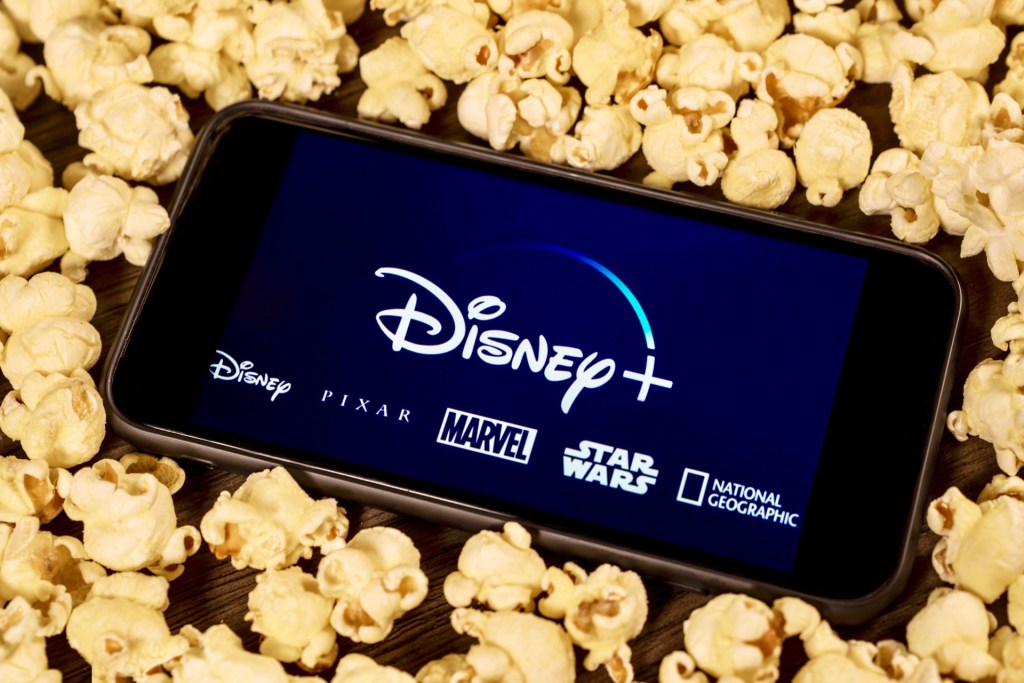 What's included in the Disney+ bundle?
There are three unlimited subscriptions included in this bundle:
Disney+
Hulu (choice of with or without ads)
ESPN+
Disney+ isn't just kids' cartoons. Don't forget they own Marvel Studios and the Star Wars franchise, among other big brands. That means you've got all of the X-Men, Pirates of the Caribbean, Guardians of the Galaxy, Narnia, High School Musical, Avengers, and Star Wars movies plus the Disney+ original Star Wars TV show The Mandalorian. For grown-ups and teens, there are also nature documentaries, Hamilton, The Princess Bride, Hidden Figures, and more dramas, comedies, and musicals. If you like Marvel superhero movies, they're all here.
Launched in 2019, Disney's streaming service is (of course) a kid's paradise. For princess lovers, there are the original animated classic movies like Aladdin and The Little Mermaid plus the later additions like Tangled, Frozen, and Brave and also the live-action remakes of more recent years. For Pixar kids, there are The Incredibles, Ratatouille, Finding Nemo, and many more. There are endless animated stories of friendship from Toy Story to Zootopia to Cars. Besides movies, there are entire series of animated shows including Phineas and Ferb, PJ Masks, The Lion Guard, and Elena of Avalor. It's amazing how much content is on the Disney+ bundle for kids! Your kids will never run out of things to watch.
Hulu has endless quality content, as well. You'll find shows still on the air with their new episodes added hours after they air (like Saturday Night Live) in addition to oldies that can be watched in their entirety after their run has ended (like Frasier). For adults, comedies like Brooklyn Nine-Nine join dramas like Grey's Anatomy. Cartoons like The Simpsons and reality shows like RuPaul's Drag Race are also included for grown-ups. There is also a good amount of movies besides TV shows, and there is kids' content galore.
ESPN+ is, of course, your home for sports. Enjoy thousands of live college and pro games from boxing to basketball to tennis. Besides the classics, you can also find MMA, cricket, rugby, and more. In the regular seasons of Major League Baseball and the National Hockey League, you get to watch one game from each league every day. There are also ESPN+ exclusives like movies and original series like Peyton's Places.
Is the Disney+ bundle worth it?
In a word, yes. With this bundle, you'll be able to cut the cable cord and pay one low price for all three of these subscriptions in one. You'll have unlimited streaming of thousands of movies, TV shows, sports games, and kids' content every day and won't need anything else to keep you entertained. You can save a lot of money by using all these three included services offer.
You can also stream all three of these across multiple devices. Want to watch a football game on the TV while your child watches a Pixar movie on their tablet? No problem. With individual profiles to choose from upon sign-in, you can both watch different programming on different devices at the same time even from the same service. Download each of the three apps on to all of your devices from phones to tablets to TVs to game consoles and take this bundle anywhere around the house or while traveling.
Thanks to multiple profiles across multiple apps on multiple devices, every family member can be watching their own program at the exact same time. If your family is spread across more than one household, the profiles on the accounts will hold each person's spot mid-episode to let them pick up where they left off even if they are starting up again on a different device or even a different home. Every potential conflict over sharing or compromising when it comes to deciding what to watch is automatically avoided.
It's clear why parents should get the Disney+ bundle: Convenience, quality content, and price. There is truly something for everyone no matter their age or tastes. Two-year-olds will be as happy as 60-year-olds with this bundle!
Editors' Recommendations