When you bring a baby into the world, you want to protect them from every breath of pollution and every touch of a chemical. While they're bound to get some scraped knees over the years, you can check your home cleaning products off the list of what might harm them by choosing non-toxic cleaning products. From floor cleaner to dish soap, you make dozens of product choices for home cleaning that can be changed to stay away from products with potentially harmful chemicals. You can even feel safer about involving your kids in their first chores!
You also want to help preserve the planet they'll be inhabiting for decades to come, so choosing eco-friendly cleaning products is almost as important to keep your kids safe long-term and do the right thing for pitching in. Many times these two things go hand in hand– when you buy something without harsh chemicals, it's good for your baby's skin and health but also good for the planet, so that those chemicals are never absorbed into the ground or our water.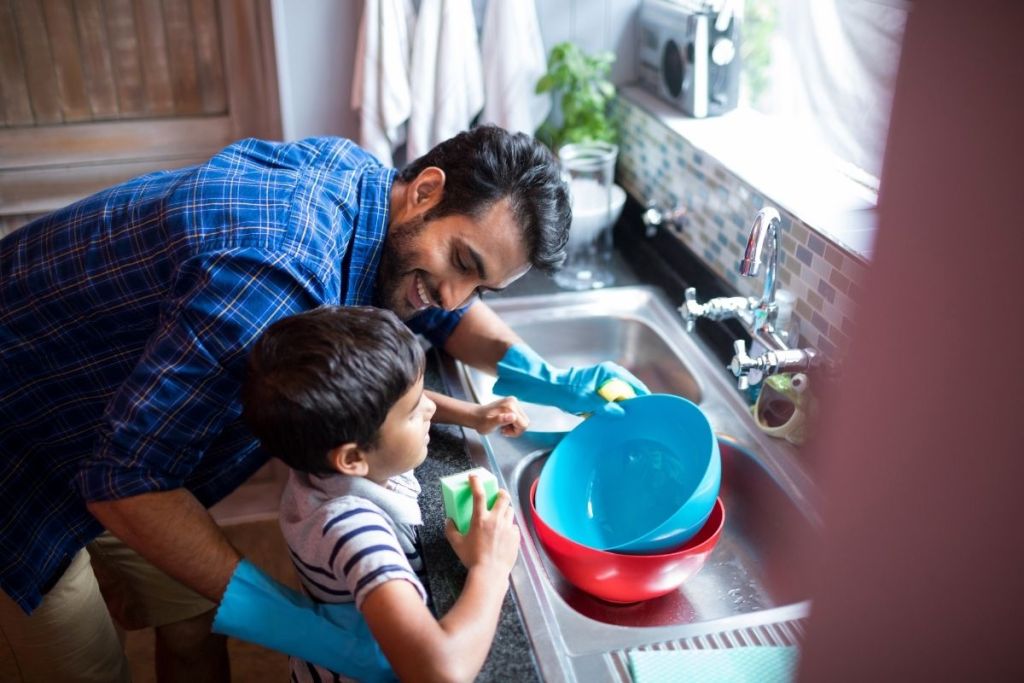 Non-toxic cleaning products
You can feel safe using this dish soap on the plates your kids will eat off of. It's free of dyes and perfumes but comes in almond, apricot, free & clear, grapefruit, lavender, or pear scent from natural sources. The soap is vegan, hypoallergenic, paraben-free, cruelty-free, biodegradable, pH balanced, and gluten-free, and the packaging is recyclable and is even manufactured in a carbon-neutral and water-neutral facility. It is certified by the EPA to be a safer choice for the environment and for human health. It still cuts through grease for a powerful clean while being gentle on hands.
This all-purpose unscented cleaner can be used on floors, walls, countertops, tiles, tables, showers, toilets, appliances, baseboards, cars, toys, sports equipment, and even upholstery — any surface that is water-safe or upholstery marked "W" or "W/S," and any non-porous surface around the house. It's made of plant-based, biodegradable ingredients like soap bark, corn, and coconut. The only scent comes from fruit extracts. There are no added dyes, synthetic fragrances, parabens, alcohol, or ethers, and it was never tested on animals.
Break out the mop with this floor cleaner to get "floors clean enough to eat off of, seriously" (though they also say "please don't," of course). Just mix half of cup of this "people-friendly, pet-friendly" solution per two gallons of water to use on sealed floors, including hardwood, tile, concrete, linoleum, vinyl, and laminate. The vinegar dissipates naturally and leaves behind a scent from essential oils mixed in–choose between lavender, lemon, eucalyptus, lime mint, or mandarin.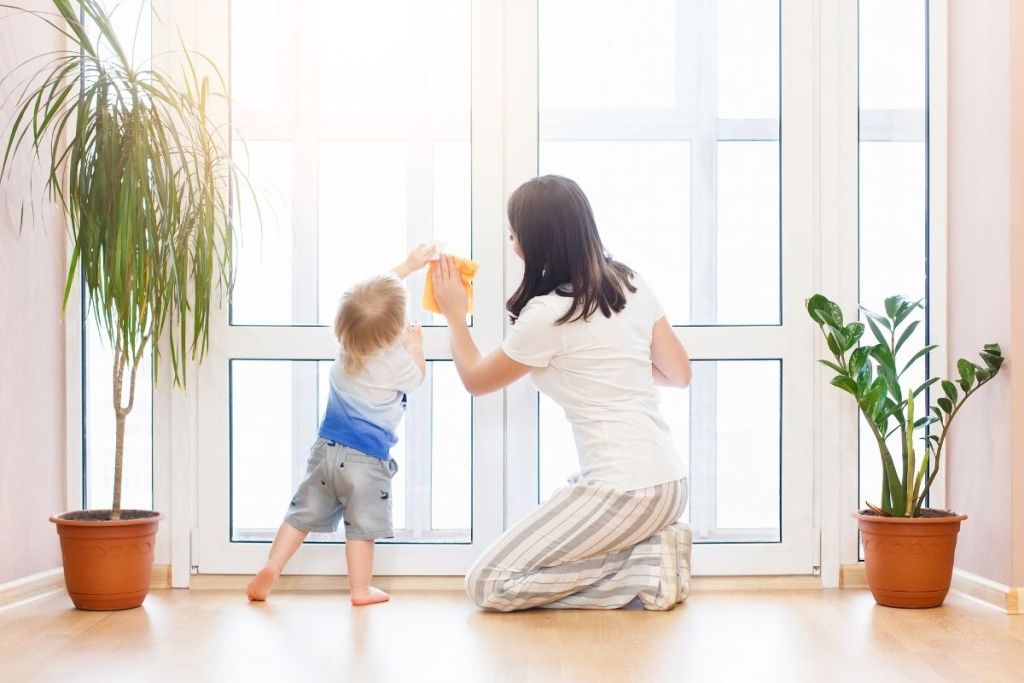 This all-purpose cleaner is safe for any surface, including toys. Use it on glass, toilets, floors, countertops, walls, stovetops, mirrors, and more. The scent of white tea and thyme extract is refreshing and every ingredient is plant-based. The hundreds of 5-star reviews speak for themselves!
Your kids can help with the laundry without any liquid detergent to spill or trying to put dangerous pods in their mouths with these laundry detergent sheets. Just put a dissolvable sheet in with the wash cycle, and this unique product will clean your clothes with a hypoallergenic formula for sensitive skin. There's no plastic bottle packaging so it's better for the environment, plus it is vegan, cruelty-free, paraben-free, dye-free, and biodegradable. It works on any color, any material, and any temperature water. These eco-friendly sheets are even septic-safe.
If you've had an infant you've gone through enough wipes for a lifetime, but they're still really convenient for wiping up the table after dinner. Even though using a rag is more eco-friendly than a paper towel or a wipe that gets thrown away after one use, sometimes parents just need to go with convenience for a few messy years and can still make the most eco-friendly choices within that compromise. These wipes don't have ammonia, bleach, phthalates, fragrances, or sulfates, so you can feel good about using them on your surfaces.
With these six products, you'll be well on your way to stocking your home with cleaning products that are kid-safe and planet-friendly so that you can worry about one less thing. The health and safety of your family are something you can't take for granted, and these non-toxic products will help you protect them.
Editors' Recommendations