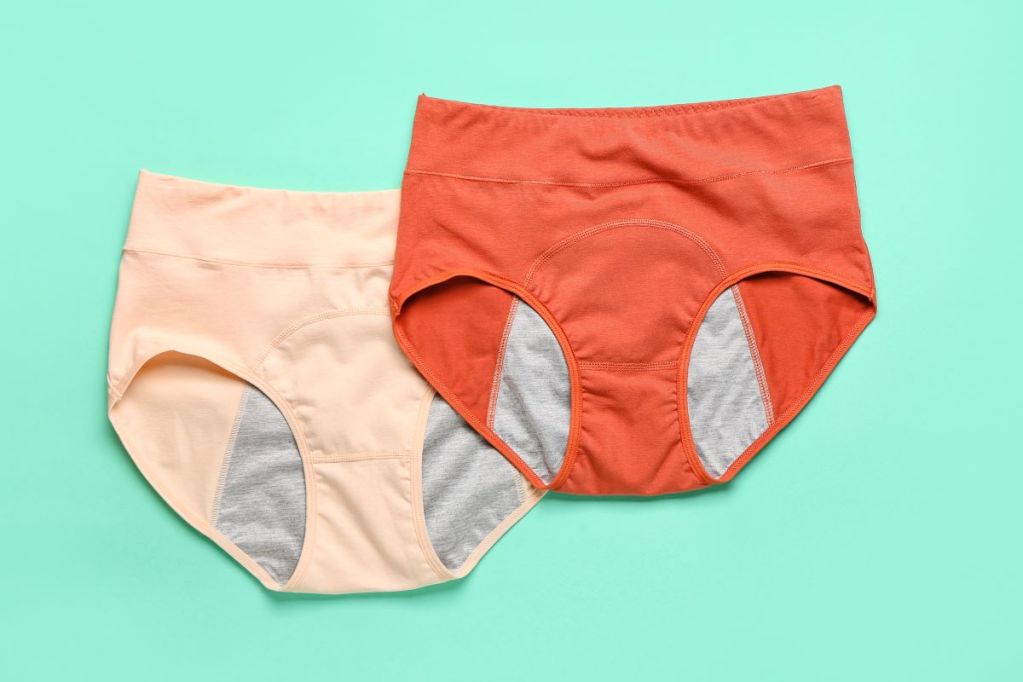 Getting your period for the first time as a tween or teen can be a big source of anxiety for girls. Suddenly, your little girl needs to start thinking about how to manage her cycle in and out of school and during her extracurricular activities.
Before, girls only had two options: traditional pads and tampons. Today, there's another one: period underwear. Period panties have been around since 2015 when first introduced the underwear with built-in pads. Teen period underwear can be a game changer for girls worried about when to change pads or tampons during school, especially if they don't like carrying a purse or bag. Period underwear for teens is still relatively new, so are period panties the right choice for your daughter?
What is period underwear?
Period panties are a reusable option for tweens, teens, and women. Designed like a pair of underwear, period panties are available in hipster, brief, and even thong styles. Period underwear has absorbent fabric layers built in that work like a pad during a woman's menstrual cycle, but without the bulk. The difference is period underwear can be reused, making it an environmentally and budget-friendly option for monthly menstrual cycles.
Does period underwear leak?
Unlike trying to fit a pad to your underwear, which sometimes ends up with leakage, period panties fit to your body like a pair of undies. This is what makes period underwear a great option for sporting activities and even sleeping. There's less of a chance for a leak since conventional pads don't always stay in place or move with you.
Not all period underwear is created equal, though. Some period panties have more of an absorbent pad than others. Most absorb the same amount of menstrual flow as one to four tampons. When choosing period underwear for girls, make sure to look at the absorbency. Some women and teens may be more comfortable using period underwear with a pad designed for light days until they get used to the idea of wearing period panties.
Is period underwear safe?
In 2020, a popular period underwear manufacturer came under fire for using PFAs, or per and polyfluoroalkyl substances, in its period panties. A class action lawsuit was filed in California against Kinx Wear for including the chemicals but marketing its period underwear as PFAS-free.
All menstrual cycle products, including pads and tampons, have some level of chemical content. So, it's important to check into the brand of period underwear or any period product you decide to use for your daughter. Be sure to read labels and do a bit of research on the period underwear for girls you decide to use. Some brands that don't have PFAS are , , , , and .
Caring for period underwear
Unlike traditional menstrual pads and tampons, period underwear doesn't get tossed in the trash. It's reusable, which is what makes it a green option. The care is more high maintenance than just reaching into the cabinet for another pad. Period underwear needs to be soaked or rinsed in cold water before heading to the laundry. After rinsing them, you place the used period panties in a mesh bag for washing delicates. Wash on the delicate cycle in cold water. Never put period underwear in the dryer. Allow to air dry.

How long can you wear a pair of period panties?
Tweens and teens with heavier flows should change their period underwear after school or in the morning. With a light flow, they can wear them longer. Most period panty brands say 12 hours is the maximum to wear one in order to avoid odor and leaks.
Is period underwear for teens right for my daughter?
The addition of period panties is another option for girls and women when it comes to their menstrual cycle. Like finding the right pad, finding the right brand of period underwear for girls is trial and error. Tweens and teens having their first cycles may find period panties more comfortable since they are essentially underwear. Those using conventional period products like pads and tampons may need to get used to the idea.
Wearing period underwear does take away the stress of worrying about where and when to change a pad as well as where to carry pads and tampons. Period panties are more comfortable and a good choice for sports. Maintenance of period panties is something to take into consideration, though. Proper care of period underwear is essential.
Editors' Recommendations