A common thread among newborns and toddlers is that they know how to make a mess. As a new or expecting parent, you can help keep your baby and home a bit cleaner by getting to know the different types of bibs. Bibs are nonnegotiable baby essentials and toddler bibs are necessary, too. Let's discover what makes drool and feeding-time bibs different from each other and why you should invest in both.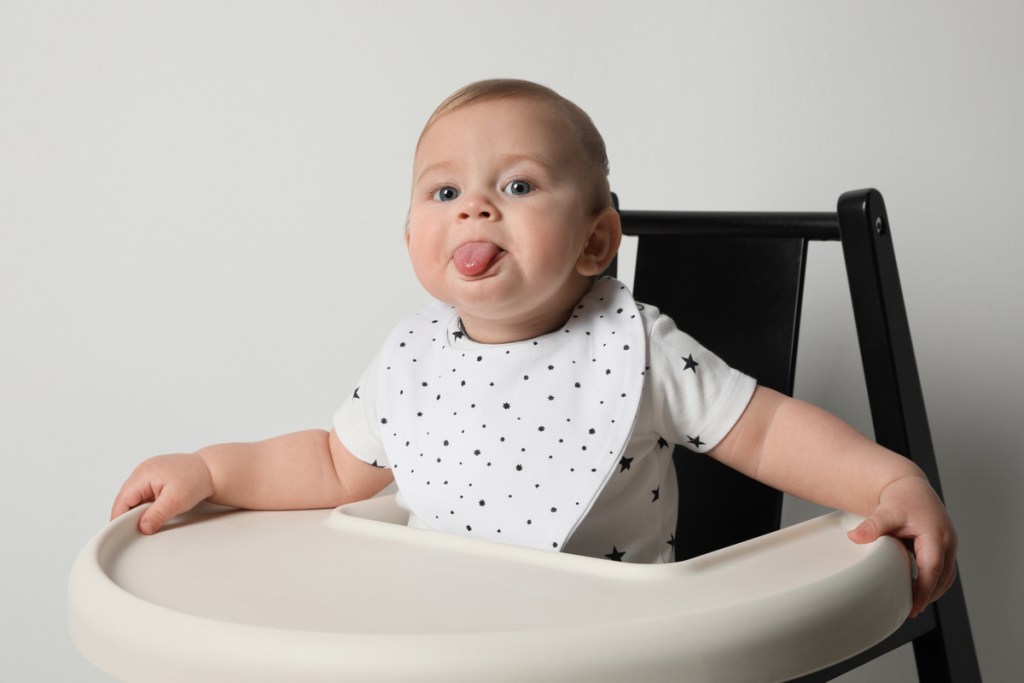 Drool bibs
Babies can't help but make a mess with all of that drool. This is because until they're a year and a half to two years old, they haven't developed oral muscles to control their drool. But this excess drool helps them digest food when they start solids. When they're teething, their drooling intensifies. A drool bib prevents neck rashes from drool by letting you wipe away dribble around their mouth.
The main features of a drool bib and what to look for when shopping for one
The size: Drool bibs are smaller than feeding-time bibs. Their main purpose is to keep the front of your baby's shirt dry. The bib is just large enough to cover your baby's upper chest and neck. If your little one has started crawling, drool bibs will help your floors and other surfaces stay drool-free.
The fabric: These bibs are usually made of absorbent fabrics that wash easily and dry quickly. This includes fabrics like flannel, heavy cotton, and even bamboo. You can find a fabric blend like cotton knit jersey or microfleece. Most bibs are made with two layers for optimal absorption. Additionally, these fabrics should withstand heavy washing.
The styles: Since drool bibs are meant to be worn all day, they should fit snugly. You have multiple options: snaps, Velcro material, or buttons. The most common are adjustable metal or plastic snaps. These keep the bib on your baby even when they're playing.
You might also opt for bandana-style bibs, which are less bulky than the traditional rounded shape. Bandana bibs have a higher collar, which keeps drool off of your baby's chest and neck. Some bandana-style drool bibs have a silicone arrow tip for teething babies. These two-in-one bibs are helpful from birth until toddler age. A bandana bib is also a little more difficult to take off, so it stays secured even if your child tries to pull it off their neck.
Besides bandana-style bibs, you may opt for traditional styles with a plush collar. These catch drool, milk, food, and prevent neck rashes. If your child is prone to rashes, change their bib multiple times a day and give their neck time to air out.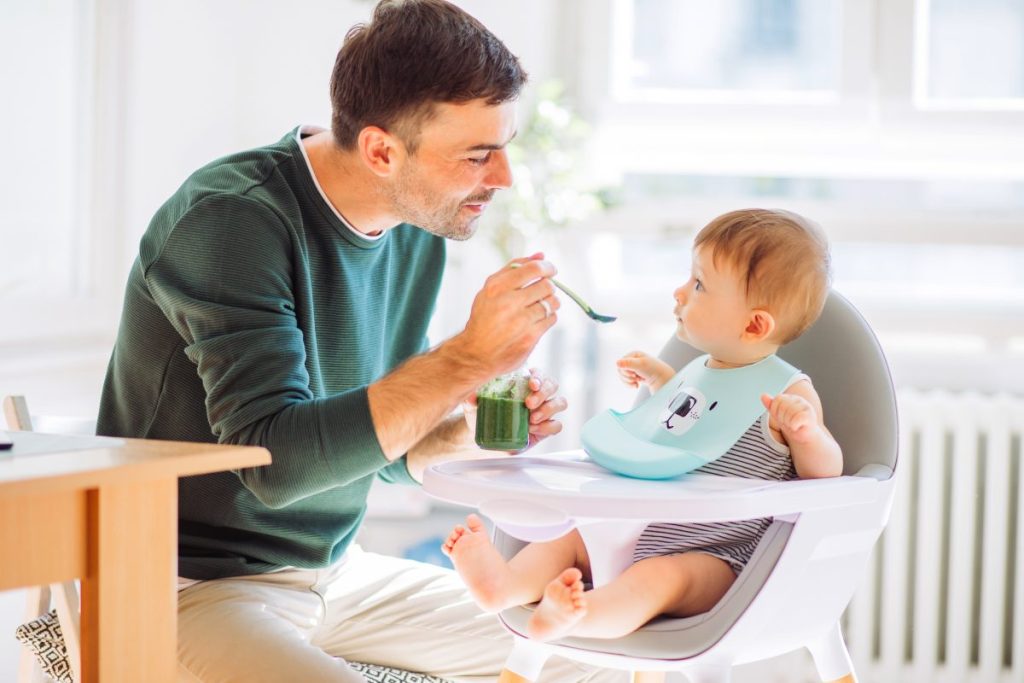 Feeding-time bibs
Whenever your baby begins to self-feed, a mealtime bib will help keep food on their plates and off their clothes – at least a little bit better.
The size: Feeding-time bibs are typically larger than drool bibs. They offer wider coverage to protect your baby's clothes and skin from mealtime messes. A feeding-time bib should cover your baby's chest and shoulders. Larger bibs that cover their stomach and arms are a plus.
The fabric: Mealtime bibs are made of waterproof or almost waterproof fabrics. This makes them easy to wipe off or clean after their meal. At the end of the day, you can toss them in the washer or hand-wash them and air dry.
Feeding-time bibs are often made of silicone that you can wipe down quickly Food-grade silicone ensures they're safe to use, especially for younger children.
The styles: Feeding-time bibs come in various styles. The scoop bib looks like a traditional bib but with an added pocket at the bottom. This pouch catches food, drool, and other debris during mealtime.
You can try a long-sleeved bib or a smock bib. These bibs are like open-back long-sleeved shirts that you can easily take off after a meal. The added coverage keeps even the messiest baby food-free. Baby smocks offer a short-sleeved option if that seems more comfortable.
One disadvantage about long-sleeved bibs is they're often size specific. Unlike traditional bibs, which you can adjust, keep, and use for months, your little one may outgrow their pair of long-sleeved bibs more quickly.
Other factors to consider
Whether you're shopping for drool bibs or a heavy-duty feeding-time bib, opt for products with adjustable neck fasteners. Bibs that have a wide use age range are more practical. For instance, a bib for 6-24 months is more ideal than a bib for 6-12 months. It also guarantees a comfortable fit for your baby because you can adjust the fasteners accordingly.
Besides fit and comfort, you want to think about colors and patterns. This is where the fun comes in! Bold designs are not only visually pleasing, but they hide stains, so consider purchasing bibs with prints when possible. Smaller, absorbent drool bibs are excellent for all-day use, while larger waterproof feeding-time bibs are fit for food messes.
While some messes can't be avoided, the right set of bibs may help prevent rashes and stained clothes. A handful of drool bibs and one or two feeding-time bibs should be fine, as long as they are durable enough to survive even the biggest of baby messes. We can't guarantee using both bib styles will keep your whole house cleaner, but they can protect your precious little one from their own handiwork.
Editors' Recommendations