Making memories and creating smiles in the kitchen with your kids is something most parents look forward to. Especially those with a passion for cooking and crafting! Everything seems to click when you discover fun food for kids. There's something so whimsical and carefree about creating, crafting, and experiencing new things together that helps bond parents even more deeply with their children. Seeing their pride in what they've created from their own minds is mesmerizing.
But something that's not so mesmerizing? How about an enormous mess in your kitchen after these food activities for kids are over? No one enjoys cleaning up an unruly kitchen. However, don't let that deter you from inviting your kiddos into the kitchen. We've put together an entertaining, enlightening, and educational list of seven food activities that will entice your little ones to eat without leaving your countertops a complete mess.
Desserts they'll want seconds of
If your kiddo has a super sweet tooth, – and happens to love science experiments – making your own candy in the kitchen is the perfect way to get their hands "dirty", while crafting their very own sweet treat. The bonus — it's an educational activity as well!
It only requires three pieces of equipment from your pantry and three ingredients to complete, this activity is great for kids of any age, though especially enjoyed among elementary and junior high grades. Want to add extra flavor to your brew? Add a few drops of candy flavor additive, found at most grocery stores, to tempt your children's taste buds and tickle the scientific side at the same time.
Is there anything better than a cold and creamy treat on a sizzling summer day? Yeah, we didn't think so either! That's exactly why every parent should know how to create a perfect ice cream base recipe with their kiddo. This delicious base flavor is perfect on its own, but parents – together with their little sous chef – can design their own deliciousness by adding in any of the following ingredients:
Berries
Cookie pieces
Peanut butter
Chocolate candies
Dried nuts
Hot fudge
Marshmallow cream
Bananas
Nutella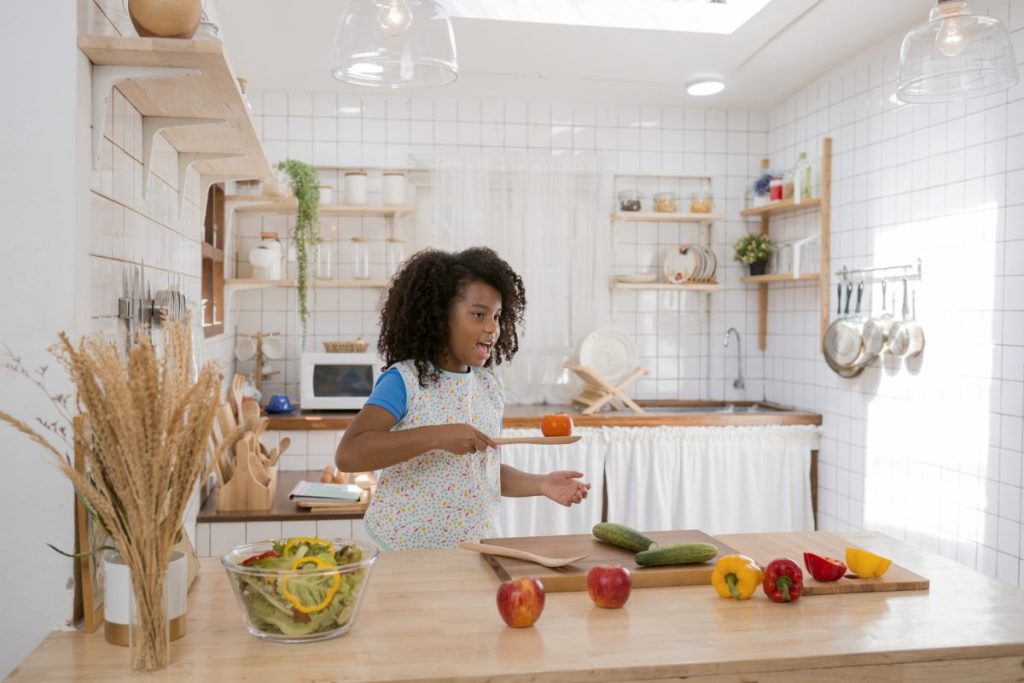 Food, but make it art
If your kiddo is an art lover, look no further than this low-maintenance, budget-friendly, and little-to-no-mess activity for your creative creature. This activity is so easy, any kiddo will enjoy it. Gather construction paper, water-based washable paints of assorted colors, and a few fruits and veggies.
Cut the fruits/veggies in half for carving, pour out the paints onto paper plates for easy cleanup, and lay down newspaper or paper towels. This ensures no messes on your kitchen counters! Each fruit or veg will leave its own perfectly shaped stamp on the paper, making a beautiful and creative portrait for you and your family to enjoy.
New foods challenge
Many parents will find their once easy-to-please eaters quickly change their minds about foods they once enjoyed. If your child has a limited palate, or you simply want to broaden their culinary horizons, a "new foods challenge" could be the just the thing parents need to entice their skeptical kiddos into trying new foods.
Start by securing the items you and your kiddo would like to try, prepare them as needed, and place them onto a plate. Take turns trying each bite, giving yourselves the chance to experience each one before deciding whether you like them or not.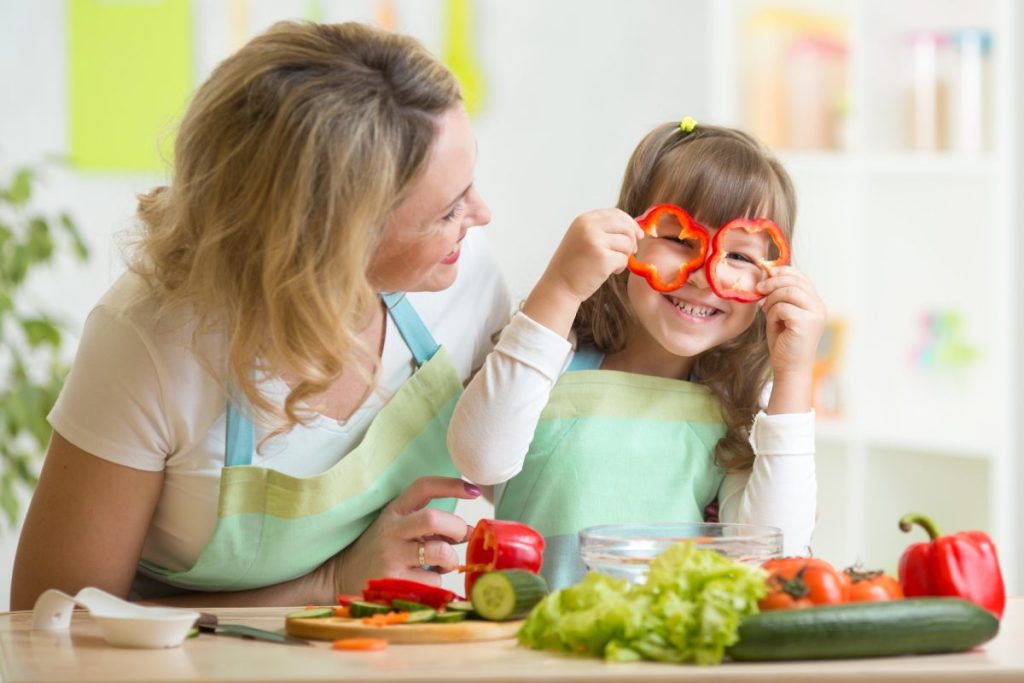 Other fun food-based activities
Making DIY mug cakes – these little blessings-in-a-cup require minimal prep and are cooked right in their serving vehicles! With so many flavors to choose from, each kid is guaranteed a flavor choice they will love.
Creating a weekly meal plan, curated by your kiddo – Kids love to be involved in big family decisions, so why not include them in your weekly meal prepping for a chance to show off their kitchen skills? Encourage them to plan meals, think of needed ingredients, shop for them, and prepare with requested help if needed.
Grow your own herbs from seed – Growing and consuming your own product is something so many adults enjoy, and kids love it as well. Starting herbs from seed is something a child can do. All it takes is a little soil, seed, water, sun, and patience. By growing the herbs at home, kids impact meal planning and learn the art of gardening, all from the comfort of their own kitchen.
From DIY treats to growing your own candy, our list of seven low-maintenance and low-mess activities is both fun and educational. Including your kids in the kitchen and encouraging them to learn, while also learning cooking and kitchen safety skills is important for their development. You're also imparting on them a desire to cook for their future selves and ensuring their survival in the real world, all while having a smile on their face and laughter in the air.
Editors' Recommendations