When it's time to rest away from home, you need the best toddler nap mat so your child is snuggled up comfortably no matter where they are. A sleeping mat for daycare should be portable and practical, so it'll need to easily wrap up for transport and be soft and comfortable. Look at the sizes, designs, and if they include a pillow and blanket in the set when choosing between the best and most affordable toddler nap mats. Since these are for use out of the house, whether that be daycare, a hotel, or grandma's house, you'll want to make sure there are some kind of straps to roll it up, a carrying bag, or another option to make travel from place to place easy.
These seven nap mats will fit in most budgets since none cost more than $45. It's worth investing in a good mat that will take your child through the year of daycare or preschool since it will become a familiar place that will promote rest by being part of a routine for months to come.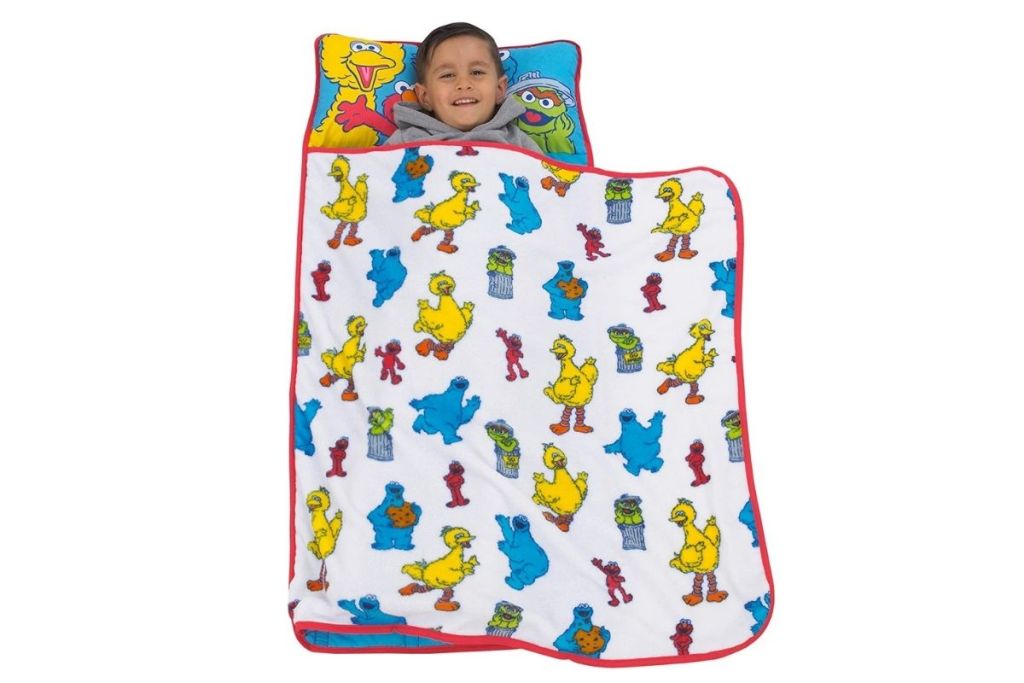 This quilted nap mat is fully machine-washable, rolls up to be carried, and has a design that lets your child tuck one side of the mat over them like a blanket with the other side being longer (46 inches) to reach under their head. Best of all, the mat features Elmo, Cookie Monster, Oscar the Grouch, and Big Bird. There is even a little tag where you can write a name after "This belongs to."
This Baby Shark mat uses Velcro enclosures to easily roll up with carrying handles, and once it's unrolled, you'll see a plush pillow and 50-inch-tall sleeping surface with an attached 30-inch fleece blanket. The mat includes a "this nap mat belongs to" tag displayed on the outside when it is in the rolled-up position. With Grandma Shark, Grandpa Shark, Mommy Shark, Daddy Shark, and Baby Shark smiling on the blanket, any Pink Fong fan will love this soft nap mat.
This mat is unique for having a removable pillow insert, which is convenient for removing before machine washing. It has the same attached blanket design as other nap mats and stands 50 inches tall from pillow to feet. It has fastening straps (perhaps not as easy as Velcro for kids to do themselves but also may be more secure in holding closed over the months) and carrying handles for when it's rolled up. It has a name tag and is filled with a faux down.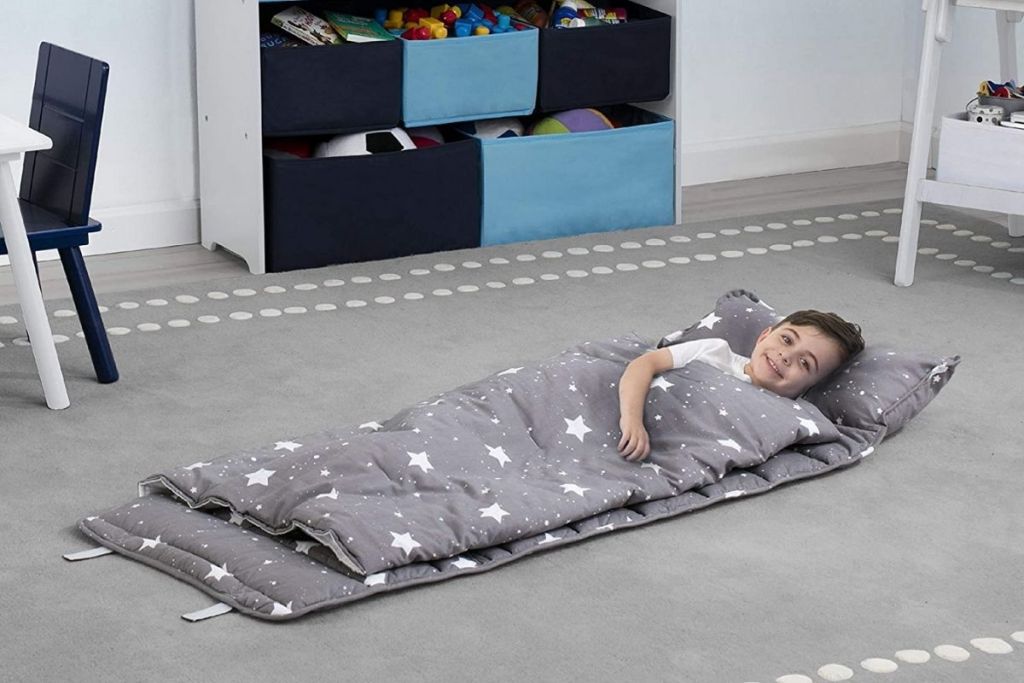 A bit larger than other mats, this 53-inch mat is good for taller kids or for ultimate stretching out comfort. The padded mat is made of a soft cotton and polyester blend and the blanket on top is flannel. This features the removable pillow insert and non-Velcro closure loops and is also machine-washable. It also has the name tag and carrying handle that others do. The gender-neutral starry night sky pattern is a calming sight.
For littler kids looking to get cozy, this mat is 43 inches tall and 21 inches wide (with a 30-inch wide attached blanket). The soft dot material on the interior of the blanket is super soft and comforting and the cute design of the smiling construction characters is cheerful. This mat has a removable pillow insert, name tag, hook and loop closure straps, and a carrying handle.
Choose between nine designs for this nap mat: construction area, cute kitty, dinosaurs, outer space, forest friends, little princess, sports, shark zone, or unicorn. This set follows the same built-in pillow and blanket with name tag format as others and rolls up with a Velcro enclosure and carrying handle. At 46 inches by 21 inches, it's the perfect toddler size.
If you don't like the mats that roll up for transport, keep the mat clean inside its own separate carrying bag with this Minnie Mouse. There is still an attached blanket in the style of a zippered sleeping bag, but this one does not have an attached or included pillow. This one measures 46 inches tall, and the included carrying bag matches the Minnie Mouse design of the blanket.
No matter which you choose, your little one will have sweet dreams on any of these comfy toddler nap mats.
Editors' Recommendations